Café Sign Looking for Staff Who 'Doesn't Cry, Is Never Late, Has No Excuses' Blasted Online
A café sign advertising vacant positions has been slammed online, after the chain claimed they were looking for staff members who don't cry, are never late and have "no excuses."
A snap of the note, which has the branding for the popular juice chain Kreation, was shared to Twitter by Jenson Titus on Monday, where it amassed more than 34,000 likes.
The full text, under the company's logo, says: "Still looking for that special person. You know the one...
"Actually available, has an open schedule, doesn't cry, is never late, has no excuses, works hard, has no bulls***, smiles no matter what.
"That one! Think you might be the one? We're hiring."
Titus later tweeted an update, saying: "They took the sign down lol."
It causes quite a stir online, as SpencerMagne wrote: "Am I crazy or did they just write a job requirement for a slave?"
Dez commented: "This is wholly unsurprising. Whoever wrote that sign does not value other human beings, PARTICULARLY anyone ignorant enough to work for them."
Maureen Sklaroff thought: "Sounds like a toxic work environment (smiles no matter what?!?!). If I lived in the area, I would not solicit their business after this."
Greg Turner joked: "So looking for a person with no family commitments, no education commitments, no hobbies, no medical appointments, who won't ever stand up for themselves to make minimum wage."
Not everyone was against the note, as Evil Morty wrote: "Where does this note blame anyone? You want a person that is always late with lame excuses and cries every week? A person who doesn't do the job and let the others with more work to do? Obviously you never managed a team in your life."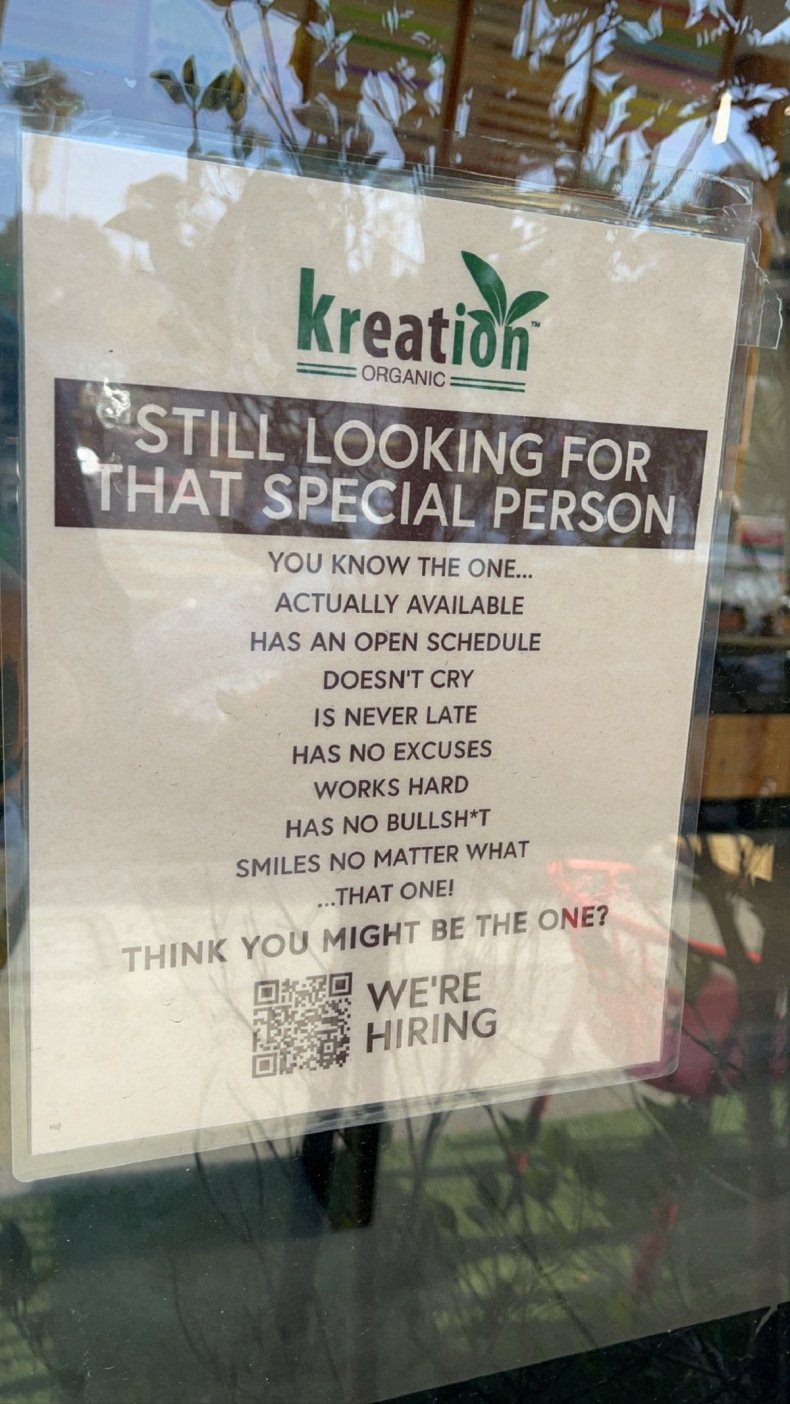 A snap of the note was then shared to Reddit by Djmattyd, who captioned the post: "Local 'juicery' seems like a real garbage place to work." It was upvoted 6,000 times since being shared on Tuesday.
The company's website indicates the brand, set up in 2007 by Marjan Sarshar, has 19 locations throughout L.A.,. Titus told Newsweek he saw the sign at the branch on 3501 Sunset Boulevard.
The QR code takes users to the HR portal, where there are eight vacant positions for "barista/smoothie production" listed across California.
The job pays $15 an hour plus tips, with prospective employees required to "be able to stand during entire shift, often up to 8 hours with frequent bending, squatting, and lifting plates, boxes, and objects up to 30 pounds up to 5 times per shift.
"Champions Kreation Service with energetic, friendly, and prompt greetings immediately upon making eye contact with guests."
As well as being able to work evenings and weekends, the ideal candidate is "energetic, fun, and friendly."
The chain also has cooks, cashier/customer service, juicery manager and production warehouse positions available.
Following the backlash, the company's Twitter page uploaded an apology on Thursday, admitting the language was "way too harsh."
It said: "Thank you for bringing the posted hiring signage to our attention. As you know, we took the sign down right away.
"The sign was created by our HR-hiring manager and did not go through the normal approval process for marketing materials (through the COO, marketing manager, or owner) before print...
"From a newly-hired HR perspective, their explanation was that they are in a very frustrating position given the current climate with the job market and difficulty retaining good employees.
"While their intentions with the sign were good and light-hearted, we absolutely agree that the wording on the signage was way too harsh."
The hospitality sector appears to be struggling to bounce back to its pre-pandemic heights, amid the labor shortage gripping America.
Some 42 states have more job openings than people looking for work, a Stateline review of labor statistics from August, the latest data available, found.
Several factors have been mooted for the low uptake in jobs, particularly in low-paying sectors, including generous unemployment benefits, COVID-19 fears and an unwillingness to accept low hourly wages.
A report from the Bureau of Labor Statistics, released on December 3, noted: "Employment in leisure and hospitality changed little in November (+23,000), following large gains earlier in the year. Leisure and hospitality has added 2.4 million jobs thus far in 2021, but employment in the industry is down by 1.3 million, or 7.9 percent, since February 2020."
Companies have been offering prospective workers incentives and perks to entice staff, including free pizza and up to $4,000 signing bonuses.
In a move that could partly address the shortage, some states—including California—have pledged to raise the federal minimum wage to $15 an hour, according to Forbes, what Kreation is currently offering.
Newsweek reached out to Kreation for comment.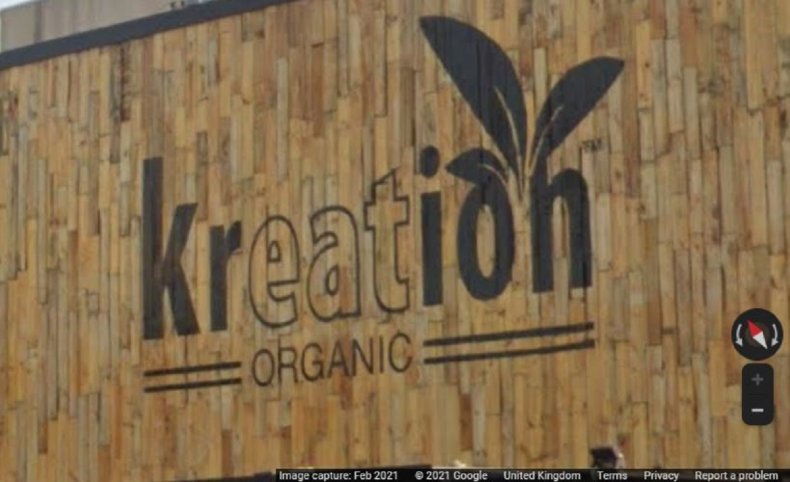 UPDATE 12/09/21 4:45 a.m. ET: This article was updated to include additional information from Jenson Titus and a Twitter statement from Kreation Organic.