There's a Caged Child on Capitol Lawn, and It's Marking the First Anniversary of Trump's Family Separation Policy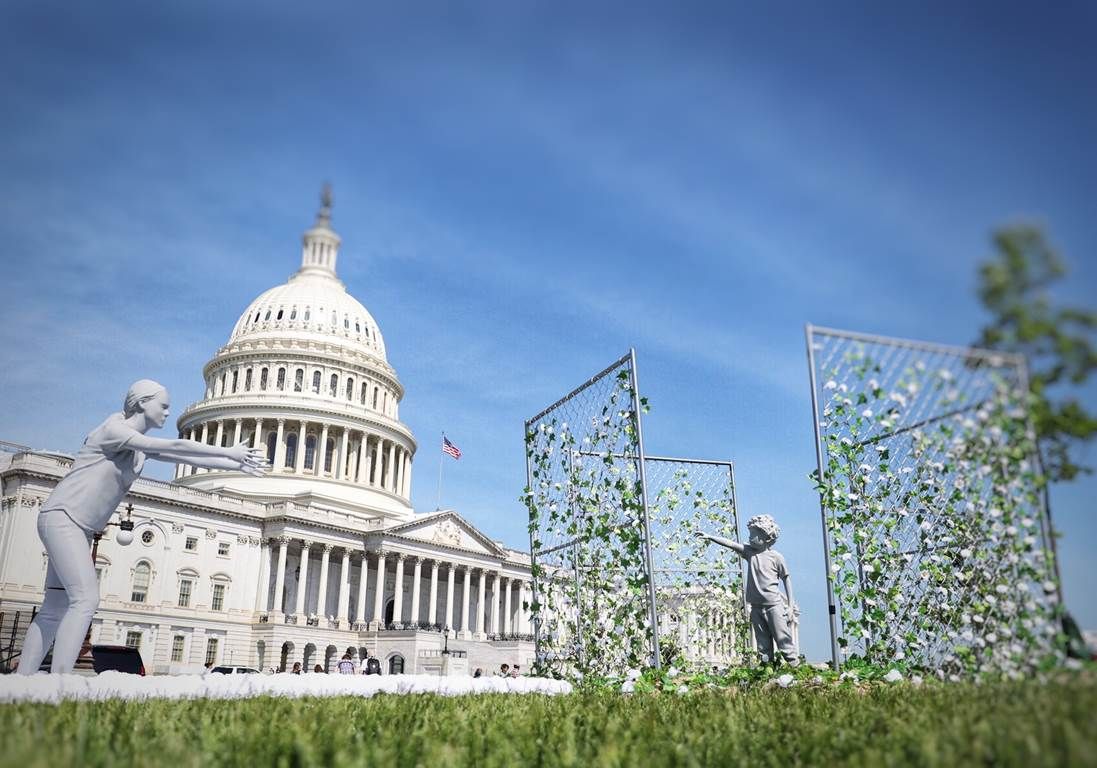 Washington woke up Tuesday to find a caged child on the Capitol lawn in a demonstration to mark a year since President Donald Trump's "zero tolerance" immigration policy saw thousands of migrant children separated from their parents at the U.S.-Mexico border last year.
With statues portraying a child locked behind bars surrounded by mylar blankets and flowers as a distraught mother stands outside reaching out to her young one, Paola Mendoza, the artist behind the installation, told Newsweek that it was inspired by the proverb: "They tried to bury us, they didn't know we were seeds."
The flowers, Mendoza said, are a representation of what can grow from those seeds as a "painful and hopeful reminder" to immigrant families living in and coming to the U.S. that no matter what hurdles the government puts in their way, "we hope and believe they will continue to fight, that they will continue to grow and they will continue to live, no matter how [they] try to stamp out their lives.
"As a mom, as an immigrant, as an activist as a citizen of this country and the world, I think it's absolutely abhorrent that our government, our administration, would literally rip thousands of children from their parents," Mendoza said. "We have to continue to remind people of where we are and what the Trump administration has done and that we cannot be complicit in this moment."
Mendoza said the installation was a joint effort by her and the immigration advocacy group Families Belong Together, to ensure that those affected by the Trump administration's "zero tolerance" policy would never be forgotten.
Jess Morales Rocketto, the chair of Families Belong Together, told Newsweek that she hoped the project would remind those who see it of "two things": "One, we want the families that are in detention and who have been separated to know we haven't forgotten them...and two, for people to be moved again by the need to end family separation and detention."
Last year, the Trump administration saw more than 2,500 children separated from their families at the border as a result of its controversial policy, which required that parents caught crossing into the U.S. with their children be immediately sent to federal jails as they awaited prosecution, while their children were taken into separate custody.
The president was forced to revoke the policy on June 20 after facing months of condemnation from across the country and around the world.
While the Trump administration officially rescinded the immigration policy that resulted in family separations last year, in February, the government admitted that at least 245 family separation cases had occurred since then.
The administration has maintained that in the rare cases in which families had been separated since the June policy shift, it had typically been for a "law enforcement purpose," because it was medically necessary or because there was not enough evidence that an adult was actually the parent or legal guardian of the child.
With the Trump administration still separating families and with many children still having yet to be reunited with their parents, Morales Rocketto said she hoped that the installation on the Capitol lawn would reignite "the urgency that people felt last summer."
"Many people first learned about family separation last summer at the height of this crisis, but it has happened before and it continues to happen even though we were able to get the Trump administration to rescind the policy... There are still families who continue to be separated."
"We want to be sure that [families] know that we have not forgotten them and that the Trump administration is also clear that we will not," she said. "That's one of the reasons why we did this today."
Texas Civil Rights Project Racial and Economic Justice Director Efrén C. Olivares echoed Morales Rocketto's words in his own statement on Tuesday.
"Last year, the Trump administration ignited a system that was already broken when they began systematically separating children from their families to satisfy their cruel political agenda," Olivares said in a statement to Newsweek.
"The will of the courts, the horrific stories coming out of South Texas, and the outrage of the American people rightly forced an end to their family separation policy, but in fact they've used every trick in the book to continue ripping families apart," the TCRP justice director said.
"In our work on the ground, we're seeing firsthand that children, some as young as eight months old, are still suffering lasting trauma when they are torn from the arms of their parents and other family members," Olivares said. "We must immediately put an end to 'zero tolerance' and stop criminalizing immigrants and families seeking safety in this country."
Morales Rocketto said she also wanted to mark the anniversary by calling on Congress members to commit to rejecting any Secretary of Homeland Security nominee looking to replace former DHS chief Kirstjen Nielsen "who does not explicitly denounce family separation and detention."
Trump has yet to announce whom he plans to nominate for DHS chief as former U.S. Customs and Border Protection Commissioner Kevin McAleenan continues to fill the role as acting DHS secretary. But Trump has made it clear that he plans to move in a tougher direction on immigration after months of reports of the president having berated Nielsen over her failure to enforce his administration's hardline approach at the border.
Last month, the president dismissed concerns that he might be considering reviving controversial family separations as part of his campaign to crack down on immigration amid a surge in arrivals of asylum seekers at the border.
"We're not looking to do that," Trump said. But he did appear to lament that fact, suggesting that the surge in arrivals at the border, including many families with young children, was in part because of his decision to rescind the family separation policy.
"Once you don't have it, that's why you see many more people coming," Trump said, before adding: "They're coming like it's a picnic, because let's go to Disneyland."
Correction (05/07/19, 4:25 p.m. ET): This story originally misspelled the name of Paola Mendoza. This has been corrected. We regret the error.