Muslim Students Still Almost Twice as Likely To Face Bullying at School Despite 'Minimal Improvement': Report
Muslim students across California are feeling less comfortable openly stating their religion in school—despite fewer incidents of Islamophobic bullying—a new study has found.
The report, "Singled Out: Islamophobia in the Classroom and the Impact of Discrimination on Muslim Students," published Wednesday, collects the results of an annual survey of Muslim students across California. Conducted by the state's chapter of Council on American-Islamic Relations (CAIR-CA), the survey asked approximately 1,500 Muslim students between the ages of 11 and 18 enrolled in both public and private schools about their experiences in the classroom and in interactions with their classmates and teachers.
The majority of surveyed students—70 percent—told CAIR they felt welcome in their schools, up one point from last year's 69 percent. The report's overall numbers further indicate that Muslim students across the state are "experiencing bullying based on their religious identity at a lower rate than previous years."
Despite the improvement, 40 percent of the Muslim students surveyed in California reported that students at their schools were bullied for being Muslim. Nationally, the federal government estimates that a much lower percentage—closer to 20 percent—of middle and high school students are victims of bullying.
Further counterbalancing the positive trend in reported incidents of bullying, the report also found a 5 percent decrease in the number of students who said they were comfortable letting others know that they practice Islam compared to 2016, and an increase in bullying of students who reported being "visibly" Muslim, such as wearing hijabs or taqiyah.
"It's the overall climate that we're seeing," Kalin Kipling-Mojaddedi, communications manager of CAIR-Sacramento Valley and Central California told Newsweek on Tuesday by way of explanation for the contradictory statistics. "It's some of the hateful rhetoric we're hearing from the current administration and an increase in hate crimes and hate speech. It's also directly linked to xenophobic policies that are in place," she added.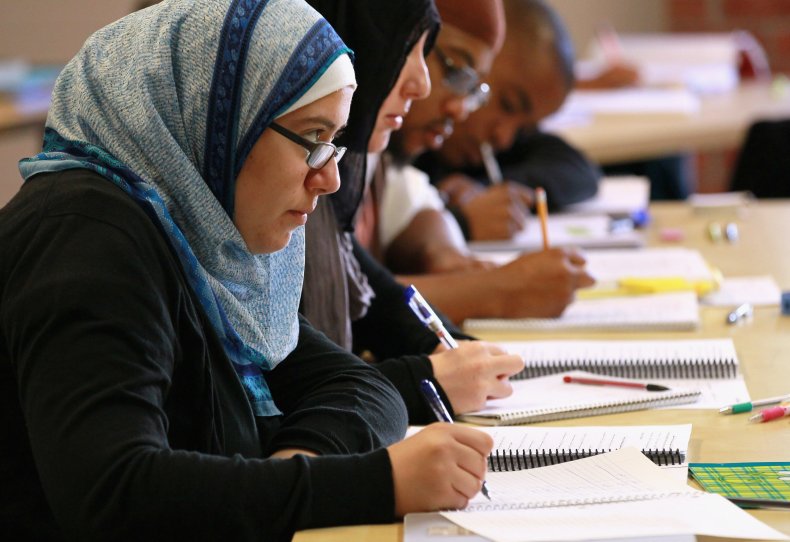 While Muslim students reported being bullied themselves less frequently than in past years, the study pointed towards "an increase in students witnessing other students getting bullied for being Muslim." In 2019, 39 percent of Muslim students interviewed said they had seen Islamophobic bullying, a 20 percent jump from 2016, when only 19 percent reported witnessing it.
Bullying is generally understood in the school context as causing one to feel unsafe, fearful, or unable to fully participate in school, CAIR notes. It cites the act as a form of violence involving a real or perceived imbalance of power—with the powerful child or group attacking those who are less powerful.
The report quotes one student who told researchers, "One time in elementary school, I decided to wear my hijab for cultural awareness day, and [when] people made fun of me, tugged on it," said one student. "And I have never worn it to school again to this day. I did nothing [to address the bullying] and regret it."
Academic representation remains an issue for Muslim students, according to the report. While a little over 50 percent of respondents reported feeling that classroom conversation about Islam was factual or fair, more than 47 percent said that Islam or Muslims were discussed in class either "rarely" or "never." Another 30 percent said Islam came up "sometimes."
The findings reflect a 2014 study by Lehigh University researcher Alexander Wiseman who reviewed 72 textbooks from 15 Western countries for content relating to Islam. Wiseman found that "content related to contemporary Islam and Arab societies in Western secondary‐level textbooks is overwhelmingly related to terrorism and terrorists" as well as regional conflicts.
The report also noted that Muslim students tend to be targeted more in high school than in lower grades. Muslim girls are bullied at higher rates than Muslim boys.
"Muslims are being targeted—especially girls—because they are visible. Many of them wear hijabs. That makes them a target," Kipling-Mojaddedi explained. "Implementing ethnic studies programs [in schools] that teach various cultures and backgrounds—and making that a requirement. The biggest obstacle is a lot of people have never been properly educated about it, which only inspires fear."