Years After Egypt's Revolution, Tahrir Square Singer Ramy Essam Wants to Return Home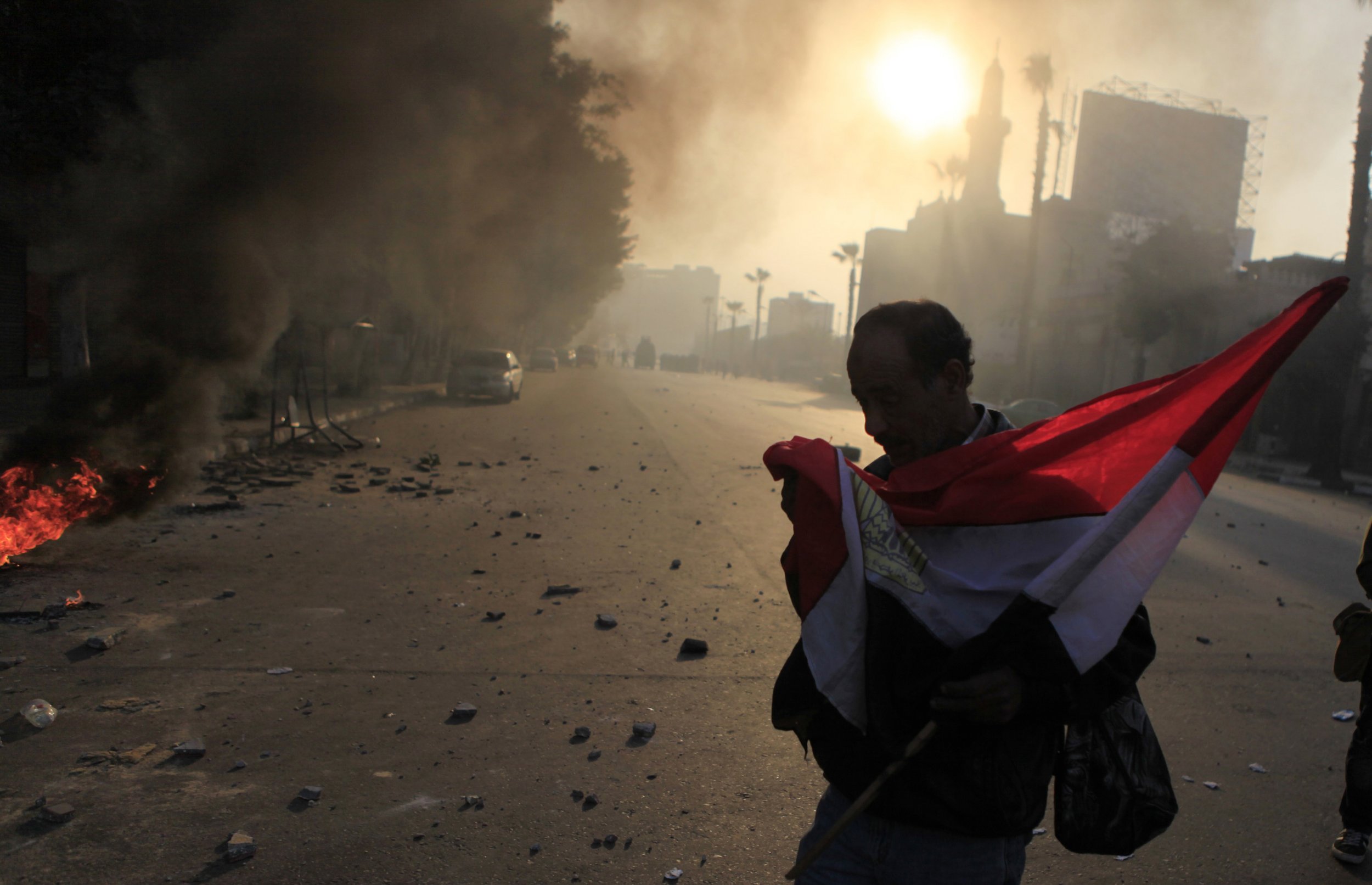 Sitting on a wooden bench in a busy beer garden on a warm night in Edinburgh, Scotland, Ramy Essam is upbeat, talkative and free. In the three years since he left Egypt, first for Finland and then Malmö, Sweden, the 30-year-old musician has worked with international artists, including Tom Morello (Rage Against the Machine) and British singer-songwriter PJ Harvey; toured Europe and North America; and written, although not yet released, his first album in English.
But when Newsweek spoke to Essam on the sidelines of Edinburgh's Fringe Festival—where his one-man show, In the Frontline, documents his experiences during the 2011 Egyptian revolution and its aftermath—his focus was not on his growing international success. It was on something closer to home. It is a desire that has burned in his heart for over three years. It is, as he refers to it, the return.
So this week the musician will fly to Denver for a final U.S. tour. Then he will travel to Dubai, United Arab Emirates, to see his mother and sister and back to Sweden to his son. Then he will head to the studio to record the dozens of songs he has written and half-written—enough, he reckons, for two or three albums. Finally, in early 2018, he will pack his bags for Egypt. At some point—weeks, days, maybe hours later—he will be arrested.
Then…well, he has no idea.
"I know 100 percent that they will arrest me, that will happen," Essam says. "But no one can say how long it will take. Is it one day? Is it one week? A month? Are they going to take me to court [for] trial or keep [me] forever?"
Essam left Egypt in 2015 to avoid his military service, mandatory for Egyptians between 18 and 30. But it wasn't only a moral decision; it was a practical one too. Ever since he first clambered onstage in Tahrir Square during the protests against former President Hosni Mubarak in early February 2011 and performed "Irhal" (Leave), the song that made him famous, Essam's music has mocked not only Egypt's leaders but also the military that has supported them.
After Mubarak was ousted in February 2011, Essam sang "Irhal" about the military leader, Mohamed Tantawi, who replaced him. After the Muslim Brotherhood took power after the elections in 2012, Essam rewrote the song to attack President Mohammed Morsi. And then when Morsi was ousted in a military coup in 2013, Essam turned on Abdel-Fattah el-Sissi, who was elected a year later with a dubious 97 percent of the vote.
But for the first time since 2011, Essam found his message failed to resonate in Cairo. When he played his anti-military songs, he found himself criticized by Egyptians who saw the military coup as freeing the country from the Muslim Brotherhood, rather than overthrowing the country's first democratically elected leader in five decades. As invitations to play dried up—even at underground venues—Essam found himself shut out, ostracized and alone.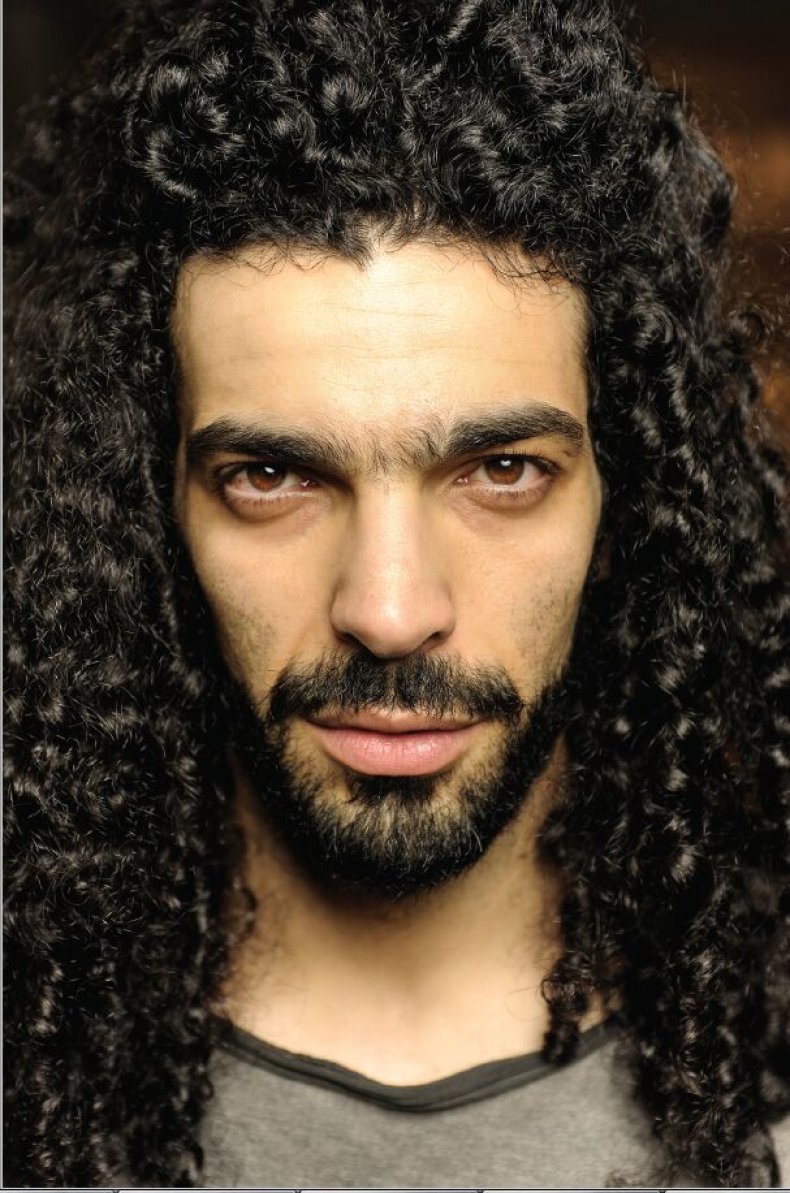 He moved from Cairo back to his hometown of Mansoura, north of the capital, and in 2014 was detained and questioned by the military after being picked up at a checkpoint. One of the arresting officers mockingly sang his anti-army song "Taty Taty" ("When its protector becomes its thief, throwing his nation behind his back/Exploiting people's rights, supported by the army's uniform"). Over the weeks and months before his arrest, he received dozens of threats via social media from serving soldiers, who warned him that life was about to get ugly when he enlisted.
So when he received an invitation to perform in Finland in the autumn of 2014—and was able to get a visa to leave the country—Essam saw his chance. From Helsinki, he moved to Malmö, where he was given a safe-haven visa for two years. Soon after arriving, he released perhaps his most controversial song yet, "Aahd al-Ars" (Age of the Pimp), directed at el-Sissi and his supporters.
In 2017, Essam turned 30, meaning that under Egyptian law he is exempt from military service (provided he pays several hundred dollars in fines). After three years in Europe, he is now able to return to his homeland. What his friends, his fellow musicians and his family cannot understand is why he'd want to.
When Essam left Egypt, the el-Sissi regime was already beginning a crackdown on freedom of expression that by late 2017 appeared far more severe than anything that occurred under Mubarak. Some of Egypt's most prominent writers—including Alaa Abdel Fattah and Ahmed Naji—are in jail on trumped-up charges (for protesting without a permit and violating public modesty, respectively) alongside tens of thousands of political activists, critics and members of the outlawed Muslim Brotherhood.
In Europe, Essam has a network and growing critical acclaim. He has a home and a young son. He has what hundreds of thousands of refugees are seeking when they make dangerous journeys across the Mediterranean: a sanctuary. And yet, as he sits outside the theater in Edinburgh, all he can think about is his return.
"This is the biggest political statement I can make as an artist," he says. "It will take all of my songs and my message to a totally different level. If I stayed outside Egypt forever trying to reach that level, I'd never reach it."
Struggles and Scars
There are other reasons too. When Essam started out in Tahrir Square, the young musician drew his inspiration from the chants of the protesters. He was later influenced by the work of Ahmed Fouad Negm, the veteran Egyptian revolutionary poet who died in 2013 and wrote in the gritty slang of the Egyptian street. His songs were about Egypt: its songs, its streets, its struggles and its scars. In Europe, he feels more and more distant from that world.
"I am an artist. I sing about real shit, and I am living in Scandinavia, which is so peaceful and so safe," he says. "I left Egypt with so much passion that until today, I can sing for the movement. But if I stay one, two, three years more, I would be disconnected. I don't want to feel that."
Essam also misses Mansoura, his home city on the Nile. He misses the life and the music, the food, his family and his friends. He doesn't like to use the word exile when he describes his years in Europe. Essam simply wanted to avoid his military service, and now that he has done so, there is no reason not to return. "I want to go back home. I don't want to feel like an exile," he says.
It will not be easy, and in addition to spending the coming months recording music, he is also planning for the worst. Essam has been connecting with nongovernmental organizations and other groups that can help him if he disappears into an Egyptian prison. He knows that the world has a short memory. He wants to make sure it doesn't forget him, as it has forgotten so many other Egyptians languishing in el-Sissi's jails.
"I am preparing my release campaign. I will choose which picture. I will do the hashtag. I will make everything almost 99.9 percent ready to be published," he says. "I need to have so many records before going there, in case they keep me for long. I don't want to be silent."
Essam says he has mellowed in the six years since the revolution, when he spent half his time fighting the army and police on the barricades and the other half providing a soundtrack for the tens of thousands, if not hundreds of thousands, of Egyptians doing the same. He still plays the songs that helped fuel the protests of 2011, but increasingly his music is aimed at other challenges in Egypt: sexism and racism, corruption and poverty.
"The new album is lighter, in a political and social way," he says. "The last album was the last page of those albums that were full of anger and were describing the spirit [of the revolution], but this spirit is over. I know that now. We have to be realistic: If we can't overthrow the system, should we just wait forever? No, we have to try to make small changes. The army is much weaker now. We have space to work on the people."
While he feels disconnected, living in Europe has undoubtedly had an impact on Essam and his art. He grew up in a liberal, tolerant family, and the values that he has admired in Europe—gender equality, sexual freedom, religious tolerance—he held as a young man in Egypt. But in Scandinavia he has had the opportunity to see these values enshrined in law, to witness a society built on them: both its successes and its failures.
He doesn't think Europe is perfect, but he feels that it has at least made him more optimistic about his homeland's future, even if few would share that optimism in Egypt today. "I can also tell people there that Europe wasn't like this forever: Some countries that are doing so much better than Egypt now, 50 years ago or 70 years ago, were totally fucked up," he says. "It is not impossible to change."
Over the six years since Essam became famous as the young man who wrote the soundtrack to the Egyptian revolution, he has told his story many times. Some in the West have referred to him, in Orientalist terms, as "the Egyptian Bob Dylan," but his tens of millions of YouTube views—as well as a daily deluge of social media messages from young Egyptians—demonstrate that his songs have very genuine resonance in the Arab world.
'It is so many stories'
Every night in Edinburgh, when he finishes his performance and the applause dies down, people approach him from the crowd to shake his hand and say a few words about the show. The crowd is mostly Western, but occasionally Arab expatriates or students turn out too. The hardest shows, Essam says, are when he sees Egyptians in the crowd.
"It has happened two times, on different nights, and it made it a lot harder for me. One woman, I knew her from the revolution. The other, during the show, I could hear his breathing. He was crying. He also lost friends," Essam says.
It is hard, he says, because his show is not aimed at Egyptians. Egyptians know the story—of a revolution born and then crushed—all too well. Like Essam, they lived through it, and they live with it, every day.
"I am telling their story. OK, I am telling my personal story," he says. "But in the end, it is so many stories."