Dr. Caitlin Bernard Might Sue Indiana AG Todd Rokita for Defamation—Lawyer
The lawyer for the Indiana obstetrician Dr. Caitlin Bernard, who provided abortion services to a 10-year-old rape victim, has said she might take take legal action against the state's attorney general and others, "who have smeared my client."
The case has inflamed political debate around abortion only weeks after the Supreme Court overturned Roe Vs Wade, which enshrined federal rights for terminations.
The rape victim had to cross state lines from Ohio, where abortions are now essentially banned after six weeks, to Indiana where the procedure can take place up to 22 weeks of pregnancy.
But Indiana attorney general Todd Rokita told Fox News he would investigate Bernard, accusing her of being an "abortion activist acting as a doctor" who had failed to file the required reports into the case.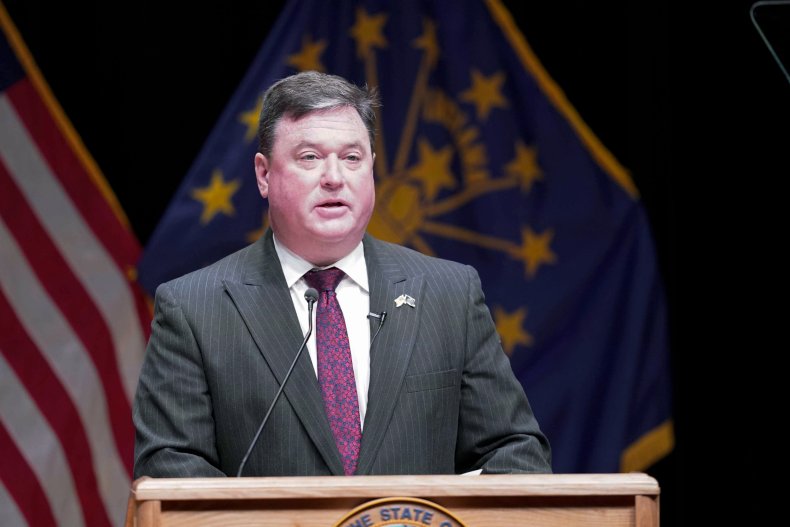 In a separate statement, he said, "I will not relent in my pursuit of the truth."
However, The New York Times reported that on July 2, Bernard had filed a "terminated pregnancy report" with the Indiana Department of Health and the Department of Child Services within the state's three-day reporting requirement for patients younger than 16.
Meanwhile, FOX59 said that documents it obtained through a public record request proved the doctor had filed the terminated pregnancy report within the required timeframe.
Bernard's lawyer, Kathleen DeLaney, said in a statement on Thursday that they were "considering legal action against those who have smeared my client, including Indiana Attorney General Todd Rokita, and know that the facts will all come out in due time."
"We are gathering evidence from multiple sources and agencies related to these allegations," Rokita told Newsweek in a statement. "Our legal review of it remains open."
Gerson Fuentes, 27, was arrested on Tuesday on suspicion of raping the 10-year-old, and later confessing to police to assaulting the girl on at least two occasions, according to police documents.
It quashed the doubts expressed by some conservative figures about the veracity of the story.
The Ohio girl's predicament has highlighted the consequences of the Supreme Court's decision on the vulnerable seeking abortions, as well as the risks faced by medical professionals providing abortion care amid a patchwork of different state laws.
Bernard tweeted on Wednesday that her "heart breaks for all survivors of sexual assault and abuse. I am so sad that our country is failing them when they need us most," she added, "doctors must be able to give people the medical care they need, when and where they need it."
Update 07/15/22, 8:10 a.m. ET: This article has been updated with a comment from Rokita.