Caitlyn Jenner's ESPY Win Changed the Conversation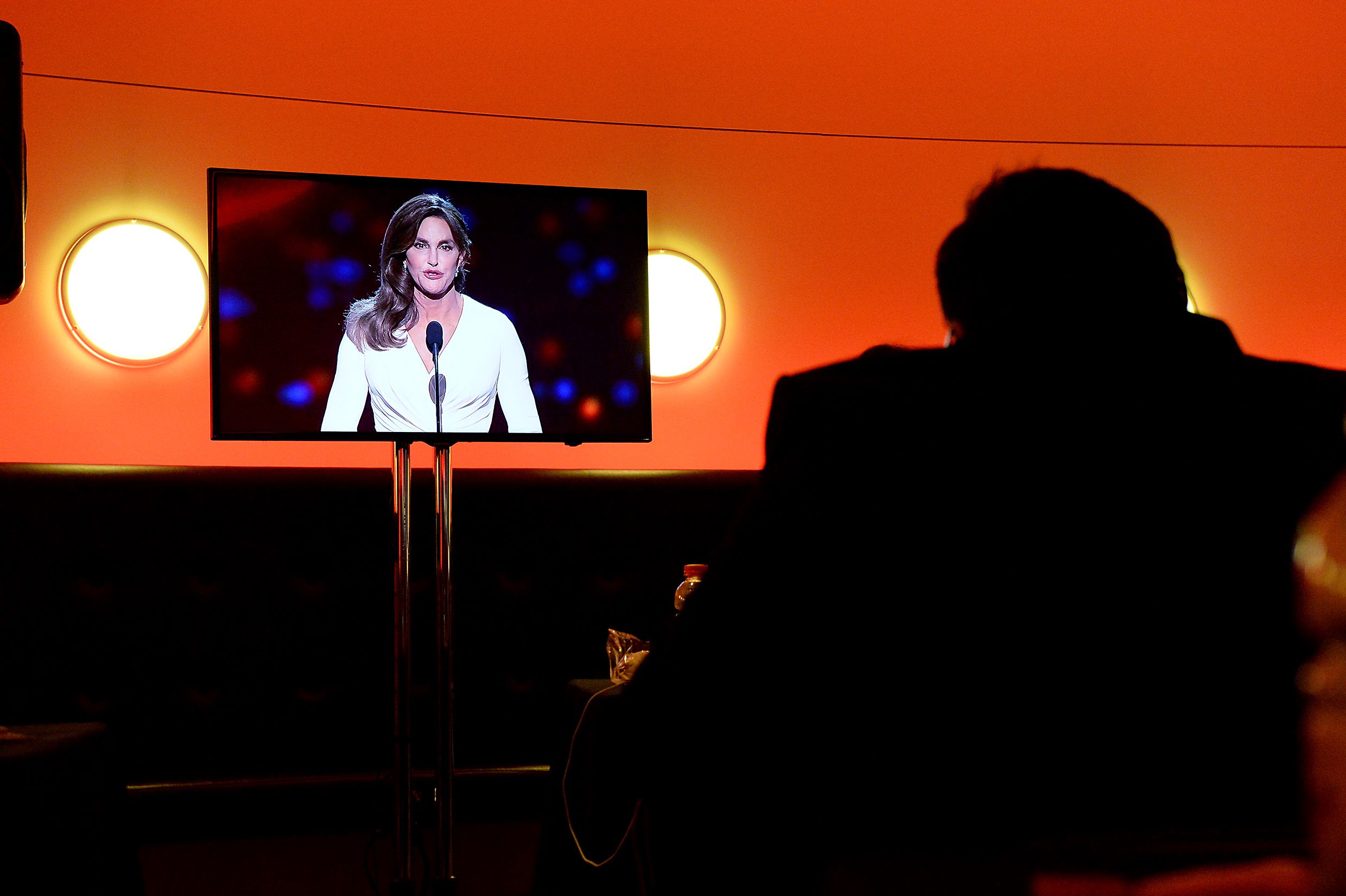 "If you don't like what's being said, change the conversation."
—Don Draper, Mad Men
Caitlyn Jenner received the Arthur Ashe Courage Award on Wednesday night at the ESPY Awards. Jenner is the 1976 Olympic decathlon gold medalist who represented the masculine ideal in mid-'70s American culture, though she is now something far removed from how she was long promoted.
"I think Caitlyn's decision to publicly come out as a transgender woman and live as Caitlyn Jenner displayed enormous courage and self-acceptance," Maura Mandt, the ESPYs co-executive producer, told SI.com earlier this week. "Bruce Jenner could have easily gone off into the sunset as this American hero and never have dealt with this publicly. Doing so took enormous courage. He was one of the greatest athletes of our time."
He was. And now she is one of the most courageous retired athletes of our time.
It was curious, and more than a little coincidental, that actor Jon Hamm narrated the introductory taped segment before Jenner took the stage. For seven sublime seasons, Hamm portrayed Don Draper, the complicated anti-hero advertising executive on Mad Men. That show aired its final episode less than one month after Jenner's two-hour coming-out interview with ABC's Diane Sawyer aired on April 24.
For the record, Mad Men's May 20 series finale, which aired on a Sunday night, attracted 4.6 million viewers. That was an unprecedented number for the AMC show, despite the fact that critics have long hailed it as one of the best dramas, if not the best, ever to appear on television. Jenner's one-off chat with Sawyer, which aired on a Friday evening, attracted 17 million viewers.
Viewers of the '60s-era Madison Avenue drama know that the twist behind the story was that Draper, for almost the entire series, portrayed himself as someone he was not. Don Draper, a well-heeled ad executive with the Tyrone Power looks and charm, was actually Dick Whitman, an orphan who had been raised in a whorehouse. Whitman concealed his identity from his colleagues and children, fearful that the truth would illuminate the fact that his stature was built upon a house of cards (sorry, wrong drama).
Eventually, the duplicity and self-loathing piggy-backed on each other. The pressure of keeping the secret became far more unbearable than the shame of the secret itself—and it wasn't as if Whitman was about to pull a Michael Ginsberg and lop off a nipple to release that pressure.
Don Draper came out, at a pitch to Hershey's. But because Draper's/Whitman's confession was spontaneous and unscripted, he paid a dear price for it. He nearly lost everything.
The "Everybody Hurts" moment of Wednesday night's 14-minute, Hamm-narrated intro of Jenner occurred just before the 10-minute mark. Jenner, soon after a 2014 tracheal shave (Adam's apple) surgery that ended all speculation as to whether she sought sexual reassignment, trudges through a supermarket parking lot. Her head is down, her hoodie is strung tight around her face, her hands are buried deep in her pockets.
For one of America's most beloved Olympic icons, a simple trip to the market had become a walk of shame. But then Jenner chose to heed Draper's advice (noted atop this story) better than the creative director of Sterling, Cooper, Draper, Pryce ever did. She—or her publicists—changed the conversation.
Last autumn, Jenner hired longtime friend Alan Nierob to represent her. Nierob is a publicist at Los Angeles-based Rogers & Cowan, a firm whose stated motto is "The difference between creating awareness and changing the way people think." The awareness, thanks to TMZ and Hollywood's infamous swarm of paparazzi, was already out there.
Nierob's task, therefore, was to fulfill the promise of what comes after the conjunction. And he did so spectacularly. First, according to a piece that appeared in Variety in early June, Nierob reached out to ABC's Diane Sawyer last autumn about a one-on-one interview with Jenner. That Sawyer is one of the most respected figures in network news, if not the most respected, helped to distance Jenner's tale from being a Keeping Up With the Kardashians spinoff. Suddenly, it had gravitas.
Next up came the Vanity Fair cover; that hit newsstands on June 1. It is on track to be the magazine's best-selling effort in four-plus years. And then came Wednesday night's memorable ESPY's speech by Caitlyn Jenner, which was accompanied by no small amount of controversy. The issue was never, at least for most, about LGBT rights. It was about the motivation, for both ESPN and Jenner's team, to put her on that stage and bestow that honor upon her.
"I wish Caitlyn all the happiness in the world and all the peace of mind in the world," NBC's Bob Costas told Dan Patrick on his syndicated radio show in early June. "However, it strikes me that awarding the Arthur Ashe Award to Caitlyn Jenner is just a crass exploitation play—it's a tabloid play."
Radar Online reported on Tuesday that "Jenner's reps approached [ESPN] and suggested she receive the award" at the same time those same reps were finalizing details of the ABC interview with Sawyer. Both ESPN and ABC fall under the Disney umbrella. (Newsweek reached out to ESPN for comment on this report and hasn't yet received a reply.)
The controversy has even pitted family members against one another.
On Wednesday night, director Peter Berg quoted a dismissive and crass tweet about Jenner receiving a Courage Award over a double-amputee military veteran. Berg, who directed Lone Survivor, is also a cousin of Pulitzer Prize–winning writer H.G. "Buzz" Bissinger, who penned the "Call Me Caitlyn" piece in Vanity Fair, and who spent more than 100 hours with Jenner earlier this year.
"I love Pete," said Bissinger on Thursday. "I am not in the business of censoring his comments, nor he mine. He said what he believes, [which is] rare to begin with and unheard of in Hollywood, where disingenuous discourse is the universal traffic."
It is not difficult to be cynical as to Disney's—and even Jenner's, considering her upcoming reality show—motives for providing Jenner that platform at the ESPYs in Los Angeles. But it is unflattering to be cynical about her cause.
On Wednesday evening, the person who once posed in a singlet on the front of a Wheaties box, representing the paragon of macho American athleticism, took the stage on network television draped in an ivory Atelier Versace dress. She looked lovely—and not just for her age.
"If someone wanted to bully me, well, you know what, I was the MVP of the football team," said Jenner, who grew up just a couple of miles south of the town in which Don Draper lived, along the Hudson River, in the first few seasons of Mad Men. "That just wasn't going to be a problem. And the same thing goes tonight.
"If you wanna call me names, make jokes, doubt my intentions, go ahead," said Jenner. "Because the reality is, I can take it. But for the thousands of kids out there coming to terms to being true to who they are, they shouldn't have to take it."
Every great ad, Donald Draper was fond of saying, begins with a story. Caitlyn Jenner's is as powerful as they come.