Caitlyn Jenner at ESPY Awards: Accept People 'for Who They Are'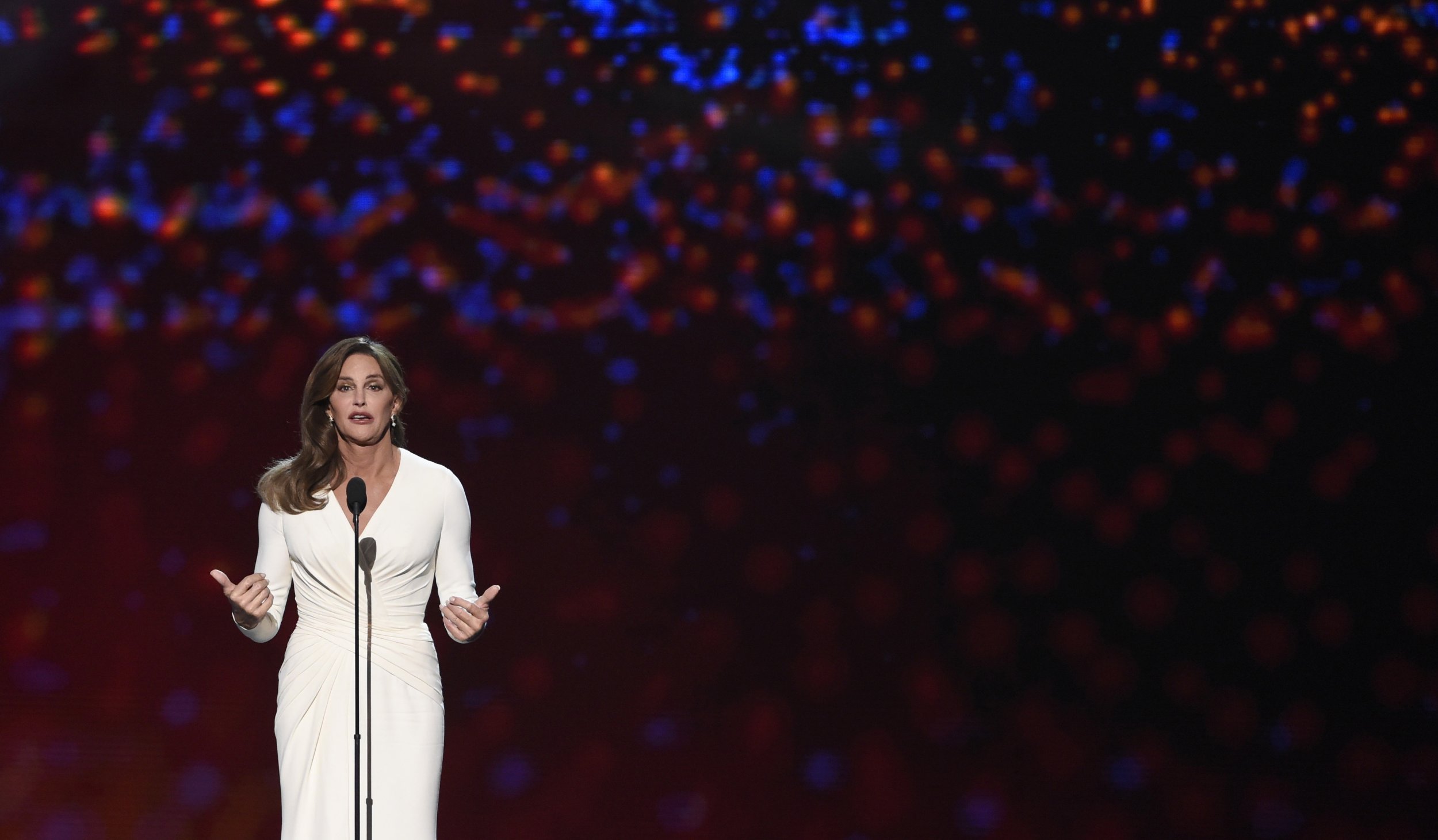 In an emotional plea before receiving an award for courage, the transgender former Olympian Caitlyn Jenner called on others to accept people "for who they are."
"Learn as much as you can about another person to understand them better," she said during her acceptance speech at the ESPY Awards on Wednesday night. "This transition has been harder on me than anything I could imagine. And that's the case for so many others besides me."
Jenner, formerly named Bruce, underwent a gender transition earlier this year. On Wednesday she received the Arthur Ashe Courage Award at the Microsoft Theater in Los Angeles. The award is given annually to a person, not necessarily an athlete, who has transcended sports. Past honorees include Nelson Mandela, Billie Jean King and Muhammad Ali.
Soccer player Abby Wambach, a member of the U.S. women's national soccer team and a two-time Olympic gold medalist, introduced the 66-year-old Jenner to a standing ovation from the crowd. This was Jenner's first public appearance since her image was featured on the cover of Vanity Fair last month.
Jenner, who won the 1976 Olympic men's decathlon, told the crowd she has experienced many different high-pressure situations, including competing in sports, raising a family and now weighing the reaction of the "fashion police" while choosing an outfit to wear to the awards. She donned a long-sleeved white gown for the event.
"I dealt with this situation on my own, in private," she said, calling the transition process eye-opening, inspiring and frightening.
She touched on transgender adolescents around the world today who are being bullied, beaten up and in some cases even murdered or committing suicide.
"Trans-people deserve something vital: They deserve your respect," she said to a round of applause. "From that respect comes a more compassionate community, a more empathetic society and a better world for all of us."
Jenner called on athletes to recognize the responsibility that comes with millions of people, especially young individuals, observing and absorbing their behaviors and actions. In her own spotlight, she is making it her mission to reshape the landscape for transgender people, and the ways they are viewed.
"If you want to call me names, make jokes, doubt my intentions, go ahead. Because the reality is, I can take it," she said. "But for the thousands of kids out there coming to terms with who they are, they shouldn't have to take it."
In her speech, she acknowledged her mother, her family and ABC's Diane Sawyer, with whom she publicly shared her plans to undergo a transition during an interview in April. Jenner thanked other people who took the gender-transition journey before her, including writer Janet Mock and musician Chaz Bono.
"We have come a long way," Jenner said. "But we have a lot of work to do."