Caitlyn Jenner criticized California Gavin Newsom's plan to send out another round of stimulus checks to residents as a political ploy to win the recall campaign.
With a surplus in the budget, Newsom announced in May that he wanted to send a $600 stimulus check to about 67 percent of Californians and an additional $500 to families with children. Direct payments have shown to be a generally popular measure among Americans and while Newsom's plan would still have to pass the California legislature, it could score points with voters.
"He's got no shame," Jenner said of Newsom during an interview on America's Newsroom on Wednesday. "He's talking about giving all the voters a recall rebate."
California was among the first states to shut down as cases of COVID-19 were increasing in the United States, and has maintained some of the strictest restrictions in the country. It spurned frustrations among business owners who were forced to close their doors and residents who took issue with the limitations that were put on their lives.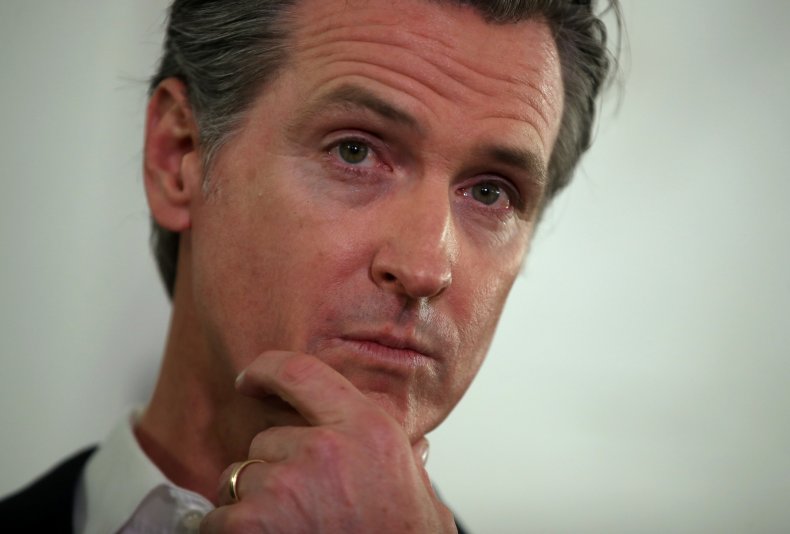 The recall effort against Newsom gained traction during the pandemic, focusing heavily on the economic toll caused by the governor's response as well as the impact school closures have had on kids and parents.
As the recall seemed increasingly likely, Newsom started easing restrictions, which he defended as being rooted in science and data. Critics, however, considered the reopening to be politically-driven, and Jenner told America's Newsroom, "of course he's going to open it up."
With the state beginning to return to normal, Jenner acknowledged that it may become "a little bit harder" for her campaign to oust Newsom, but said: "California is not forgetting."
"Mothers are not forgetting when their kid has been out of school for the last year, missed an entire year of education, of social activities, of sports," Jenner said.
Former California Governor Gray Davis wasn't as confident the pandemic would have a lasting impact. During a January interview with Newsweek, Davis, the only other California governor to be recalled, put his money on Newsom to be re-elected in 2022 when his term is up.
At the time, Newsom still had a nearly 60 percent approval rating and with vaccinations on the rise, Davis said it would only be a matter of months before the "lightbulb goes on" and people realize the pandemic is approaching the final quarter.
"All's well that ends well," Davis told Newsweek in January. "If people come out of this healthy, vaccinated and if their job or small business can be revived, I think there will be a deep sigh of relief."
While the recall effort was able to secure the necessary signatures to trigger the special election, the odds are in Newsom's favor, according to polling. A majority of likely voters approve of Newsom's plan for another round of stimulus checks, and nearly 6 in 10 would vote in a recall election to keep him in office.
In contrast, Jenner received just 6 percent support in a Los Angeles Times/University of California Berkeley Institute of Governmental Studies poll released earlier this month. She trails well behind Republican challengers former San Diego Mayor Kevin Faulconer and John Cox, who each received 22 percent support among those polled.
Jenner acknowledged her low polling number during Wednesday's Fox News interview and said if Newsom wins in the special election, she may challenge his reelection in 2022.