'I Was a House Painter, Now I Run a Cheesecake Empire'
I first decided to make a no-bake cheesecake after my dad made one in February 2015. My girlfriend and I made a peanut butter and nutella cheesecake and it was pretty flat, but it tasted good. No-bake cheesecakes are fairly easy to make, so I began to experiment with flavor combinations like lemon and basil. I don't think I'd ever baked a cake prior to that and I've never been to catering college or completed a cake decorating course, but over the next two years of making cheesecakes for my friends and family, my creations started getting better. I was a house painter and decorator at the time, so I would bring cheesecakes and little tester pots to the building site to get feedback. A lot of the time, I'd have to buy a new tin, because I didn't take the cheesecake off the tin's metal base. It wasn't a very efficient business model, but all the feedback was really positive, which spurred me to continue.
I then got to the point in January 2017 where I was ready to set up an Instagram page for my cheesecake business, which I'd called Pleesecakes. I wanted to make a bit of money on the side, to supplement my house painting and decorating work. But I didn't have a business plan, I had no experience and I was still working out of my parents kitchen. My vision was that I would make four or five cakes a month.
Luckily, I got a shoutout on social media from one of my friends, U.K. celebrity Joe Wicks. That brought a lot of attention, but I didn't have anything set up; I didn't even have a website or an email account. In that first week we had about 50 orders, which doesn't sound like a lot, but it was for a business that had only been running for a couple of days. I was definitely chucked in the deep end. It was instantaneous. I set up on January 3 2017, and on January 6, I realized I wouldn't be able to go back to my house painting job. It was a really weird transition.
The first year was a blur and everything scaled up quickly; we made between 20-40,000 large and small cheesecakes in that 12 month period. We even made two cheesecakes for the Queen in the first six months. But one of the cheesecakes I created right at the beginning, the Fully Loaded—which is salted caramel flavor loaded with chocolate, cookies and candy—is still one of our best sellers.
I started a TikTok account for Pleesecakes as a bit of fun, and none of my team were on board, they thought it was a platform that was just for young people dancing. But I stuck with it for a year and I've now reached 1.7million followers. We share content there like the giant cheesecake versions of candy bars and cookies. One of the first may have been the giant Kit Kat cheesecake. We were sent a large Kit Kat mould and worked with that to create a giant cheesecake version of that candy bar. But we make cheesecakes on a daily basis, so it's just about adapting the recipe and the mould for each idea. For the giant Oreo we made, the actual Oreo biscuit layer wasn't made from Oreo cookies, it was a chocolate cheesecake brownie, and then we created the filling part with a vanilla cheesecake.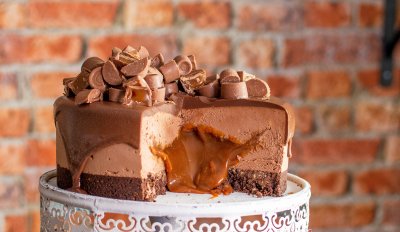 Our giant cheesecake version of the Reese's Peanut Butter Cup was made with a giant muffin mould. I saw the pattern on the outside and it reminded me of that Reese's treat, so we replicated it on a larger scale with a chocolate cheesecake coating on the outside and filled it with a load of peanut butter and capped it off with chocolate. It was shared around between the team afterwards.
We do get an influx of requests for the giant candy bar or cookie cheesecakes, but we don't sell them. It's not something we've looked into, and we also don't work directly with those brands yet. But it's great content and we share the treats within the team after. I have six chefs in the kitchen I work collaboratively with and we have real creative freedom, someone will have an idea and it will just escalate. We now sell cheesecakes and mini cheesecakes in many flavours, cheesecake filled truffles and frozen cheesecake in a tub, which we call freezecakes. The latter is a recipe we've developed over the past year. It's similar to ice cream, though it's much more indulgent.
Five years since launching the company, we probably sell 10,000 cheesecakes a week on average, though that can go up and down. And, we've now reached a seven figure annual turnover as a company without yet branching into retail or moving overseas— though the U.S. is on my hitlist.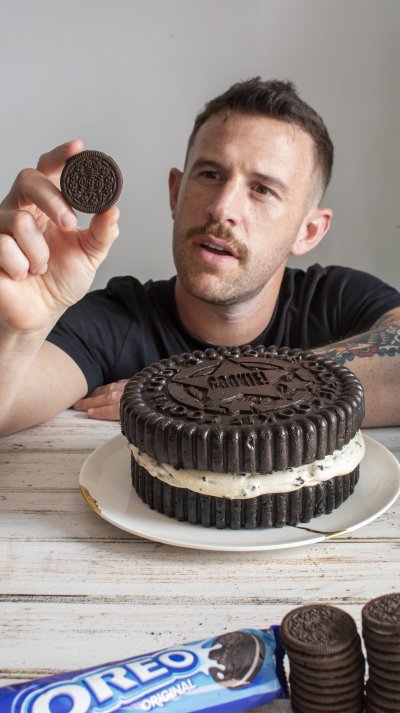 Pleesecakes hasn't made me a millionaire yet. I live in a one-bedroom flat with my girlfriend and I don't take a big salary because we're still reinvesting in the business. Being financially free is something everyone strives for, but I think you get to a point where you have enough money to be happy, and that's not really a great deal of money. I'm not led by money, I don't think that's the right mindset, I just love the journey.
I'd love to build a sustainable global brand. We're already stocked in places like Selfridges department store and in some Amazon Fresh locations and I've got a team of almost 30 people now. It's nice to see my team being passionate and to be able to give them the opportunity to grow.
I do get imposter syndrome quite a lot, I think that's a natural result of the process I've been through. But I love what I do and I'm really passionate about it. It feels like a part of me now. Yes, it's been a bit of a weird journey but we attract a lot of attention and now work with huge companies, so it's exciting.
I love talking about my journey, because it inspires others. A lot of people think they can't leave their job or have a career change. If you get up on a Monday and you hate going to work, that really isn't a good place to be in your life, but people think they need experience, or to be academic in order to make a change. I would say that you just need to have passion and purpose and then be led by that. Every Monday, I'm buzzing to go to work, I'm so excited.
Joe Moruzzi is the founder and CEO of Pleesecakes. You can find out more at pleesecakes.com or follow them on Instagram @pleesecakes or TikTok @pleesecakes.
All views expressed in this article are the author's own.
As told to Jenny Haward.