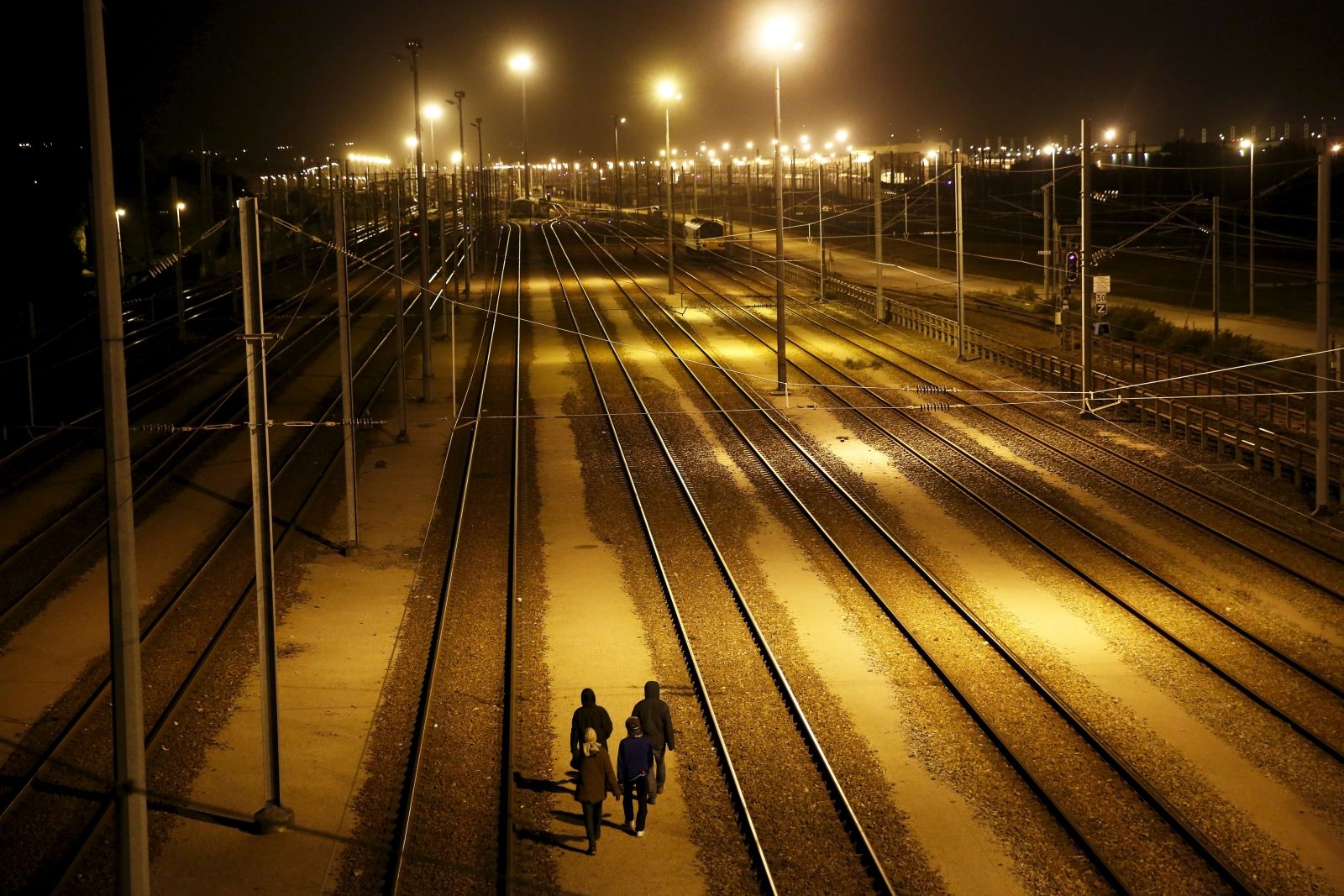 A Sudanese migrant is believed to have walked almost the entire length of the Channel Tunnel from Calais to the U.K. on Tuesday, a journey of more than 50 km.
Abdul Rahman Haroun, 40, was arrested by British police on Tuesday evening after being discovered close to the tunnel's British entrance in Folkestone, Kent, according to the Telegraph newspaper. It is believed to be the first case of a migrant successfully walking almost the entire length of the tunnel. Haroun is likely to have walked all day in near total darkness and would have had to avoid trains travelling at up to 160 km per hour. A spokesman for Eurotunnel confirmed to the BBC that the man "almost succeeded in walking through the tunnel" before he was found and arrested.
The dramatic event occurred after some 500 migrants attempted to enter the Eurotunnel terminal in Calais more than 600 times on Monday night, the Telegraph reported. An alarm went off in the southern tunnel in Calais around 7:30 a.m. on Tuesday, indicating an anomaly in the tunnel and traffic was suspended as police searched a 17 km stretch of track, causing two-hour delays for passengers coming from Folkestone to Calais.
The BBC reported that the man had been charged with causing an obstruction to an engine or carriage using the railway. Eurotunnel has filed a legal complaint in Britain over the incident and told Calais newspaper Nord Littoral that the man not only risked his life but "he has also lost all possibilities to request asylum or find work in England." Nord Littoral reported that Haroun appeared in Medway Magistrates Court in Kent yesterday and could face two years in prison if convicted. He will appear in court again on August 24.
Maya Konforti, a volunteer with L'Auberge des Migrants, an organisation which works with migrants in Calais, says she fears that the Sudanese man will be made an example of to discourage others from attempting the dangerous crossing on foot. "I guess they are going to try to make an example of what he's done and probably make him pay heavily. It's crazy that they are going to forbid him from asking for asylum," says Konforti. She adds that "it's very possible" that other migrants would attempt to walk the tunnel.
An estimated 3,000 migrants are living in camps at Calais and thousands of attempts have been made to enter the French terminal at Coquelles. Since June, nine people have been killed trying to access the tunnel. Eurotunnel released a press release yesterday saying that the intrusions were being brought under control and that increased numbers of police had been deployed to secure the French terminal. Britain is also upping its support for operations in Calais after Foreign Secretary Philip Hammond said on Monday that an additional 100 British guards would be deployed to the French terminal and announced "a much improved level of cooperation and collaboration with Eurotunnel." After the 600 attempted incursions on Monday, intrusions were down to around 400 a night on Tuesday and Wednesday, the BBC reported.
U.K. government ministers are considering plans to shut the Tunnel at night if the crisis worsens, according to the Telegraph. Eurotunnel has voluntarily reduced the number of freight services at night, but ministers are considering what is being described as the "nuclear option" as the crisis shows little sign of letting up.