Caldor Fire Map, Update as Thousands Evacuated From California's Lake Tahoe
The large Caldor Fire burning in California has now destroyed close to 200,000 acres of land, with officials responding by evacuating tourists and residents from South Lake Tahoe.
In an update at 8:47 p.m. ET on Monday, the California Department of Forestry and Fire Protection (Cal Fire) confirmed that the Caldor Fire had so far destroyed 186,568 acres while being 15 percent contained as it continued to spread close to Lake Tahoe, which straddles the border between California and Nevada.
In reaction to the continued spread of the fire, which was sparked in California on August 14, an evacuation order was issued for the areas surrounding South Lake Tahoe, a tourist city with a population of more than 20,000 people.
Residents and tourists in the area, totalling around 30,000 people, were urged by Cal Fire to evacuate to Nevada on Monday afternoon as further orders were issued in El Dorado County, which has seen the worst of the blaze.
The Barton Memorial Hospital, located in South Lake Tahoe, evacuated 36 patients with skilled nursing needs and 16 in acute care on Sunday, before evacuating the rest of its patients and staff on Monday in alignment with safety recommendations.
South Lake Tahoe Police Chief David Stevenson said during a press conference on Monday that there were traffic problems as people attempted to leave the area, but added that he is "so appreciative that our citizens listened to the warning and the order and evacuated the city."
Footage posted on Twitter by ABC10 reporter Brandon Rittiman on Monday showed a large area of trees being destroyed by the fire, with the journalist saying that he had to "bail" on the location "on the Tahoe side of Echo Summit."
Cal Fire has assigned 82 crews totalling 3,784 personnel to help tackle the blaze, while 373 fire engines, 85 dozers and 76 water tenders are at the site of the large wildfire.
So far, 664 structures have been destroyed by the Caldor Fire, while 39 have been damaged by the blaze. Cal Fire confirmed on Monday that at least five people have been injured due to the wildfire.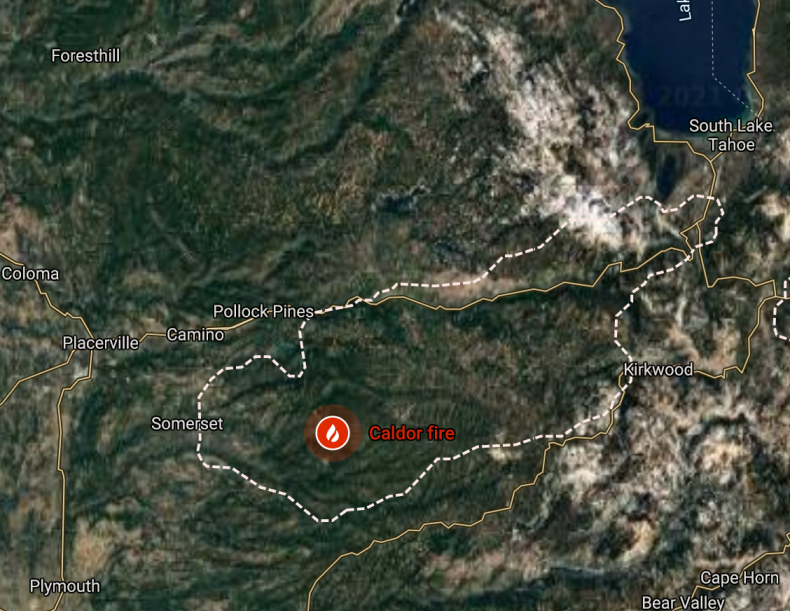 The fire is one of 13 blazes burning in California that have so far destroyed 1,460,782 acres of land, according to data from the National Interagency Fire Center.
At least 83 large wildfires that have destroyed more than 2.5 million acres are currently burning in the U.S. across 10 states after a heatwave and drought in early July caused blazes to break out across the West Coast.
Officials have stressed that the devastating effects of wildfires in the past few years have been exacerbated by climate change, which is likely to worsen in the future.
This message was echoed by California Governor Gavin Newsom earlier in August during a visit to the mountain town of Greenville, which saw several homes burned to the ground by the Dixie Fire, the largest blaze currently burning across the U.S. and the second largest in California's history.
According to data shared by Cal Fire, the Dixie Fire has now destroyed 777,741 acres and it is 48 percent contained. The August Complex blaze burned more than 1 million acres in 2020.
Last week, in reaction to the multiple wildfires burning in California, President Joe Biden approved a disaster declaration for the state just a day after Newsom asked for him to do so, allowing aid to be sent to areas to help them recover.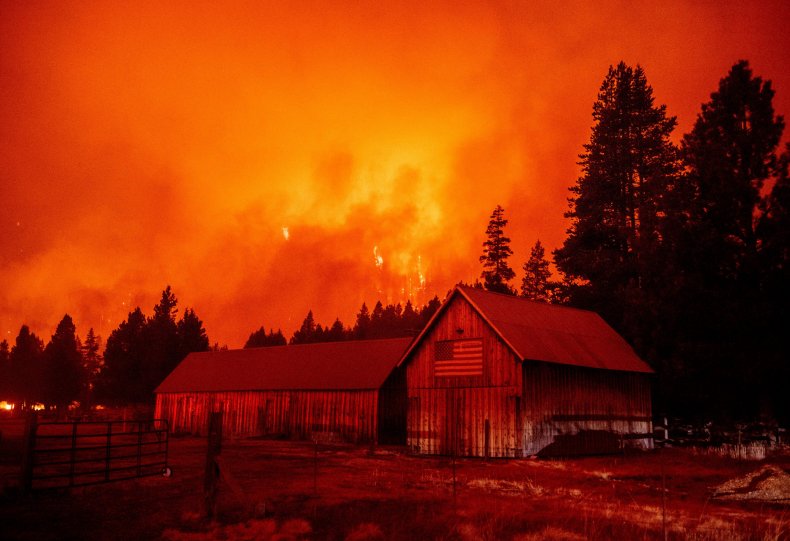 Correction 6/28/21, 11:40 p.m. ET: This article was updated to correct the start date of the Caldor Fire from July 14 2021 to August 14 2021.