Caldor Fire Rips Through Cabins in Camp Sacramento, Closing in on Tahoe Ski Resort
Northern California's massive Caldor Fire tore through cabins near Camp Sacramento in El Dorado County on Sunday afternoon as it makes its way closer to the state's tourist-ridden Lake Tahoe region.
Firefighters rushed to build defensive lines at the Sierra-at-Tahoe ski resort on Sunday, a resort located South of Lake Tahoe, as authorities warned residents in nearby towns to evacuate from their homes, CBS SF reported.
By Sunday evening, the El Dorado County sheriff issued an evacuation warning for the entire Tahoe Basin. The fire began spreading so rapidly that officials at South Lake Tahoe's Barton Memorial Hospital said they were beginning to evacuate admitted patients to other facilities.
"Patients will be transferred to regional partner facilities & patients' families will be notified. Barton's Emergency Department remains open for emergent health needs only," the hospital tweeted Sunday.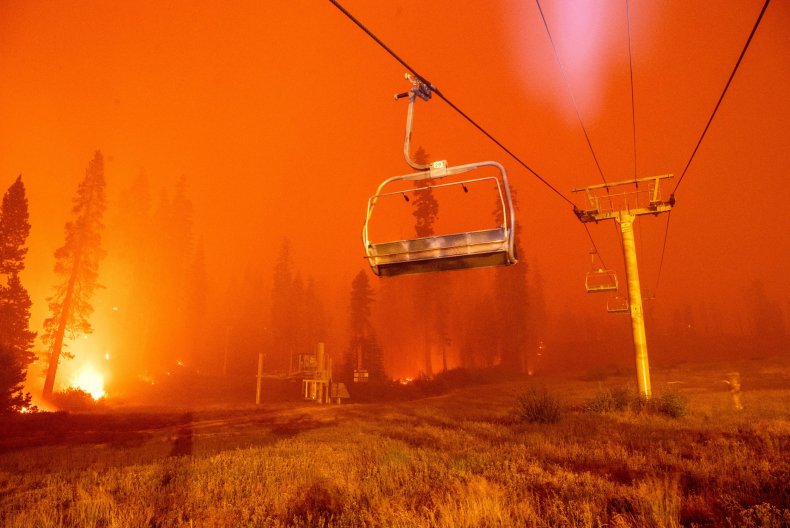 Evacuation orders have also been issued for additional parts of Alpine and El Dorado counties, according to a Sunday news release from Cal Fire.
"An evacuation warning is defined as a potential threat to life and/or property. Those who require additional time to evacuate and those with pets and livestock should leave now," the alert warned.
As of Monday, the Caldor Fire grew to 177,260 acres and is 14 percent contained, Cal Fire reported. Officials on Sunday evening said the fire was 168,387 acres and 13 percent contained.
"Low humidity remained poor overnight and allowed the fire to continue to actively burn," Cal Fire said in an update. "Fire weakened trees continue to present a risk for crews."
So far, more than 24,000 residents have had to evacuate in several small communities along major highways that connect Sacramento and South Lake Tahoe, according to CBS SF. Since the fire began on August 14, five people have been injured and over 650 structures have been destroyed. Videos on social media Sunday showed cabins completely engulfed in flames in Camp Sacramento.
As the fire began moving closer to Lake Tahoe this week, plenty of tourists remained despite recommendations from the region's visitor authority to postpone travel. On Monday, South Lake Tahoe City Spokeswoman Lindsey Baker told CNN that residents should be prepared to evacuate.
"The most important thing people can do now is get their go-bags ready and have a plan in place to evacuate should an evacuation order get extended," Baker said.
Firefighters said Sunday that due to high winds and low humidity, the fire began rapidly spreading.
"It's been an active day with a lot of extreme rates of spread and critical fire movement," Cal Fire Operations Section Chief Erich Schwab said at a Sunday evening news conference. The agency added there was a "significant increase in dynamic fire behavior resulting in rapid-fire spread."
The raging fire began this month near the community of Grizzly Flats, and is not expected to be fully contained until at least September, according to CBS SF. Officials are still investigating its cause.