Caldor Fire Map, Update As Over 20,000 Evacuated Due to California Blaze
The Caldor Fire in California is still growing in size while zero percent contained, as more than 20,000 people have been evacuated in areas affected by the large blaze that was sparked on Saturday.
In an update at around 7:45 p.m. EST on Thursday, Cal Fire confirmed that the Caldor Fire had so far destroyed 68,630 acres while being zero percent contained as it continued to spread close to Lake Tahoe.
Thursday evening's data showed that the blaze, which is burning through parts of the El Dorado National Forest, had grown by about 6,000 acres from Wednesday evening after growing dramatically in size overnight on Tuesday as the acreage grew from just 6,500 acres to 53,772 just 24 hours later.
CNN reported on Friday morning that the fire, which grew 24 times its size from Monday to Wednesday, had caused the amount of people told to evacuate in the area to grow to around 23,000—from 16,380 the day before.
Evacuations have been ordered in several areas of El Dorado County, as five evacuation centers have been set up in the areas worst affected by the blaze.
Despite only burning for a few days, the blaze has caused devastation in parts, as at least two people were injured as several buildings were burned by the blaze in the small town of Grizzly Flats, including an elementary school and church.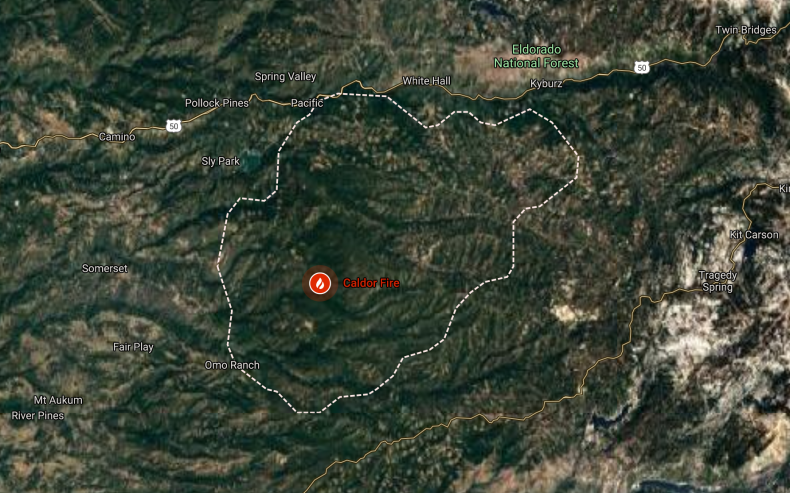 On Wednesday, in response to the fire, Eldorado National Forest Supervisor Jeff Marsolais issued an "emergency forest closure of all National Forest System lands, roads, and trails within the Eldorado National Forest."
Cal Fire has assigned 21 crews totalling 1,118 personnel to help tackle the blaze, while 109 fire engines, 21 dozers and 11 water tenders are at the site of the large wildfire that has so far destroyed 104 buildings and structures.
After growing to more than 107 square miles, the Caldor Fire is now around 40 square miles bigger than Washington, D.C. and about 30 square miles smaller than Detroit in Michigan.
At least 104 large wildfires that have destroyed more than 2.5 million acres are currently burning in the U.S. across 13 states after a heatwave and drought in early July caused blazes to break out across the West Coast, according to the National Interagency Fire Center.
Officials have stressed that the devastating effects of the wildfires in the past few years have been exacerbated by the effects of climate change, which is likely to worsen in the future.
This message was echoed by California Governor Gavin Newsom earlier in August during a visit to the mountain town of Greenville, which saw several homes burned to the ground by the Dixie Fire, the largest blaze currently burning across the U.S. and the second largest in California's history.
Across the United States, more acres have burned in 2021 compared to this point in both 2020 and 2019. There were 40,495 fires affecting 4,399,923 acres recorded from January 1 to August 19, 2021, according to the National Interagency Fire Center.
That compares to 37,569 fires and 2,747,015 acres for the same period in 2020, and 30,734 fires and 3,767,941 acres in 2019.