Michigan Man Fighting ISIS in Syria Flown to Chicago for Gunshot Treatment, Interrogated by Police
A 23-year-old from Ann Arbor, Michigan found himself seeking treatment for a gunshot wound in a Chicago hospital after being flown 6,200 miles from Syria, where he was a volunteer fighter against Islamic State militants.
A former West Point cadet, Caleb Stevens left the U.S. to become one of many young Americans joining Kurdish militia groups in the fight against ISIS in Syria, Chicago Tribune reported in a wide-ranging profile. After six months of fighting in Syrian towns, a gunshot wound brought Stevens back to a U.S. hospital, where he soon faced interrogation by Chicago police and the FBI for potential terrorist ties.
The People's Protection Units, also known as YPG, have an extensive social media presence intended to recruit fighters from around the world. Stevens reached out to the group through a Facebook message in April 2017, writing, "Hello, I'm a leftist from the United States interested in fighting for the cause in Rojava." He later traveled to the small Syrian town of Abu Hamam near the Euphrates River.
In January 2018, Stevens found himself suffering from a week-old gunshot wound in his leg in the emergency intake waiting room at Northwestern Memorial Hospital in Chicago.
Stevens said that one week before ending up in Chicago, he was battling ISIS militia on the roof of a home in Abu Hamam alongside the Kurdish fighters. As he attempted to retrieve a rifle, a sniper bullet tore through his calf muscle and "there was blood spurting out." Over the next several days, Stevens underwent surgeries at military hospitals in Iraq and Syria before being sent back to Chicago, records obtained by the Tribune showed.
When Chicago police were informed that Stevens was seeking treatment from an incident connected to the Islamic State, several officers "barged in the hospital room" and began "aggressively and suspiciously" interrogating him over potential terrorist ties.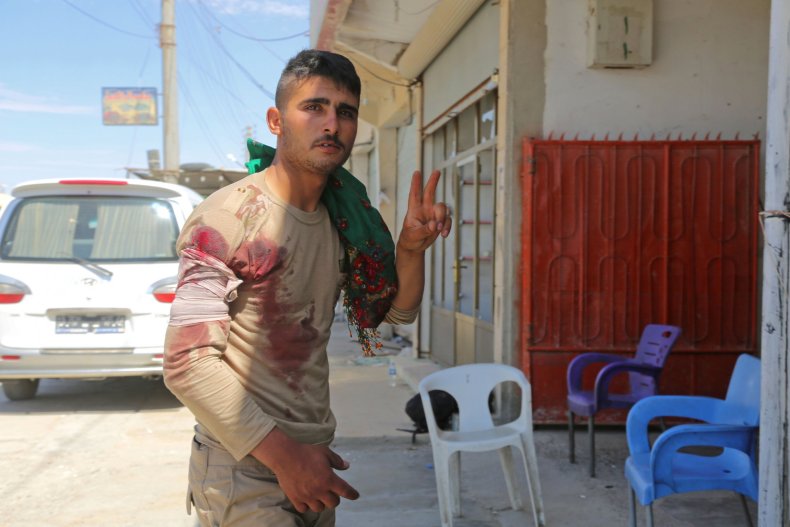 Stevens first heard of YPG just before leaving the U.S. Military Academy in August 2014. In 2017, after filling out surveys and being sent material making sure he was serious about the "revolution," Stevens bought a one-way ticket to the Middle East to join the rebel forces.
"Most of those who sign up are young adults, idealists and those with a military background who sympathize, and perhaps romanticize, the group's stated fight against Islamic State and oppression in Syria, Turkey and Iraq," the Chicago Tribune interview stated.
As Rolling Stone reported last year, YPG is among several Syrian militia forces fighting Al-Qaeda and Islamic State factions. In August 2014, ISIS or "Daesh" forces massacred thousands of Yazidi Kurds in Iraq before President Obama ordered the first U.S. airstrikes in the region.
Stevens said that his dramatic tale of joining the YPG began as means of pursuing an adventure.
"YPG was the only military force that went into Mount Sinjar and fought off Islamic State. That really got me thinking. Maybe this is something that I could do," he told the Tribune. "I didn't want to do two more years of college and job hunting to do something to improve the world. This felt like something intense and meaningful and something I could jump right into."