Former University of Purdue basketball star Caleb Swanigan, who played several seasons in the NBA, has died at age 25.
The Purdue men's basketball Twitter account announced the news, saying that Swanigan died Monday night. The Allen County Coroner's Office told Newsweek that Swanigan died of natural causes.
"Devastated," the Purdue men's basketball account wrote. "Our thoughts and prayers to Caleb Swanigan's family and friends. The world lost a gentle soul last night. Love you Biggie."
Swanigan was born in Indianapolis and played basketball for Purdue in Indiana for two seasons from 2015 to 2017, averaging 14.4 points per game.
Swanigan was drafted by the NBA in 2017, selected 26th overall by the Portland Trail Blazers. He also played with the Sacramento Kings in the 2018 and 2019 seasons before returning to the Trail Blazers in 2020.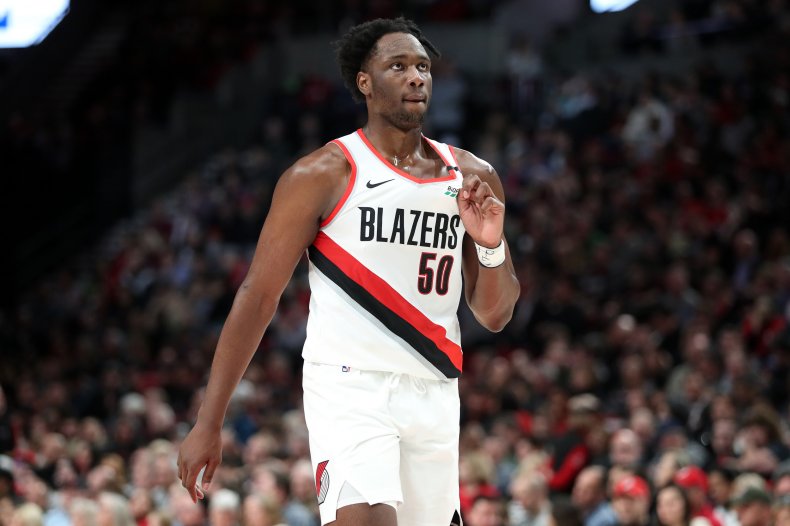 Swanigan suffered from health issues, including weight gain, resulting in his retirement from the NBA after the 2020 season, according to CBS Sports. He pursued a career in rap music after leaving basketball.
Tributes for Swanigan poured in on Twitter on Tuesday. The Portland Trail Blazers' official Twitter account posted: "We are heartbroken by the passing of former Trail Blazers player Caleb Swanigan. Our thoughts and prayers are with Caleb's family, friends and all who loved him. Rest In Peace, Biggie."
Basketball analyst Jeff Goodman also shared the news and wrote: "Such sad news to wake up to today. Former Purdue star and NBA player Caleb Swanigan has passed away. Swanigan was 25 years old. I first met him when he was on the AAU circuit and he was always such a nice, sweet kid. Had a tough road. Will be sorely missed."
Swanigan was open in the past about the hardships he faced growing up. Speaking with ESPN in 2017, he shared that he experienced homelessness as a child, moving from homeless shelters to unstable housing situations while his mother raised six children. His father struggled with a crack cocaine addiction.
Swanigan said that he had an unhealthy relationship with food, saying, "You think it's something really small, but it just builds up. One meal won't kill you, but if it becomes three or four meals that are bad in a row, that's when it starts to hurt your body."
After leaving the NBA, photos of Swanigan looking heavier brought significant criticism, causing Trail Blazers star guard Damian Lillard to call out the people who were making fun of Swanigan.
"You don't know WHAT it is he's going through to cause a drastic change," Lillard said in 2021. "If you gone be supportive then do that but don't ask no s*** like that like it's not possible when you naturally a big dude and go down a dark road."
Update 6/21/22, 12:25 p.m. ET: This story was updated with additional information.
Uncommon Knowledge
Newsweek is committed to challenging conventional wisdom and finding connections in the search for common ground.
Newsweek is committed to challenging conventional wisdom and finding connections in the search for common ground.
About the writer
Emma Mayer is a Newsweek Culture Writer based in Wyoming. Her focus is reporting on celebrities, books, movies, and music. She covered general news and politics before joining the culture team and loves to cover news about new books, films, Taylor Swift, BTS, and anything else she might be obsessing over at the moment. Emma joined Newsweek as a fellow in 2021 and came on full-time in January 2022 after graduating from Colorado Christian University in December. You can get in touch with Emma by carrier pigeon or by emailing e.mayer@newsweek.com. Languages: English.