Calgary Stampede: Where to Watch Live Stream, Music Lineup and Schedule, Weather Forecast
The Calgary Stampede is a long-lasting tradition in Alberta, with the first exhibition starting in 1886. Since then, it has secured itself a large following and cemented itself as honoring the history and present of the west. It takes place over ten days, starting on July 4 until July 14, 2019.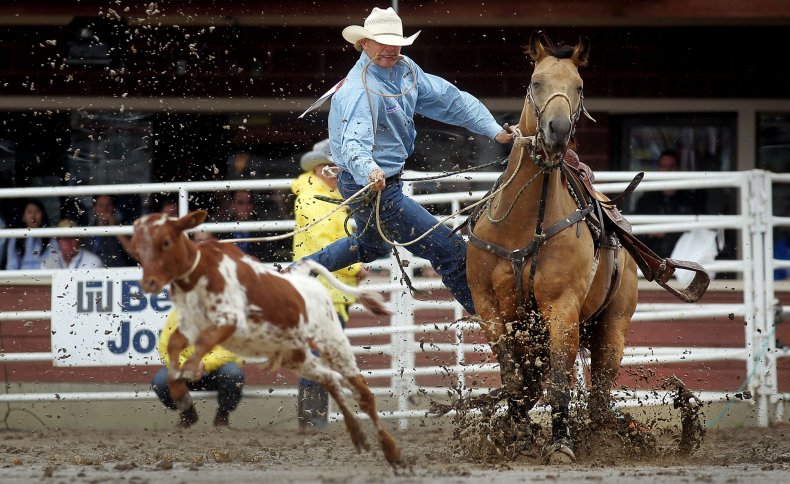 You can purchase tickets from the ticket office daily between 11:00 a.m. and midnight. Prices are:
General: $18
Seniors: $9
Youth: $9
Children 6 years and under Free
When is the Stampede Parade?
According to its website, this parade is a special part of Calgary's cultural identity. It also signals the start of the 10-day celebration. It starts at 9:00 a.m. local time and finishes at 11:00 a.m., on July 5, 2019.
This year, it will feature a colorful and exciting line up of 112 entries, including 32 floats, over 200 horses, and an unprecedented 19 marching bands from around the world, according to the website. These bands will be competing in the 2019 World Association of Marching Show Bands competition being held July 4 until July 7 on Stampede Park.
Other highlights of the 2019 Parade include a salute to the 100th anniversary of the 1919 Victory Stampede and parade; Cowley's Rafter Six Ranch Family, and a celebration of the women of the west and the Stampede Foundation with 2019 Calgary Stampede poster artist, Rebecca Shuttleworth.
The Celebrity Judge for the 2019 Calgary Stampede is award-winning Canadian country music singer Aaron Pritchett, and Amber Marshall of Heartland fame will be the Parade Marshall.
Where can you watch the Parade?
Viewers can enjoy the parade from the sidewalks along 6 and 9 Avenues for free. A number of non-profit organizations offer limited paid bleacher seating including:
31st (St. Cyprian's) Calgary Scout Group – Scouts Canada
Rotary Club of Calgary West
Rotary Club of Calgary Centennial
If you're not able to attend the event, you can watch it live on CBC TV (though it is only live in Alberta), and online on CBC.ca and CBCSports.ca from 9:00 a.m. until 11:00 a.m. MT. CBC will also broadcast an encore presentation of the parade on Saturday, July 6, on CBC TV from 10:00 a.m. to 12:00 p.m. MT.
Global News is also live streaming the parade from its YouTube channel.
Who Are the Music Headliners?
The Coca Cola stage will host the music headliners at this year's Calgary Stampede.
July 4, 2019: Reuben and the Dark
July 5, 2019: Feist
July 6, 2019: Bishop Briggs
July 7, 2019: Dashboard Confessional
July 8, 2019: T-Pain
July 9, 2019: King Princess
July 10, 2019: Metric
July 11, 2019: Mother Mother
July 12, 2019: The Glorious Sons
July 13, 2019: Chromeo (DJ Set)
July 13, 2019: Keys N Krates
July 14, 2019: Death Cab For Cutie
On the Nashville North stage, you can see country singers such as:
Tebey
Granger Smith feat. Earl Dibbles Jr.
Kiefer Sutherland
Chad Brownlee
Aaron Goodvin
Jess Moskaluke
Andrew Hyatt
Jade Eagleson
David James
What is the schedule for Calgary Stampede?
The main attraction is the Calgary Stampede Rodeo Daily which starts at 1:30 p.m. MT in the Grandstand Infield. Every afternoon, cowboys and cowgirls face off in a furious display of skill and grit, with every win building towards Showdown Sunday—the World's Largest Outdoor Rodeo, according to the website.
Calgary Stampede Rodeo and Evening Show tickets purchased in advance include admission to Stampede Park on the day the ticket is valid for.
What is the weather forecast for Calgary Stampede?
The starting day of the event is set to be a thunderous one, according to NOAA. On July 5, Calgary will see thunderstorms with temperature highs of 17 degrees Celcius. Through the weekend, sunshine will reign supreme with temperature highs of 22C on Saturday and 21C on Sunday.
Next week's weather forecast does not look as good. From Monday through to Wednesday, light showers will dominate most of the time, with sunshine on Wednesday. Temperature highs will range from 16C to 22C.