Health experts in California raised concerns about possible delays for lower-priority COVID-19 vaccine groups during a public discussion about the state's current vaccine rollout pace on Wednesday.
California, which leads the U.S. in terms of its total number of COVID-19 infections, reached a new milestone this week when it reported 3 million total cases since the start of the pandemic. Only four other U.S. states have exceeded 1 million total cases thus far, with Texas serving as the only other state that has surpassed 2 million total cases, according to data compiled by The New York Times.
California Governor Gavin Newsom has received criticism in recent days for his state's vaccine rollout pace. According to Our World in Data, California was administering an estimated 3.88 doses per 100 people by Wednesday, falling behind the efforts of at least 16 other states. Newsom said earlier this month that he expected vaccination numbers to increase in the weeks ahead, according to The San Francisco Chronicle.
An official with Newsom's office told Newsweek the state has recently increased the speed at which it is administering vaccine doses and aspires to reach a point where the only delays in vaccinating residents lie with the supplies provided by the federal government.
"The state of California and our partners at the county level have more than doubled the speed at which vaccinations are occurring over just 10 days," the official said. "Our goal is to build a system that is constrained only by supply from the federal government, and recent reports that some jurisdictions are running low on vaccines means that we're getting closer to that goal."
During the California Department of Public Health's Community Vaccine Advisory Committee meeting on Wednesday, state epidemiologist Dr. Erica Pan said the state is receiving between 300,000 and 500,000 doses per week. When those numbers might increase is unclear, Pan said.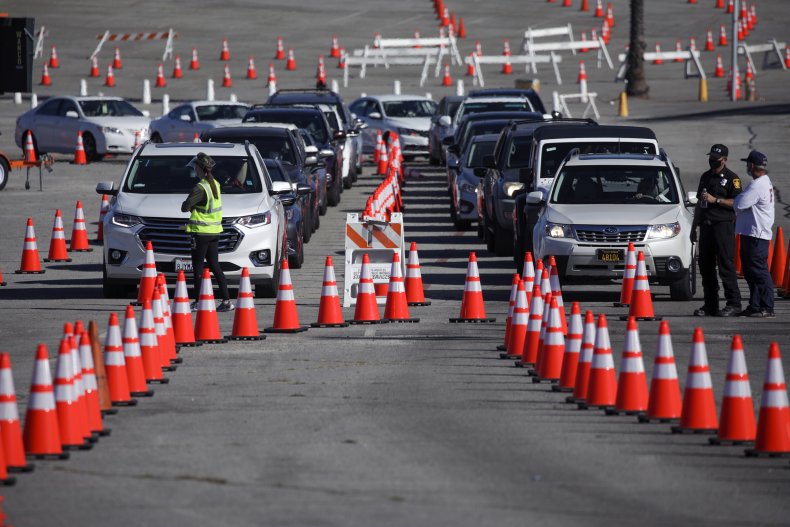 "Our understanding currently is that we can at least have that much, but may not get much more than that for at least the next several weeks," Pan said.
Both COVID-19 vaccines that have received emergency use authorizations from the Food and Drug Administration (FDA) so far—one each by pharmaceutical companies Pfizer and Moderna—require two doses to achieve a roughly 95 percent efficacy. Pan said she and other experts are hopeful that emergency use approval for another vaccine may speed up vaccination distribution, but that possibility isn't likely to come along until March or later. Even if another vaccine is approved, it is unclear how many doses California could expect to receive, she added.
In the meantime, state health experts presented data showing the ages of patients most negatively impacted by the virus. According to state data presented at Wednesday's meeting, patients 61 and older account for about 65 percent of COVID-19 ICU admissions and about 83 percent of COVID-19 deaths in California. If the state prioritizes residents ages 65 and older after the state reaches its vaccination goals for health care workers and long-term care facility residents, it could take months to administer the doses, Pan said.
Other Californians who are younger and who do not fall in the COVID-19 high-risk patient categories are expected to be vaccinated after the higher-priority groups, according to the state's current vaccination plan.
With an estimated 6.2 million residents within the 65 and older age group in California, Pan said the current distribution of vaccine doses means it would take approximately 20 to 22 weeks to vaccinate a minimum of 70 percent of the individuals within that one age group. California has received about 4 million total doses thus far and would need to receive more than 8.6 million doses in order to vaccinate the 65 and older population, she added.
The state health department reported 1,525,816 vaccine doses were administered throughout the state by Tuesday, though officials noted in a news release that they expected there may be some reporting delays. While there have been recent discussions around the world about whether a single dose might suffice until more doses are available, Pan said the state's scientific safety group has recommended sticking to two doses per patient.
"They feel really strongly that we should stick to, as best we can, to the recommended doses—that has what has been shown to have that efficacy of close to 95 percent for those two vaccines," Pan said.
Updated 1/21 at 4:46 p.m. ET: This article has been updated to include comments from an official with California Governor Gavin Newsom's office.