Supporters Rally in Favor of California Bill Requiring Colleges to Offer Abortion Services On Campus
As a bill requiring public California colleges to offer medication abortions awaits a State Assembly vote, supporters rallied to advocate for its passage.
State Senator Connie Leyva introduced the bill, SB 24, in December and it made its way through the legislature as lawmakers in other states voted in favor of bills further restricting abortion access. If assembly members pass the bill and Governor Gavin Newsom signs it, California would be the first state with a law of this kind on its books.
Under the bill, also referred to as the College Student Right to Access Act, all student health centers on the University of California and California State University campuses would have to offer nonsurgical abortions. Medication or medical abortions, often known as the "abortion pill," would be available to students within 70 days of gestation.
"SB 24 reaffirms the constitutional right of every college student to access abortion care. College students that wish to end their pregnancy should have the right to access that service on campus without delay," Leyva said in a statement in June.
To show support for the bill, JustCare: Campus Action for Reproductive Equity, a campaign in favor of the abortion pill being available on campuses, organized a rally. On Tuesday, supporters were set to gather at the State Capitol in Sacramento, where they would be privy to storytelling, music and several speakers, including Leyva.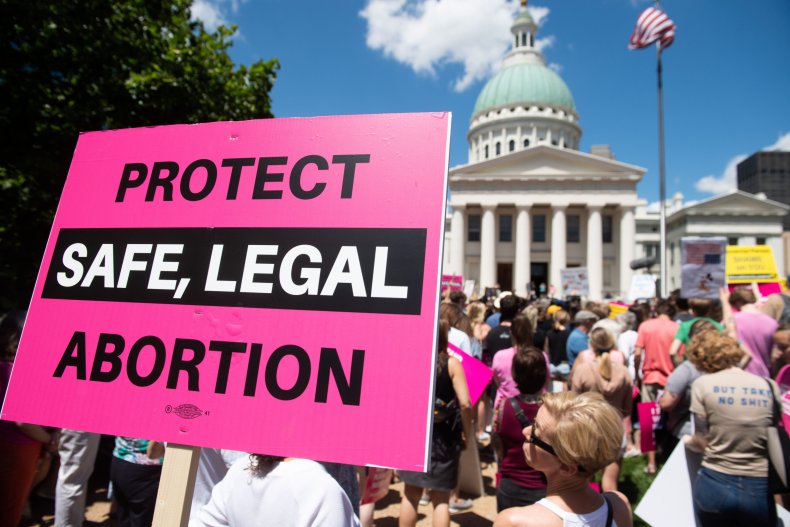 Zoe Murray, a University of California, Santa Barbara alumni and speaker at the rally, told Newsweek that the event is yet another way students and allies can make their voices heard. Supporters have written, called and met with legislators and advocated for SB 24's passage on social media.
"At a time when states across the South and Midwest are passing laws that ban abortion, Senate Bill 24 is an opportunity for California to continue leading on abortion access and reproductive rights," Murray said.
On Friday, the Assembly Appropriations Committee voted in favor of the bill, with 13 legislators supporting it and five in opposition. Votes fell along party lines as Democrats voted in favor of the bill and Republicans opposed it.
As a college student, Murray said the closest clinic to her campus was 11 miles away, which meant a 45-minute bus ride each way. She noted that not every student has a car and traveling to a clinic, similarly to the commute she had, takes time away from classes or work.
Along with the difficulty location posed, she faced "unnecessary barriers" to have an abortion, including the stigma and silence surrounding abortion.
"Senate Bill 24 will destigmatize abortion care by creating space for students to discuss their experiences openly with providers that we already know and trust," Murray said. "Importantly, it will also allow for a conversation to arise amongst students themselves."
Just as advocates for the bill urged people to make their support known, critics also mobilized. Jaime Soto, the Diocese of Sacramento Bishop and president of the California Catholic Conference (CCC), the official public policy voice of the Catholic Church in California, urged Catholics and Christians to pray a novena to Our Lady of Guadalupe, patroness of unborn children, from August 3 through August 11.
Soto labeled the bill an "unprecedented intrusion" on college campuses and claimed it would indoctrinate young people to the "ideology of abortion." Along with coming together in prayer, critics were urged to contact legislators through letters, phone calls and in-person visits to make their voices heard.
A medication abortion is caused by taking two drugs, mifepristone and misoprostol. The first, mifepristone, counters the effects of the hormone progesterone, which is necessary for pregnancy. Within 48 hours, the patient takes misoprostol, which causes the uterus to contract.
If signed into law, the bill would give public university student health centers a $200,000 grant to cover the costs of medical abortion readiness. The University of California and California State University systems would also receive $200,000 to provide 24-hour telephone medical support. It would go into effect on January 1, 2023, giving universities time to implement measures supporting the service.