California is adding five states to its list of states to which state-funded and state-sponsored travel has been prohibited due to "anti-LGBTQ laws."
Attorney General Rob Bonta on Monday announced that Arkansas, Florida, Montana, North Dakota and West Virginia would be added to the list of restricted states.
Bonta, who was sworn in as the state's 34th attorney general in April, said California would ban taxpayer-funded travel to the five states as a response to new state legislation that prevents transgender youths from playing sports and blocks access to healthcare for members of the LGBTQ community.
In 2016, California's Democrat-controlled legislature passed Assembly Bill 1887 to prevent state dollars from supporting or financing laws viewed as discriminatory by restricting state agencies from requiring employees to travel to those states.
"Assembly Bill 1887 is about aligning our dollars with our values," Bonta said in a press release. "When states discriminate against LGBTQ+ Americans, California law requires our office to take action."
There had been 12 states on the list. The states that had been previously subjected to California's ban on state-funded and state-sponsored travel are: Alabama, Idaho, Iowa, Kansas, Kentucky, Mississippi, North Carolina, Oklahoma, South Carolina, South Dakota, Tennessee and Texas.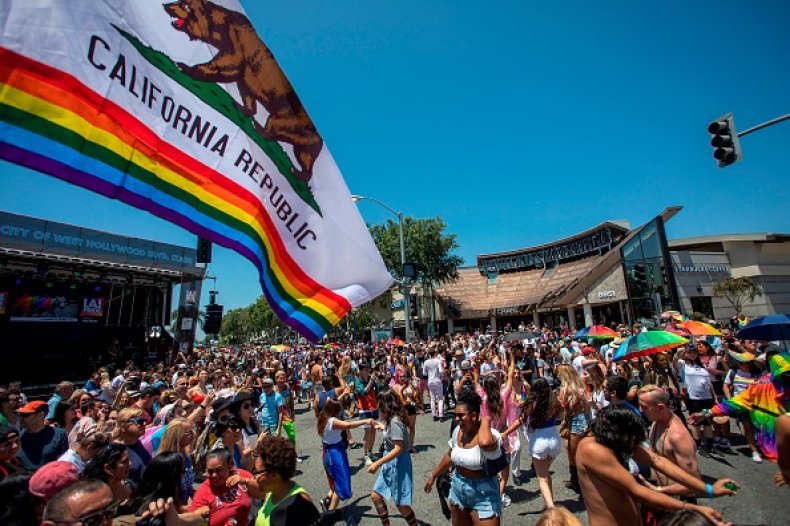 In a statement sent to Newsweek, Arkansas Governor Asa Hutchinson said the state's quality of life would continue to draw Californians despite the ban.
"While state employees may be barred from traveling here, Californians are fleeing by the thousands to places like Arkansas for our lower taxes, lower cost of living, and abundant opportunities," Hutchinson said. "The lure of our state parks and quality of life will overcome any edict from the California Attorney General."
A spokesperson for Florida Governor Ron DeSantis also told Newsweek that despite the ban, the state will continue to welcome Californians who would like to visit as tourists or move to become new residents.
"Congratulations to California for somehow managing to create a new way to politicize its bureaucracy," Press Secretary Christina Pushaw wrote. "The bill Governor DeSantis signed is not discriminatory; in fact, it's the opposite—the legislation ensures that women's sports remain fair. On the contrary, allowing biological males to compete in women's sports is discriminatory, because it puts girls and women at a disadvantage based on immutable, innate characteristics."
"I respectfully suggest that California's government focus on fixing the problems in their own state instead of worrying about Florida."
North Dakota has not enacted a transgender ban, but it passed a law in April that allows certain publicly funded student organizations to deny participation by LGBTQ students.
Arkansas passed two additional laws that allow medical providers to deny care to LGBTQ patients and prohibit physicians from providing gender-affirming treatment to transgender youths.
Florida and Montana will be added to the list on July 1, followed by West Virginia on July 8, Arkansas on July 29 and North Dakota on August 1.
Bonta's announcement comes on the 52nd anniversary of the start of the Stonewall Riots and on the heels of several laws recently enacted across four of the five states that ban transgender athletes from playing on women's or girls' sports teams.
"It's been 52 years to the day since the Stonewall Riots began, but that same fight remains all too alive and well in this country," Bonta said on Monday. "Rather than focusing on solving real issues, some politicians think it's in their best interest to demonize trans youth and block life-saving care.
"Make no mistake: We're in the midst of an unprecedented wave of bigotry and discrimination in this country — and the State of California is not going to support it."
Newsweek reached out to the offices of Montana Governor Greg Gianforte, North Dakota Governor Doug Burgum and West Virginia Governor Jim Justice for comment but did not hear back before publication.
Update 5:16 p.m. This story was updated with comments from Hutchinson.