As California Bans New Gas Car Sales by 2035, Which States Could Be Next?
California regulators' landmark move to phase out the sale of new gasoline-powered vehicles by 2035 is expected to ripple beyond its borders, with a third of states poised to adopt similar requirements.
The California Air Resources Board (CARB) voted Thursday to adopt the sweeping plan to shift the fuel source for the nation's largest auto market. A carveout in the federal Clean Air Act has allowed California to enact increasingly aggressive measures to slash carbon emissions from transportation, which other states have the option of adopting. More than a dozen mostly Democratic-led states have already signaled they'll follow California's lead.
These states and others have also launched their own plans to put more electric vehicles on the road. California's new phased-in requirements set a 2035 target for all new cars and light trucks sold in the state to not emit carbon and other greenhouse gas emissions.
The Biden administration's Environmental Protection Agency (EPA) is expected to approve California's new mandates, giving other states tools to move more aggressively to take gasoline-powered vehicles off the road.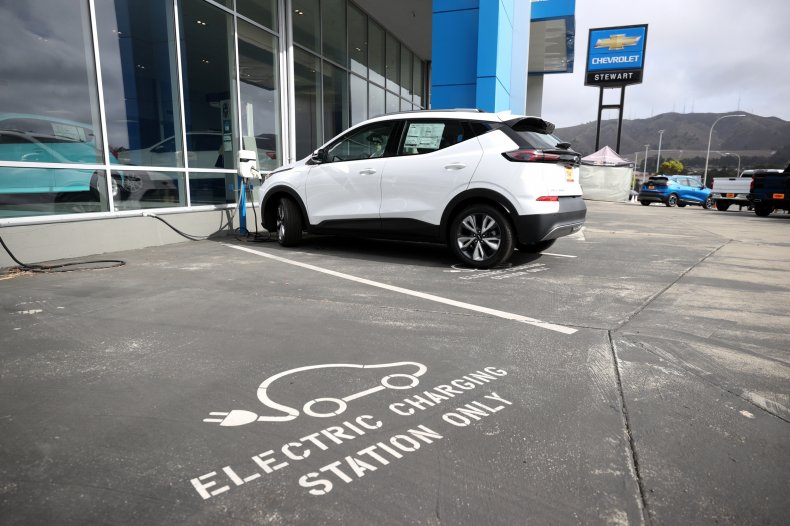 New York Governor Kathy Hochul signed a bill last year setting a goal of phasing out gas-powered vehicles by 2035. Washington state Governor Jay Inslee this year signed similar legislation, setting a 2030 goal.
"This is a critical milestone in our climate fight," Inslee said in a tweet reacting to California's adoption of new regulations. "Washington set in law a goal for all new car sales to be zero emissions by 2030 and we're ready to adopt California's regs by end of this year."
California's new requirements follow previous regulations intended to reduce greenhouse gases and other pollutants that have been adopted to some degree by 17 other states, according to CARB.
"Once again California is leading the nation and the world with a regulation that sets ambitious but achievable targets for (zero-emission vehicle) sale," CARB Chair Liane Randolph said in a statement. "Rapidly accelerating the number of ZEVs [zero-emission vehicles] on our roads and highways will deliver substantial emission and pollution reductions to all Californians, especially for those who live near roadways and suffer from persistent air pollution."
Those states include much of the upper Northeast, as well as Maryland, Delaware, Colorado, Minnesota, New Mexico, Nevada, Pennsylvania and Virginia.
In 2013, a group of these states signed on to plan a transition to electric vehicles. The states published a report last month called the "Multi-State Medium- and Heavy-Duty Zero-Emission Vehicle Action Plan" on moving medium and heavy duty trucks to electric power.
A dozen Democratic governors last year wrote to President Joe Biden, highlighting their state's investments in electric vehicles and calling on the federal government to adopt more incentives and regulations to move the country away from gas-powered cars and trucks.
The new regulations will spur a sea change for America's transportation and energy infrastructure.
John Bozzella, president and CEO of Alliance for Automotive Innovation, said in a statement that California's new rules will be "game-changing" but also highly demanding.
"Why? Whether or not these requirements are realistic or achievable is directly linked to external factors like inflation, charging and fuel infrastructure, supply chains, labor, critical mineral availability and pricing, and the ongoing semiconductor shortage," he said. "These are complex, intertwined and global issues well beyond the control of either CARB or the auto industry."
Newsweek has reached out to the EPA for comment.