California Barbershop Owner Apologizes for Kaepernick Doll Hanging From a Noose
The owner of a barbershop in Placerville, California, issued a public apology after an image circulated online of a doll fashioned to resemble former San Francisco 49ers quarterback Colin Kaepernick hanging from a noose.
The plush Kaepernick doll had been hanging in Bowtie Barbershop since 2016, when the quarterback began kneeling for the national anthem. But the backlash began recently, when it was posted on social media.
"Time to shut down the Bowtie Barber," one Facebook user said.
Bowtie Barber, the owner of the establishment, explained to KTXL that he wasn't aware the doll was offending anyone and thought it was in keeping with the theme of the neighborhood. Before it was called Placerville, the area was called Historic Hangtown; along one of the buildings is Hangman George, a doll in the shape of a man, hanging from a rope.
Although he didn't mean to offend anyone, Barber acknowledged during an interview with KTXL that "it was absolutely wrong."
"I'm publicly announcing that I apologize. It was the wrong thing for me to do," Barber said. "Absolutely will never happen again. I absolutely see the other side of it. I'm sorry."
Barber, a "die-hard" fan of the San Francisco football team, told KTXL that when Kaepernick started kneeling, he "took it personally" and hung the doll in the shop. After being made aware of how offensive the doll was to some people, he immediately took it down.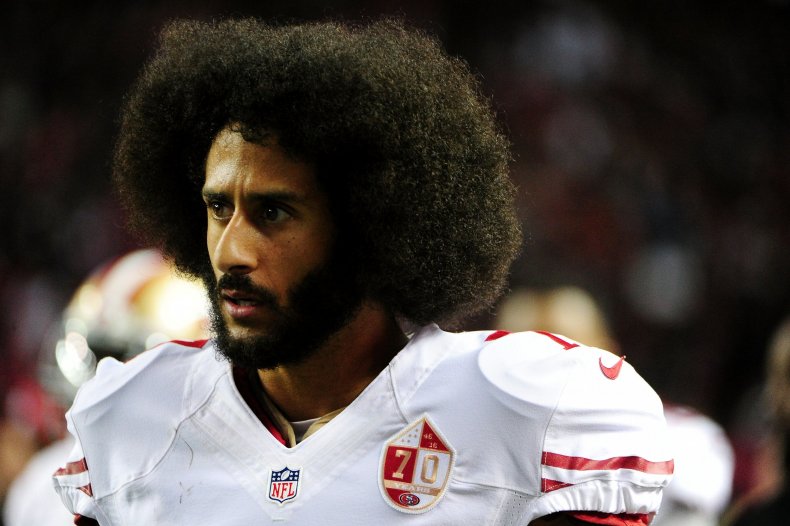 Joseph, who posted the photo online, told KTXL that while the apology was appreciated, it didn't make up for the action, because children were likely exposed to the image.
"They should be playing in the mud and playing football, not worrying about why Colin Kaepernick is hanging from a dang rope on the ceiling," Joseph said.
Kaepernick's controversial decision, to kneel during the national anthem to protest social injustice during the 2016 NFL season, was met with vehemently mixed reactions. Some applauded him for using his platform to effect change, while others criticized the quarterback for disrespecting the American flag and service members of the United States military.
The quarterback was let go from the 49ers after the 2016 season and has not been signed to another team since. In the years after his NFL career, Kaepernick has continued to speak out for his cause. He was recently revealed as the face of Nike's newest campaign.
Kaepernick is currently suing the NFL for keeping him out of a job, but on Thursday, Kaepernick's attorney Mark Geragos speculated that he may be signed to one of two teams as early as next week. Geragos declined to say which teams were interested in the quarterback.