California Bartender Suffers Broken Nose After Alleged Customer Dispute Over Face Mask Policy
A California bartender said he was working at a beachside bar in San Diego over Labor Day weekend when he was punched in the face by a customer who allegedly refused to comply with the face mask policy.
Tony Aversa, bar lead at 710 Beach Bar, said he was working on September 5 when he noticed a dispute at the door at around 7 p.m. He said he walked over to the group involved and asked them to kindly put on masks.
One man "just refused and continued to argue blatantly within inches of my face with no mask on," Aversa told ABC10.
The confrontation between the customers and his colleagues escalated when one of the men shoved a female bartender and Aversa put himself between them.
At that point, a man from the group who had been walking away came running back and sucker punched Aversa in the face, leaving the bartender with a broken nose and fractured sinus cavity.
"My entire right nostril is collapsed and I can't breathe out of that and then I have swelling from the sinus cavity of my mouth and teeth so I can't eat solid food at the moment," Aversa told CBS8.
The bartender said he knew what had happened the moment he was hit and one of the other employees immediately called police. Although an officer arrived within minutes, they were unable to find the man who punched Aversa.
"I have unfortunately worked in the industry a long time and it's very rare that you see something come of it, but I'm going to do everything in my power to get this guy," Aversa told CBS8.
"If, for nothing else, it will bring awareness to, not myself, but everyone in the industry right now and the situation we're all going through," he added. "Everyone just needs to relax."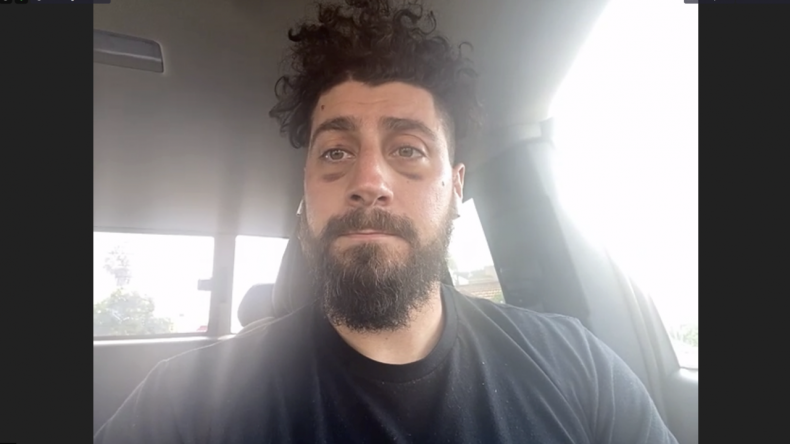 A GoFundMe page has been created in Aversa's name, saying that he had already been financially stressed by the shutdowns of restaurants and bars in response to the coronavirus pandemic.
"He has devoted twelve years in San Diego, honing his craft and planning to, one day, open his own place. To top it off, he has to endure another shot in the face -- only this time, it's literal," the page reads. "Tony has been out of commission all week; he can't sleep and can't eat due to the pain of his swollen mouth. He has yet to see a specialist to identify any additional damage and plan the surgery and treatment required for his recovery."
San Diego County's face mask order has been in effect since May 1. Residents are required to cover their face when they come within six feet of others in any public space.
According to the county's website, businesses must not only require their own employees to wear a face covering but also "inform customers about the need to wear a face covering, including posting signs and advising those in line or in the store."
The county said it does not expect law enforcement to ensure people follow the mandate, but that those not wearing one could be issued a citation or not allowed into certain businesses
Confusion over who should be enforcing mask mandates pressures service workers to police their patrons, even if it means risking their own safety.
"I didn't sign up for this job to be a mask babysitter... That's not what any of us want to do, but it is what we have to do to stay in business," Aversa told ABC10.
Newsweek reached out to 710 Surf Bar for comment but did not hear back before publication.
Assaults on workers who try to enforce face mask orders has been on the rise.
Earlier this month, bodega workers in New York City were physically attacked by customers who refused to put on a mask. A union of bodega owners are planning to meet with local law enforcement to express their safety concerns later this month.
In Illinois, Governor J.B. Pritzker passed a law last month that makes assaulting a worker who's "conveying public health guidance," a felony. However, there is currently no similar law in place in California.