California BASE Jumper Found Dead at Bottom of Granite Quarry, Police Investigate Death as 'Suspicious'
A BASE jumper was found dead at the bottom of a granite quarry in Southern California on Sunday.
The man, who has reportedly been identified by authorities but has not been named, fell from a cliff-face in Jurupa Valley, 50 miles east of Los Angeles, at some point on Saturday.
He was discovered shortly before 7.30 a.m. the following day when a member of the public was been passing through Riverside Quarry, near Sierra Avenue and 30th Street.
After authorities were called, the Riverside County Fire Department arrived at the scene and confirmed the death of the individual, reporting in a tweet that they responded to a "skydiver fatality" after the man was found with a parachute.
Police officers from the Riverside County Sheriff's Department later said that the man was in fact a BASE jumper.
"It appears the individual was BASE jumping," Sheriff's Deputy Mike Vasquez said, reported the Press Enterprise.
Although BASE jumping evolved from skydiving in the late 1970s, a number of things differentiate the two sports.
BASE jumpers plunge from buildings, antennas, spans (i.e. bridges) and earths (i.e. cliffs)—which is where its acronym is derived from—whereas skydivers plunge from planes.
This difference in altitude makes BASE jumping far more dangerous than skydiving and it is considered one of the world's most dangerous sports.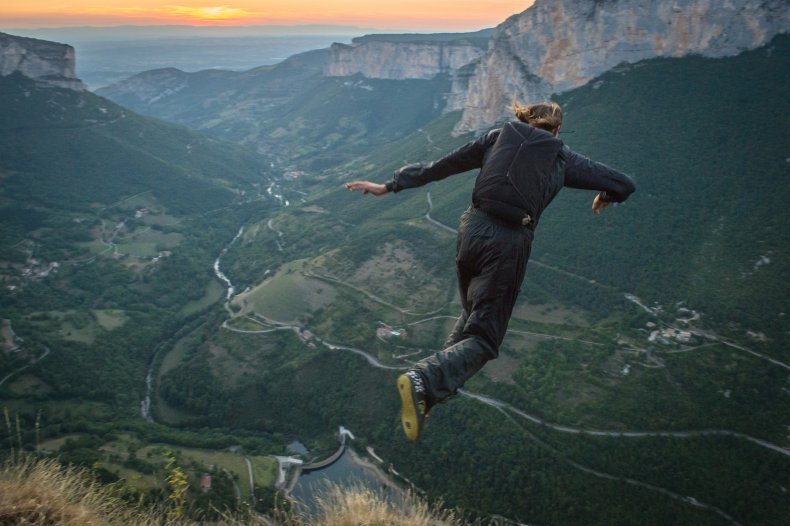 Pressures to outcompete each other also drives BASE jumpers to try increasingly difficult stunts.
In order to demonstrate their deftness in maneuvering in their winged suits prior to the deployment of parachutes, experienced BASE jumpers soar in close proximity to mountainsides and terrain and they weave through ravines and trees.
Although the sport appeared to be becoming safer, a spike in the number of deaths in 2016 caused shockwaves around the BASE jumping community.
At least 25 deaths were recorded and included some of the sport's biggest and most experienced names.
Governments and corporations have tried to restrict BASE jumping by making the sites used for the dives restricted, but the sport itself is not illegal. Pilots tend to trespass onto properties and buildings in order to complete their jumps.
Riverside Quarry, where the man's body was found, is clearly marked with no trespassing signs and jumpers can be fined, but the Riverside County News Source said the site was popular with BASE jumpers. Its peak is listed at 1,000 feet.
The Riverside County Sheriff's Department said the death is being investigated as "suspicious," but has released any further details pending an investigation.
Newsweek has contacted the department for comment.