Crowds Flock to California Beaches Over Memorial Day Weekend Despite Gov. Gavin Newsom's Calls For Social Distancing
The Memorial Day weekend drew large crowds to beaches, parks and other public spaces in California, despite warnings to stay vigilant and observe coronavirus social distancing rules.
The long weekend traditionally signals the start of the summer in the U.S. and many people ignored safety concerns to celebrate.
The Venice Beach Boardwalk in Los Angeles saw dense crowds gather with some people not wearing masks, as people headed outside to enjoy the sunshine. Eyewitnesses posted scenes of people walking side-by-side and gathering in groups along the boardwalk, sparking concerns over a fresh wave of infections.
Many Southern California beaches were open for swimming, running and other activities, although sunbathing is still prohibited.
Eaton Canyon in Altadena, a popular hiking spot, was forced to close after too many people turned up, with many flouting coronavirus restrictions. The Los Angeles County Parks and Recreation said there were "overwhelming crowds that were not following the COVID-19 public health requirements."
On Sunday, California Governor Gavin Newsom warned citizens to continue to observe social distancing guidelines to avoid spreading coronavirus further.
"It's a 3 day weekend. It's nice outside. That doesn't mean #COVID19 has gone away. Wash your hands. Stay 6 feet apart. Wear a face covering. Be smart. Your actions can literally save lives," he wrote on Twitter.
Los Angeles Mayor Eric Garcetti told NBC: "Don't go crazy and stay out all weekend. Don't get as close as you can to as many people. Don't go out without a mask. You see people without masks, avoid them. It's also something that just saves more lives, including, perhaps, your own."
Other officials expressed concerns about the scenes of people gathering together over the Memorial Day weekend. In Daytona Beach, Florida, hundreds of people gathered on the boardwalk for a party, disregarding social distancing rules, Fox reported.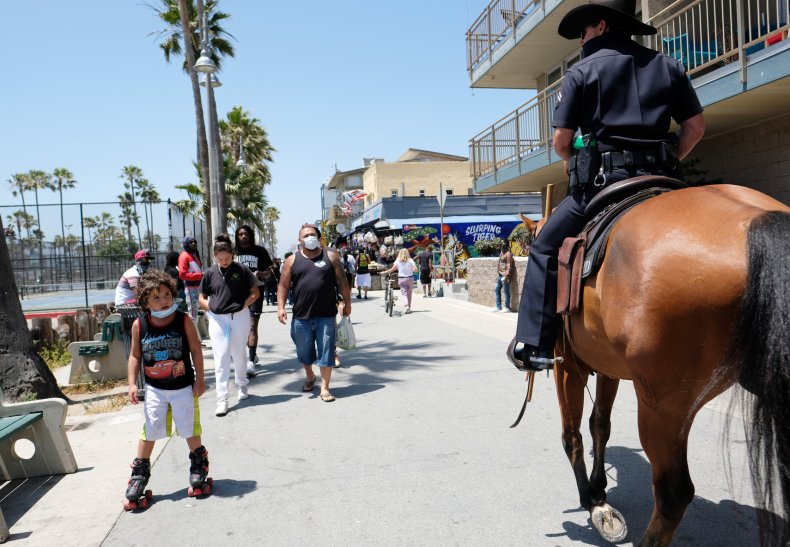 Dr Deborah Birx, coordinator of the White House coronavirus task force told ABC's This Week: "We really want to be clear all the time that social distancing is absolutely critical. And if you can't social distance and you're outside, you must wear a mask."
More than 1.6 million cases of coronavirus have been confirmed in the U.S, according to data from Johns Hopkins. The death toll has surpassed 97,000. Despite this, all 50 states have begun to ease restrictions to some extent.
California has the fourth highest number of confirmed COVID-19 cases, with more than 94,000 infections, according to the graphics provided below from Statista.