California Becomes First U.S. State to Report 50,000 New COVID Cases in 1 Day
As California's coronavirus outbreak continues to chart a sharp upward trajectory, the latest diagnosis statistics, released Wednesday, broke state and national records.
Health officials confirmed 53,711 new COVID-19 infections over the past 24 hours, bringing California's total case count to 1.67 million since the pandemic began.
The enormous leap in cases exceeded the state's previous daily record, established last week, by roughly 17,000 cases. It also surpassed single-day infection records set by all other U.S. states throughout the duration of the COVID-19 outbreak.
A spokesperson from the California Department of Public Health (CDPH) explained the latest jump in daily diagnosis numbers does not necessarily reflect cases determined positive on Tuesday. In comments to Newsweek, the spokesperson said 12,630 of those cases came from diagnostic tests administered earlier. The remaining 41,081 tests administered Tuesday that returned positive still set a daily record in California and nationwide.
"Due to the record surge in cases, many California local public health departments must process a significantly higher number of test results on a day-to-day basis. As a result of this increased workload, some cases are taking longer to process," the health department spokesperson said.
"In order to continue our understanding of transmission day over day, the California Department of Public Health (CDPH), in collaboration with local public health departments, has decided to deploy an auto processing feature from our toolbox to help expedite the processing of cases," they continued. "Due to this feature being implemented, today's case counts are significantly higher than the prior few days."
Virus cases began to spike in California last month, alongside a number of additional states that reported similar patterns. The state set its previous record of 35,729 new cases on December 11 after weeks of increasing numbers.
The state has confirmed over 200,000 new infections since last Wednesday, and official data indicates at least 30,000 California residents have tested positive for COVID-19 every day since then. California is the nation's most populous state, and surpassed case counts recorded in other places that saw outbreaks earlier, like New York, at the height of its summer resurgence in July. Its confirmed case total remained the country's highest on Wednesday, followed by those reported in Texas, Florida and Illinois.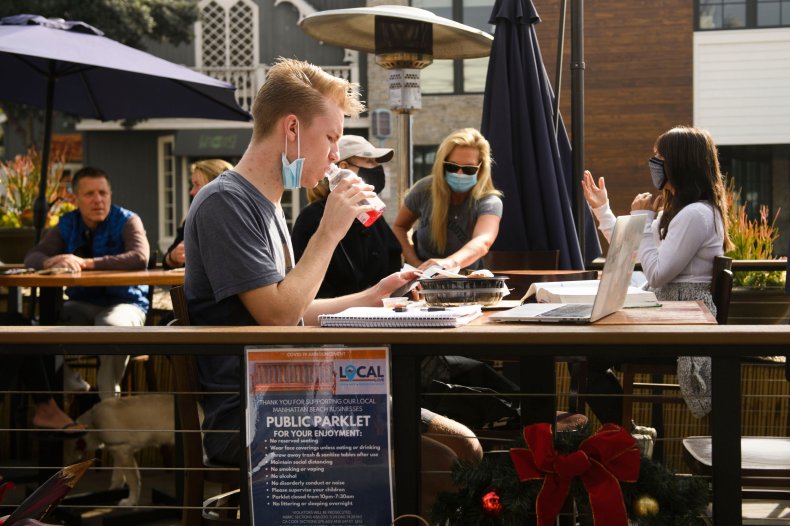 California has reported record daily increases in deaths linked to COVID-19 as cases climbed rapidly during the first half of December. The state confirmed its highest single-day death toll on Tuesday, with 293 new fatalities. Nearly 21,500 people have passed away in California as a result of COVID-19 this year.
Test-positivity rates, which California health officials release each day, point to accelerated virus transmission statewide. The most recent figure shows 11 percent of all diagnostic tests administered on Tuesday returned positive for COVID-19. Fourteen days ago, the ratio stood at roughly 7 percent.
California's hospitalizations and intensive care unit (ICU) admissions have soared with rising infection rates, leading Governor Gavin Newsom to announce a regional stay-at-home order to be issued in all counties where critical care units' capacities rise above 85 percent. The order asks residents of those areas to remain in their homes for at least three weeks once restrictions are implemented. It additionally requires public venues, such as movie theaters and bars, to close, and effects strict regulations for other establishments still permitted to operate.
Updated at 4:02 p.m. ET to include additional details and background information.