California Bishops Defend Junípero Serra, Say He Helped Native Americans
The Catholic Church has come out in defence of Spanish priest Junípero Serra, after an effigy of him was torn down in Downtown Los Angeles by indigenous activists on Saturday.
"The historical truth is that Serra repeatedly pressed Spanish authorities for better treatment of the Native American communities," read a statement issued by the California Catholic Conference of Bishops.
Serra was an 18th century Franciscan friar who founded the first nine missions in California during the era of Spanish colonization.
"He made great sacrifices to defend and serve the indigenous population," read the statement. "If that is not enough to legitimize a public statue in the state that he did so much to create, then virtually every historical figure from our nation's past will have to be removed for their failings measured in the light of today's standards."
Some claim that Junipero Serra enslaved native tribes and forced Catholicism on them, and if indigenous people disobeyed they were punished and imprisoned.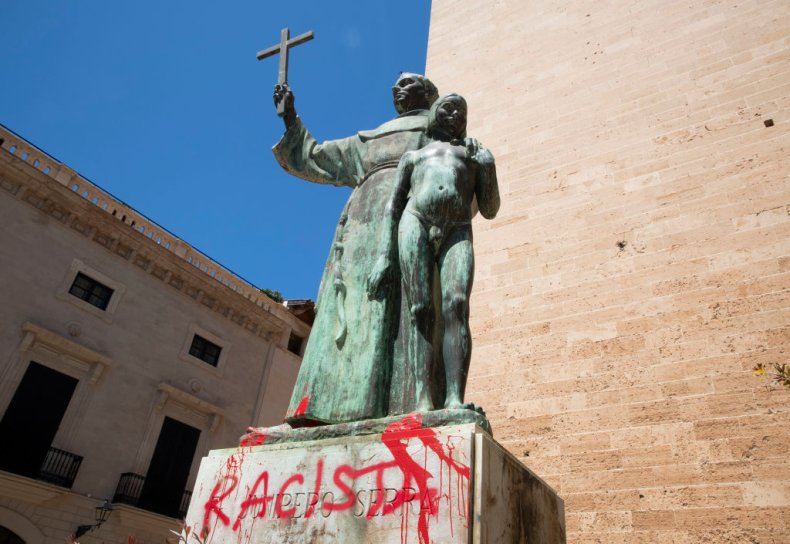 Pope Francis officially declared Serra to be a saint in 2015. Around the time of his canonization, historian Ruben Mendoza told The Los Angeles Times that Serra was "actually in constant conflict with governors and military commanders in New Spain over how they were treating Indians".
The debate continues in the California city of Ventura, south of Los Angeles. A change.org petition is currently live, with more than 6,000 signatures, calling for the removal of Serra statues and the name change of schools in the city.
"Black Lives Matter has evolved into a nationwide movement to seek justice and equality for all Black and Indigenous people," reads the petition whose creators believe Serra statues in downtown Ventura are offensive. "The City of Ventura and Ventura Unified School District must take action and do their part to dismantle systemic racism in all its forms.
"Often compared to Hitler, Serra was complicit in the brutal and dehumanizing conquest of native tribes in California. Serra presided over a 'near-genocidal policy' of putting Native Americans on reservations and forcing them to build Catholic missions. From an estimated 300,000 coastal Indians in 1769, their numbers dwindled to 16,624 in 1890."
It not the first time statues of Serra and names have been changed in California in consideration of current cultural sensibilities. In 2018, Stanford University made the decision to remove a statue from the campus and rename the entrance to the college, previously Serra Mall, plus change the names of a dormitory and house named after the missionary.
"The historical record indicates that the mission system Serra founded inflicted great harm and violence on Native Americans," wrote Stanford officials in a statement. "The committee report noted the continuing impact of this historical legacy on members of the campus Native American community today."
Amid the growing debate about the suitability of public statues, demonstrators have torn down figures with ties to slavery in other parts of the state, including San Francisco, where those of Junípero Serra, Ulysses S. Grant and Francis Scott Key were demolished.