San Diego on Tuesday became the first county along the U.S.-Mexico border to approve a pilot program that will fund legal representation for migrants facing deportation.
The California county's board of supervisors approved the pilot program in a 3-2 vote on Tuesday after listening to nearly two hours of public comments on the proposal.
"Our justice system should be based on facts and on law—not on access to wealth and resources," County Supervisor Terra Lawson-Remer said during a virtual board of supervisors meeting on Tuesday. 'When we see inequality like this—inequality that runs contrary to rights guaranteed by the U.S. Constitution and upheld by the Supreme Court—we must take action."
Lawson-Remer introduced a proposal for the pilot program last week. It has the support of the board's chair, Nathan Fletcher, who said Tuesday that he thought supporting the program was "the right thing for us to do."
"The immigrant community has given far more to San Diego County than they have ever taken," Fletcher said. "I fully support the effort that we're taking here."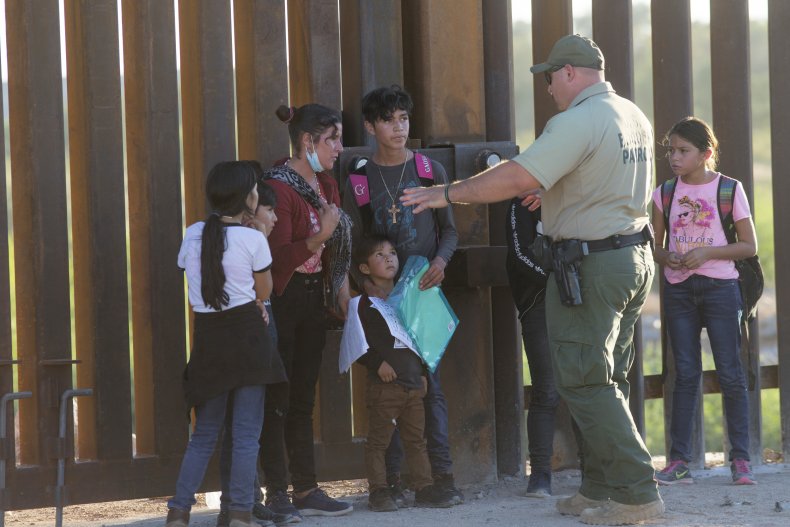 The board's vote was commended by the Vera Institute of Justice's Safety and Fairness for Everyone (SAFE) Initiative, which pushes for access to representation for all migrants in the U.S. who face potential deportation.
SAFE's associate program director, Liz Kenney, said in a statement shared with Newsweek that in moving forward with the pilot program, the Southern California county "joined a growing movement of cities, counties, and states across the country fighting for the dignity, freedom, and due process of immigrants" at risk of deportation.
"As the first border locality to pass a publicly funded legal defense program for immigrants, San Diego County is charting a path towards a bold vision for immigrant justice and welcoming communities," Kenney said.
The American Civil Liberties Union (ACLU) of San Diego and Imperial Counties, which provided the county's board of supervisors with prepared testimony advocating for the program's approval, also tweeted about the "historic vote" on Tuesday, which it said will "give immigrants a fair day in court by guaranteeing access to counsel."
In a statement shared with Newsweek, Immigrant Rights and Binational Affairs Advocate Esmeralda Flores at the ACLU of San Diego and Imperial Counties said the organization was "pleased" that the pilot program will move forward.
"By guaranteeing people confined at Otay Mesa Detention Center access to vital legal representation, the program will ensure people have a fair shot at reuniting with their families, winning their freedom, and seeking relief from deportation," Flores said.
Under Lawson-Remer's proposal, the program will set aside $5 million in its first year to provide migrants facing deportation in San Diego County with legal aid. The program will be housed in the county's public defender office and will partner with nonprofits and immigrant defense organizations in the region, Lawson-Remer said.
A strategy for the program's permanent funding and operation must be presented by county staff members within 90 days, according to the Associated Press.
Funding the program was a point of concern that one of the supervisors who voted against its approval raised during Tuesday's meeting. Supervisor Jim Desmond said he believes providing legal assistance to migrants should be a "federal issue" rather than a county concern.
"To me, this is a federal issue, and unfortunately not the financial responsibility of a local county government," Desmond said.
Katy Murdza, an advocacy manager with the American Immigration Council's Immigration Justice Campaign, told Newsweek it was "great news" to hear about the pilot program in San Diego but said more will need to be done to fully address migrants' needs for legal representation.
"There's so many people who can't find representation because of a lack of funding," Murdza said. Language barriers and many migrant detention centers' location in remote areas also create barriers to legal aid access for migrants, she added.
"We do need a program at the federal level because, if we keep trying to solve this problem piecemeal, there will always be people who end up going without representation," Murdza said. However, she said it is "very important to do what we can in the meantime," even if that means pursuing local programs like the one in San Diego.
While the AP noted that there are more than 40 programs in the U.S. that provide legal assistance to migrants facing deportation, the pilot program in San Diego will be the first such program along the nation's southern border. During her virtual presentation outlining the program last week, Lawson-Remer said a similar program that operates east of San Francisco in Alameda County served as a model for the proposed program in San Diego.
According to a 2016 report by the American Immigration Council, only about 14% of detained migrants are able to secure legal representation ahead of their deportation hearings. Those who are able to access legal representation are "four times more likely to be released from detention," the nonprofit's report said.
The San Diego proposal came amid an uptick in border crossings that began last year and continued to increase after President Joe Biden took office in January. According to the U.S. Customs and Border Protection (CBP), reported encounters between migrants and border officials increased by about 70% from February to March.
In San Diego, encounters between adult migrants traveling without a family in tow and border officials increased by 152% between March 2020 and March 2021, while encounters between border officials and unaccompanied minors increased by about 82% in the region during the same time period, CBP data shows.
Lawson-Remer said Tuesday that 80% of the migrants who are detained in San Diego County are unable to afford legal help. Following the board's vote, Lawson-Remer posted a video on Twitter celebrating the vote to approve her proposal.
"This is really a historic day," she said.
Updated 5/05 at 4:15 p.m. ET: This article has been updated to include comments from the ACLU of San Diego and Imperial Counties and the American Immigration Council's Immigration Justice Campaign.