California Breaks Daily Coronavirus Death Record Two Days in a Row
For the last two days, California, the new center of U.S. coronavirus epidemic, has reported its highest-ever daily death tolls. On July 23, the state reported 157 COVID-19-related deaths related and on July 24, it reported 159 such deaths.
On July 21 and 22, the state also reported its highest-ever daily tolls for newly confirmed cases: 12,807 on July 21 and 12,040 on July 22.
In his Friday coronavirus briefing, California Governor Gavin Newsom said that state hospitals are seeing an 11 percent per day increase in admissions to the intensive care units (ICUs), the wards where patients with severe symptoms are most often treated. He added that COVID-19-related hospitalizations are climbing at a similar rate, with 42,000 of the state's roughly 70,000 hospital beds being currently occupied.
During the briefing, Newsom also said that he believed sufficient numbers of masks hadn't been given to essential workers like cashiers, drivers, nurses, construction workers and others, including farm laborers—a majority of which are Latino, a racial demographic disproportionately affected by the epidemic.
While Latinos make up only 38.9 percent of the state population, the racial demographic has made up 55.6 percent of all coronavirus cases and 45.3 percent of all COVID-19 deaths in the state.
To prevent possible outbreaks at workplaces, Newsom urged employers to allow workers who feel sick to take time off for quarantine, and he pledged to pressure state legislators to increase paid sick leave and workers' compensation for at-risk laborers.
"We're going to be doing some more strategic enforcement of our labor laws, in the spirit of an open hand, not an open fist," Newsom added. "We've gotta hold some of those folks to a higher level of expectation."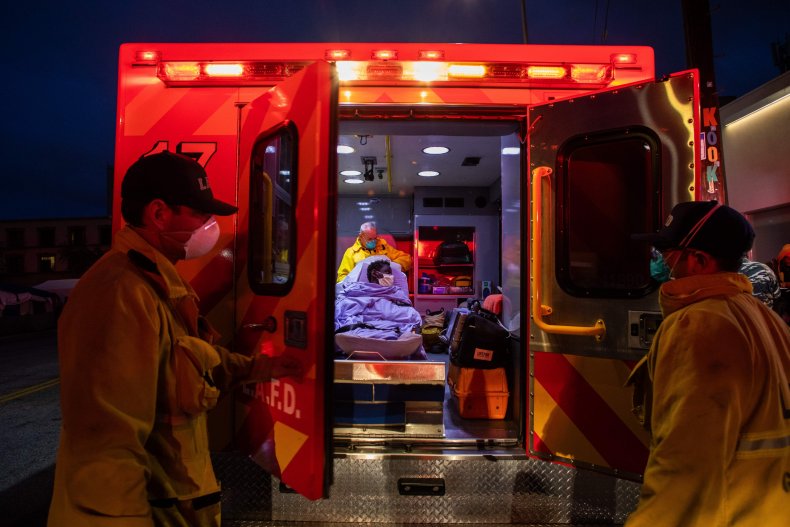 The majority of the state's cases were confirmed after businesses its business began reopening in mid-May. The state's case numbers have quadrupled since that time, the California Department of Health reported.
On Tuesday, Dr. Mark Ghaly, secretary of California Health and Human Services, said the state is only at the "beginning" of its outbreak and that the resurgence of new infections was partially due to people viewing the state's phased reopening of businesses and public areas as a "return to normal life."
Ghaly urged residents to follow social distance measures and Democratic Governor Gavin Newsom's statewide face mask mandate which went into effect in June.
In addition to statewide face mask requirements, Newsom has rolled back reopening procedures and closed bars and indoor restaurants across the state in July. Some California counties have also been required to close down non-essential businesses.