California Malibu, Woolsey and Camp Fires: Latest Updates, Track, Evacuation Orders and Casualties
Two fires raging in northern and southern California have killed at least nine people and forced the evacuation of thousands of homes.
The Camp Fire in Northern California is the most destructive blaze in state history in terms of structure loss, destroying more than 6,700 structures in two days, according to Cal Fire, the state's fire fighting agency.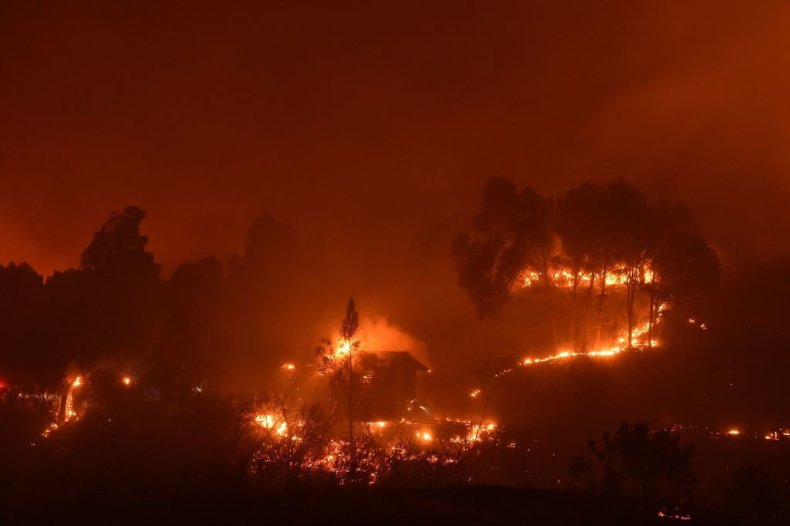 In Los Angeles County, the 35,000-acre Woolsey Fire was threatening 75,000 homes and more than 200,000 people were under mandatory evacuation early on Saturday.
The entire city of Malibu is under evacuation orders, after flames jumped the 101 Freeway and headed coastward, propelled by strong winds, reported ABC News.
Some of the evacuation orders were for residents within the City of Los Angeles in the West Hills area. It was unclear how many homes have been evacuated within the City of Los Angeles. According to Ventura County Fire Department, the county and Los Angeles County have been evacuated or are being evacuated of 148,000 residents.
Celebrities including Kim Kardashian, Mark Hammil and Lady Gaga posted in social media posts they had been forced to flee their homes. Actor Charlie Sheen said his father, Martin Sheen, had been found safe after earlier posting a message expressing concern for his whereabouts.
The blaze has also reportedly destroyed the Paramount Ranch in western California, where HBO series Westworld is filmed.
The blaze erupted Thursday afternoon in Simi Valley, northeast of Thousand Oaks, not far from where a gunman shot dead 12 people in a mass shooting Wednesday night, spreading quickly, propelled by 70 mph winds.
Some 500 miles to the north, nine people were found dead in and around the Northern California town of Paradise, where more than 6,700 homes and businesses were burned down by the Camp Fire.
Butte County Sheriff's Office said that four of the dead were found dead in vehicles destroyed by flames and another near a vehicle. Other were found in or near homes.
"This event was the worst-case scenario. It was the event we have feared for a long time," Butte County Sheriff Kory Honea said at a Friday evening press conference. "Regrettably, not everybody made it out."
Trump early on Saturday tweeted that "gross mismanagement of forests" was to blame for the two unchecked wildfires.
"There is no reason for these massive, deadly and costly forest fires in California except that forest management is so poor," he wrote in a Twitter post.
"Billions of dollars are given each year, with so many lives lost, all because of gross mismanagement of the forests. Remedy now, or no more Fed payments!", he added.
Another 35 people had been reported missing and three firefighters had been injured.
The flames descended on Paradise so quickly that many people were forced to abandon their cars and run for their lives down the sole road through the mountain town.
The Camp Fire, which broke out on Thursday at the edge of the Plumas National Forest northeast of Sacramento, has since blackened more than 90,000 acres and was only 5 percent contained as of nightfall on Friday.
California Malibu, Woolsey and Camp Fires: Latest Updates, Track, Evacuation Orders and Casualties | U.S.