California Phone Numbers Not Working: Camp Fire Causes 552 Prefix Outages
The rapidly expanding Camp fire blazing through Northern California has disrupted phone and internet service, according to Butte County.
"The County website and network are down due to the #campfire. This means some phone numbers are down. All numbers starting with the prefix 552-XXXX are down. Numbers starting with 538-XXXX should be working," a statement published on the county's Twitter page on Friday morning said.
The Camp fire started early Thursday morning in Pulga and consumed 20,000 acres of land in less than 24 hours. About 1,000 structures had been destroyed in Paradise by Thursday afternoon, according to The Sacramento Bee​.
Flames lapped at the edge of Chico, a city of 93,000 people, on Friday morning, according to CNN. Approximately 2,200 firefighters were trying to contain the blaze.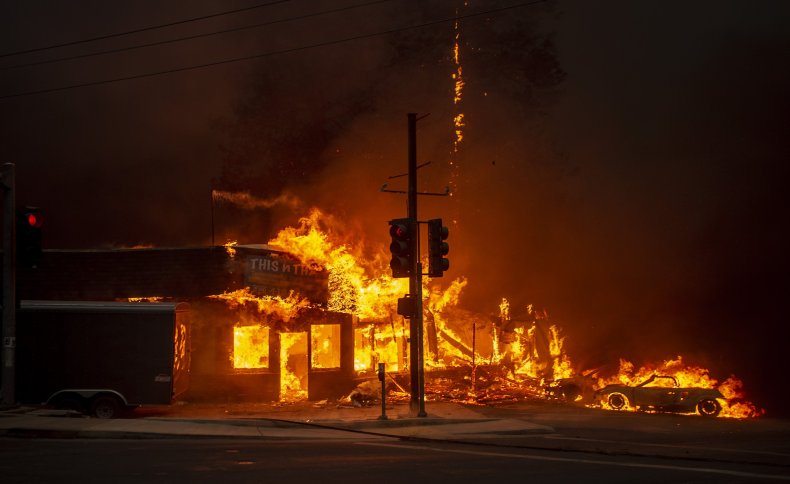 Officials had evacuated Paradise, Magalia, Concow, Butte Creek Canyon and Butte Valley by Thursday night.
Shelters were set up at Memorial Hall in Chester and in the Glenn County and Butte County fairgrounds to accommodate those forced to evacuate. Facilities were also prepared to accommodate animals in evacuation areas. The County Hospital is taking small animals, while the Butte County Fairgrounds will accept large animals.
Residents described harrowing escapes as flames spread. "The flames were whipping and spreading so fast," Paradise resident Whitney Vaughan told CNN. "It began to jump the road. There wasn't anywhere to go," she said, describing stalled traffic as people rushed to evacuate. People jumped out of their cars and ran.
CNN reported that millions of people were under red flag warning, a notification that alerts people that "critical fire weather conditions are either occurring now...or will shortly. A combination of strong winds...low relative humidity...and warm temperatures can contribute to extreme fire behavior."
Firefighters were battling to contain two other blazes that began Thursday in Southern California as the Camp Fire continued its spread.
A minimum of 75,000 homes were evacuated in Ventura and Los Angeles counties due to the Woosley Fire, which had burned across a major freeway and spread to 8,000 acres by Friday, CNN reported.
The Hill Fire had expanded across 10,000 acres, CNN reported, citing the Ventura County Fire Department.
Both the Woolsey and Hill fires were burning close to Thousand Oaks, the city in which a gunman killed 12 people at the Borderline Bar & Grill on Wednesday night.