A new California fire—known as the Cave Fire—has sparked near Painted Cave Road and East Camino Cielo in Los Padres National Forest just north of Santa Barbara on Monday.
Driven by wind gusts of 30 miles per hour, the rapidly developing fire has now covered more than nearly 3,300 acres, with zero percent contained. No injuries have been reported so far but at least one structure near Old San Marcos Road was reported to have been caught in the fire, according to Santa Barbara local news station KEYT.
Winds in the mountains of Santa Barbara County are expected to see gusts of up to 60 miles per hour, with isolated gusts of up to 80 miles per hour, on Monday, according to the National Weather Service.
Mandatory evacuation orders are in place from Ontare Road to Fairview Ave. north of Cathedral Oaks. Evacuation warnings have been issued for the area north of Foothill Road from Ontare Road to Gibraltar Road and the area west of Hwy 154 to El Sueno, below Cathedral Oaks to Calle Real, the official Ready Santa Barbara County (Ready SBC) emergency website states.
"Maintain situational awareness. If you're not in evac zone, self evacuate if you are concerned or need extra time," the office of Santa Barbara County said in a post on its official Twitter account.
Those within the areas under evacuation warnings are advised to: "Please remain alert and be prepared to evacuate if conditions change," the website states.
Full details of the evacuation zones can be seen at an interactive incident map on the website.
A shelter has been set up at Goleta Valley Community Center (5679 Hollister Road. Goleta). Small animals are accepted at Goleta Animal Shelter (5473 Overpass Rd) while large animals can go to the Earl Warren Showgrounds (3400 Calle Real, Santa Barbara), the Ready SBC website advises.
The Santa Barbara County Highway Patrol (Santa Barbara CHP) also announced: "SR 154 closures at SR 246 at SR 154 and SR 154 at SR 192. Please use US 101 as an alternate route. Please stay away from SR 154, extreme fire danger," in a post on its official Twitter account.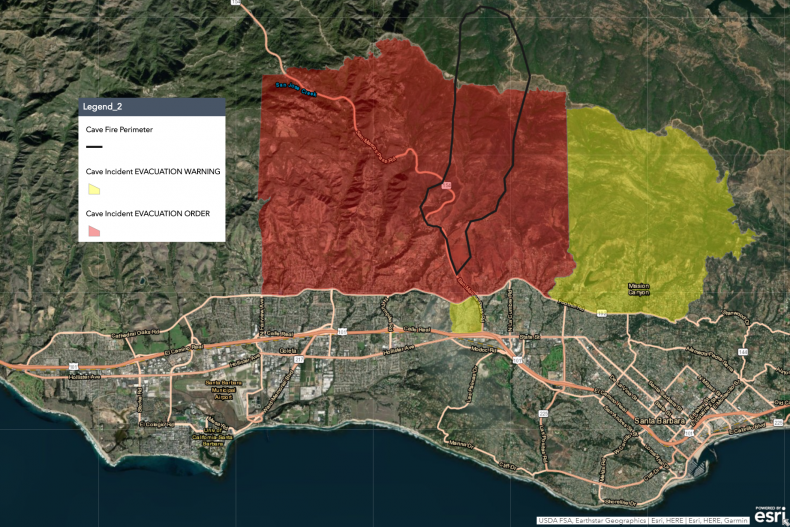 Public safety power shutoffs (PSPS) may be issued by Southern California Edison (SCE) on Tuesday due to fire weather conditions, which may impact an unincorporated area between the cities of Goleta and Santa Barbara, starting from Paradise Road down Turnpike Road to More Mesa, an unincorporated area west of Goleta between Gaviota State Park and Jalama Beach County Park as well as parts of Montecito, Summerland and Carpinteria, Ready SBC states on its website.
"Residents are encouraged to make preparations for a possible multiple day power outage lasting as long as 5-7 days and check on friends and neighbors to make sure they are prepared. Call SCE directly at 1-800-611-1911 or visit www.sce.com/safety/wildfire/psps with questions related to this potential outage," Ready SBC states.
Locals can determine whether they will be affected by the PSPS by looking up their address at the SCE website.
"Southern California Edison is deploying a Community Crew Vehicle to the Goleta Library, located at 500 N. Fairview Ave, Goleta today Monday, November 25th from 11am-7pm to assist customers who may be affected by Public Safety Power Shutoffs (PSPS) in southern Santa Barbara County. These vehicles are equipped with backup power for your charging needs. SCE representatives will be on site to answer questions," Ready SBC advises.
It has yet to be determined whether any residential homes have been affected by the Cave Fire but Captain Daniel Bertucelli, a Santa Barbara County Fire Department, confirmed: "We're going to fight fire throughout the night, and tomorrow when the sun comes up, we'll get a better understanding of what sort of damage we have," The Los Angeles Times reports.
Earlier this month, Los Padres National Forest officials announced that "Extreme Fire Danger fire restrictions will go into effect immediately and remain in effect through December 31, 2019," on the park's official website.