California Church Fined Thousands for Holding Indoor Services: 'If I Perish, I Perish'
A church in California said it received fines worth thousands of dollars this week for its decision to hold indoor services in direct violation of restrictions currently in place due to the coronavirus pandemic.
North Valley Baptist Church in Santa Clara County released a video message from its pastor earlier this week explaining how events escalated from the moment the church received a cease-and-desist letter from county officials on August 21 to the $10,000 in fines levied against the church for two in-person services held on Sunday. According to The Mercury News, the county issued the church a third $5,000 fine after it hosted another in-person service on Wednesday.
"I am in charge of the spiritual health of the people of this city and this area," Pastor Jack Trieber said in the video, which was nearly 10 minutes in length. While he said physical health was important, "spiritual health is supreme."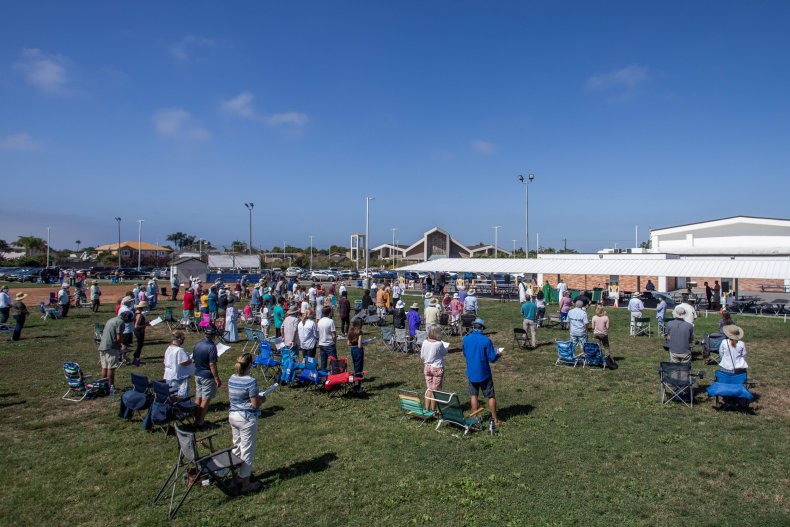 Trieber said the church followed early government orders to close and has since reopening encouraged patrons to practice social distancing by keeping every other row in its 3,000-seat auditorium empty. But when county officials recommended Trieber host an outdoor service with limited attendance, he said the suggestion was unacceptable due to the spiritual needs of his congregation and the poor air quality caused by recent wildfires.
"I'm not trying to be harsh, I'm not trying to be a smart aleck. I'm not trying to be cruel. I want to obey authority," Trieber said. In this instance, Trieber said county officials overstepped their authority. "I plead with you: back off. Open up the spiritual environment of this valley immediately," he told them.
In an email The Mercury News obtained that was sent to church congregants, Trieber's wife wrote, "Now is not the time to be fearful and run from the house of God," and later cited the Book of Esther to say, "If I perish, I perish!"
Trieber said in his video message that he anticipated additional fines and said it was possible he would be arrested for his decision to keep in-person services going. "That's not my desire," he said of a potential arrest and reiterated that his primary goals were to preach and help his congregants. Though he acknowledged that the virus is real, he said the low fatality numbers in Santa Clara County—fewer than 300 as of Wednesday, August 28—indicate there is "not a pandemic here."
"This area needs the church," he said.
Santa Clara County included places of worship on its list of organizations that were not allowed to host indoor gatherings in mid-July. According to the county's public health orders, people are only allowed to gather in outdoor settings while observing social distancing and wearing face coverings.
The county announced last week that its board of supervisors decided unanimously to issue fines for businesses or organizations in violation of its public health orders. According to the county, it warned the first few businesses of the fines to come and gave them some time to address the violations before proceeding with fines for those that didn't.
In the cease and desist letter shown in Trieber's video, county officials wrote, "North Valley Baptist's violations are clear, repeated and unacceptable, and they endanger the health and safety of our community." The letter went on to say there was an increased risk of virus transmission due to rising case counts in the area.
In a statement shared with Newsweek, a Santa Clara County spokesperson said the county will "continue to take action" against the businesses and organizations that are not following its public health orders.
"Most organizations and individuals are doing the right thing to prevent COVID-19. This includes most churches and other faith-based organizations that have carefully complied with all public health orders and directives," the county spokesperson said. "A few organizations are not following state and local health orders, however, and the County will continue to take action to protect the health of residents and the community."
Santa Clara ranks 11th on California's list of counties with the most cases, according to state data. California became the state with the greatest number of confirmed cases last month and has continued to lead the country with more than 683,000 cases. By Wednesday, health officials reported that more than 16,000 of those patients were in Santa Clara County.
Newsweek reached out to North Valley Baptist Church for comment but did not receive a response in time for publication.
Updated 8/28 (2:23 p.m. ET): This article has been updated to include a statement from a Santa Clara County spokesperson.