California Church Holding Indoor Services Against COVID Mandates and Judge's Order
A California church is proceeding with plans to hold three consecutive indoor services on Sunday, defying state and local health mandates as well as the terms of a county judge's recent restraining order.
Rob McCoy, the pastor at Ventura County's Godspeak Cavalry Chapel, told Los Angeles-based news station KABC the church has not identified cases of the novel coronavirus among members of its congregation.
"We haven't had one case reported to me by a congregant of any COVID-19...It doesn't affect all of the city," McCoy said, following the church's initial 9 a.m. service. Two more services were scheduled for later in the day.
Meanwhile, counterprotesters reportedly gathered outside of the chapel in opposition to the services. Also present were the chapel's supporters.
Ventura County appears on California's "watch list", an index of state regions compiled by its Department of Public Health to monitor areas where the incidence of COVID-19 is increasing. State health officials note an upward trend in Ventura County's hospitalizations related to the respiratory illness, citing "community transmission due to gatherings" as a leading cause of the increase.
California has seen one of the country's most significant spikes in COVID-19 transmission since the beginning of the summer, pushing its total case count to nearly 560,000 as of Sunday, according to Johns Hopkins University.
The California Department of Health issued updated guidance for reopening places of worship in late July. The guidance upheld previous orders limiting attendance at indoor services to 25 percent of a venue's capacity and prohibiting services involving more than 100 people. It also required attendees to maintain six feet of distance between one another and wear face coverings to reduce risk of transmission.
Local health officials are permitted to effect more stringent orders at their discretion. Ventura County Health Officer Dr. Robert Levin issued additional guidelines for places of worship located within the jurisdiction on July 14. The guidelines mandated all places of worship to discontinue indoor services altogether.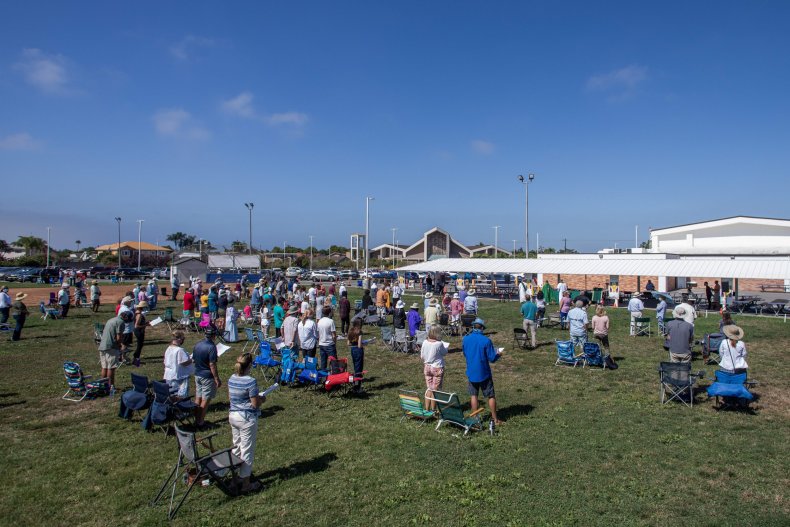 Levin and Ventura County filed a lawsuit against Godspeak Cavalry Chapel last week, after the church failed to abide by the health officer's mandate. The lawsuit sought a temporary restraining order and, eventually, a permanent injunction barring the church from holding indoor services.
Judge Matthew Guasco granted the restraining order on Friday. It prohibits the church from holding indoor services until August 31, when a hearing is scheduled to take place.
"The exercise of individual liberties has to be consistent with public health, otherwise the one would cancel out the other," Guasco said in the court's Friday decision, according to local media outlet Thousand Oaks Acorn.
Newsweek reached out to Godspeak Cavalry Chapel and Ventura County Superior Court, but did not receive replies in time for publication.