California Church Holds Mass Gathering Hours After Gov. Bans Indoor Worship
A house of worship on Balboa Avenue has reportedly ignored county orders banning indoor operations in San Diego. Awaken Church allegedly held a large indoor event with between 100 and 200 people on Wednesday night.
Businesses had reopened in California after an initial shutdown, but Gov. Gavin Newsom has since reversed that decision. On Monday, Newsom ordered the re-closure of gyms, bars, hair salons, restaurants, wineries, non-essential offices and houses of worship in San Diego and other California counties. The new regulations went into effect midnight on Tuesday.
Last night's event at Awaken Church was titled 'Empower Night.' It had a band and singing and was live streamed on Facebook. In the video posted on the church's social media page it's clear to see that many people at the event were neither wearing face masks nor practicing social distancing. The video show crowds enjoying the music in close proximity.
The recent closures come after a spike in coronavirus cases in the state. "Hospitalizations continue to rise," said Newsom, as various medical resources and hospitals feel the strain.
Newsom tweeted on July 13 that movie theaters, family entertainment centers, zoos, museums, malls and personal care services are included in the indoor ban.
As a result of the recent increase in coronavirus cases, San Diego and Los Angeles announced that the new school term, starting next month, will be taught online only.
California residents are also now required to wear face coverings in public. "We're seeing too many people with faces uncovered. Wearing a face covering is critical for keeping people safe and healthy, keeping businesses open and getting people back to work," said Newsom in a recent tweet. "Do your part. Wear your mask."
Fines for not wearing a mask in public reach up to $300 in California. For a first offense in West Hollywood it's $250 plus a $50 admin fee.
Vice President Mike Pence recently changed his stance on masks and urged people to "wear a mask, wherever it's indicated or wherever you are not able to practice the social distancing that would prevent the spread of coronavirus".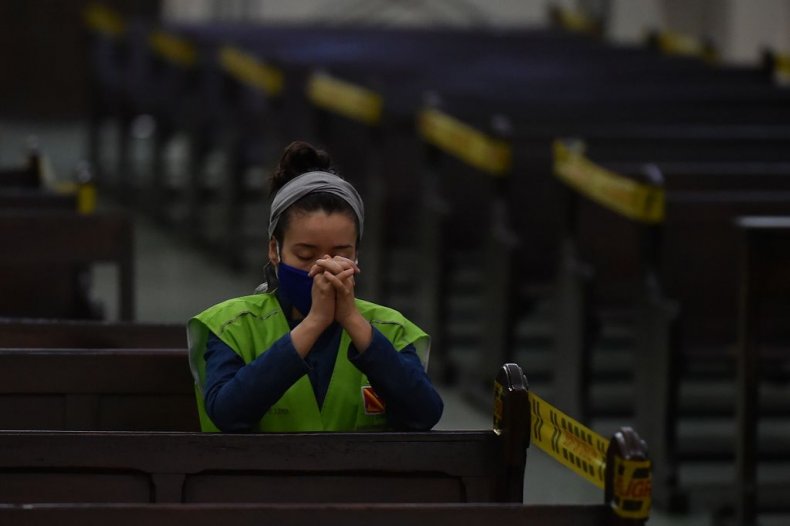 The indoor ban applies to the following California counties: Colusa, Contra Costa, Fresno, Glenn, Imperial, Kings, LA, Madera, Marin, Merced, Monterey, Napa, Orange, Placer, Riverside, Sacramento, San Benito, San Bernardino, San Diego, San Joaquin, Santa Barbara, Solano, Sonoma, Stanislaus, Sutter, Tulare, Yolo, Yuba, Ventura.
Newsweek has contacted Awaken Church for further comment.