California City Removes BLM Mural After Receiving Request to Paint Trump Slogan Nearby
California's Redwood City has removed a Black Lives Matter mural painted onto one of its main streets earlier this month. The decision followed a local attorney's request to paint a "MAGA 2020" mural nearby, although city council officially cited municipal violations as reason for erasing the BLM installation.
"The city of Redwood City has informed me that they will be removing the Black Lives Matter mural on Broadway this weekend due to 'Traffic and Vehicle Code Violations," said Redwood City resident Daniel Pease, who received clearance from local officials to install the mural on July 4, in a Facebook post last Wednesday.
The mural was one of many painted onto city streets across the U.S. since George Floyd's death in police custody on May 25. His death sparked nationwide Black Lives Matter demonstrations, which continue to take place almost two months later.
"This is so disappointing on so many levels," Pease's Facebook post continued on Wednesday. "The most frustration comes from the fact that all Redwood City would have to do to keep the mural and avoid code violations is close the street...it's only one city block."
Newsweek reached out to Pease for additional comments but did not receive a reply in time for publication.
The mural's removal prompted speculation from city residents, who took note of the decision's timing. According to reports from local news outlets, including Bay Area CBS affiliate KPIX, it closely trailed a request from Redwood City attorney Maria Rutenburg to paint an adjacent mural with President Donald Trump's reelection campaign slogan, "MAGA 2020," an acronym for "Make America Great Again."
The city declined Rutenburg's request prior to the BLM mural's removal, she confirmed to Newsweek. The attorney said she has offered to "compromise" with an amended request to paint the "MAGA" mural on a different street further from Redwood City's main road.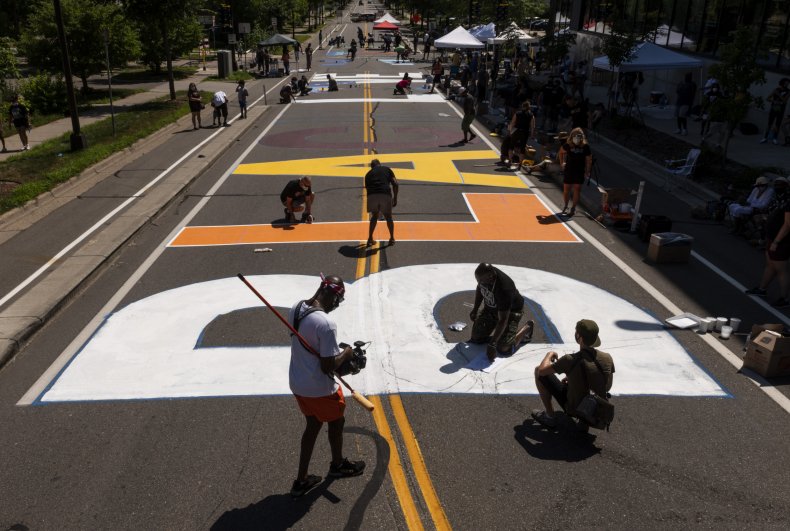 Rutenburg told KPIX she saw the city's BLM sign and "wanted to get [her] message out, too." She explained her push for balanced "political" messaging further an additional statement to San Francisco news station KRON4 on Monday.
"Governments cannot and should not get to pick and choose who should be allowed to speak. Now that the cities open up asphalts as public forums, everyone with any political message is free to write their own," Rutenberg told the station. "I, for one, would like to paint MAGA 2020. At a time like this, it's especially important that we allow free and open political discussion for all sides, not just BLM."
A Redwood City spokesperson addressed the BLM mural's removal in a statement to Newsweek. The statement reiterated concerns about traffic violations and safety and said "no further art installation will be authorized on the City's streets."
"City staff authorized the temporary Black Lives Matter installation at the request of a resident," it read. "The painting was informally processed, and was intended for a short duration. Staff is concerned about public safety issues that may arise from painting murals on its public streets, which could result in driver confusion and traffic accidents. Thus, the existing mural has been removed from Broadway."
This story was updated to include Rutenburg's comments and Redwood City's statement.