California College Offering Students Gift Cards to Remain on Campus During Spring Break
In the shadow of last year's late-spring coronavirus surge, a handful of U.S. universities are taking extra steps to dissuade students from traveling in 2021. One northern California university is offering $75 vouchers to those who pledge to remain local during spring break.
The University of California at Davis, one of ten undergraduate and graduate education institutions within the state's UC system, unveiled its spring break grant program last week. Part of the university's and the city of Davis' collaborative "Healthy Davis Together" project, the grant initiative asks students to agree to remain in the area over the weeklong break. The application also asks that interested applicants undergo a COVID-19 diagnostic test.
The university's grant program aims to encourage students to comply with state guidelines restricting non-essential travel during the pandemic, while directing some additional traffic to Davis' local business establishments.
"Planning a staycation for spring break? Get $75 to add some excitement to your week and support a local Davis business by applying for the Healthy Davis Together Spring Break Grant," read the university's March 6 announcement, shared to its official Facebook account. "As per state guidance, all non-essential travel should be avoided, and staying local is a good way to do your part in slowing the spread of COVID-19."
UC Davis' grant program originally limited applications to 500 people. However, after more students' expressed interest, administrators raised the number to 2,000, Melissa Lutz Blouin, director of news and media relations at the university's communications office, told Newsweek.
"Because the grants are in the form of a gift card that must be redeemed at Davis stores during the week of spring break, March 22-26, we are confident that the majority of students who have applied will stay in town and use these grants creatively to enjoy their time off," Blouin said.
Sheri Atkinson, associate vice chancellor for student affairs at UC Davis, told the Los Angeles Times that the program is expected to cost roughly $150,000 in full, but tuition money and other student fees will not be used to finance the initiative.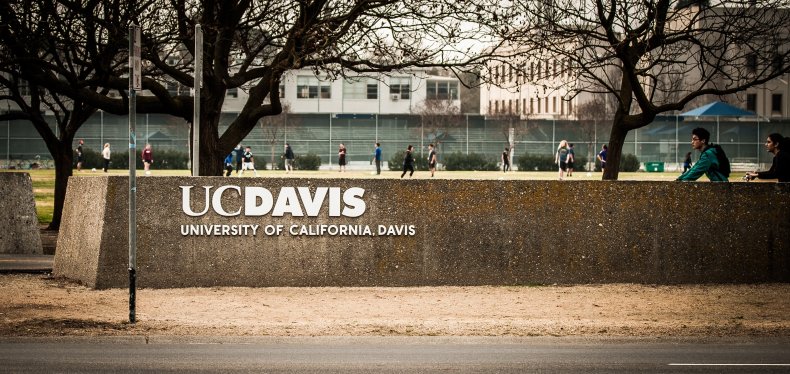 Public health officials and university administrators alike have braced for the potential consequences of crowded, maskless groups of young people flooding beachside destinations this year. With the U.S. just recently emerging from months of record-breaking COVID-19 case increases, the possibility of another wave of significant outbreaks has sparked concern.
While UC Davis' grant offer stands out as a unique approach, other universities have made a point to advise their students against traveling. Spokespeople from additional California schools, including UC Riverside and UC Berkeley, told Newsweek that off-campus travel is strongly discouraged. Both universities require students to complete a full quarantine period before returning to campus after traveling for any reason.
UC San Diego and UC Irvine each planned comprehensive event programs—including educational seminars; outdoor activities; service projects; movie, game and open mic nights; as well as a number of extracurricular workshops—to encourage students to spend spring break on campus. Spokespeople from the universities confirmed that attendees will be required to respect social distancing measures at all scheduled events.
"Knowing that the pandemic has impacted our students' ability to connect with faculty and peers, we have designed this inaugural Spring Break program to allow students to participate in Triton traditions and have some much-needed fun," said Alysson Satterlund, vice chancellor for student affairs at UC San Diego, in a statement sent to Newsweek Wednesday.
"Our goal is to reduce the spread of the virus by piloting an on-campus experience that will encourage students not to travel during the break as well as introduce diverse in-person, hybrid and remote student programs that we can bring to campus later this year if successful," the statement continued.
Several schools have cancelled spring break altogether to reduce risks of COVID-19 transmission. Last fall, large universities like Ohio State and the University of Michigan called off their second semester recesses altogether in hopes that scratching them from academic calendars would prevent students from engaging in usual spring break activities.