California Governor Gavin Newsom unveiled a framework for reopening the state on Tuesday that will enable the state to loosen restrictions outlined in the stay-at-home order.
"In this phase where we see a light at the end of the tunnel ... that this too shall pass, it is also perhaps the most difficult and challenging phase of all," Newsom said.
California, the first state to see community transmission of the new coronavirus, has had 22,348 cases in the past three months, according to the state health department. Now that the curve is starting to bend, officials are looking at easing up restrictions on people's lives, although it will still be some time before life returns to normal.
California is in the "optimistic phase" of the outbreak where they move from the surge phase to the suppression phase, Newsom said during a briefing on Tuesday. Officials have been mulling over how to ease restrictions for weeks, according to Newsom, and the announcement pulled back the curtain, making the private conversations public.
Dr. Sonia Angell, California Department of Public Health Director and State Health Officer, said this period of time isn't about going back to life as normal, but how to move forward in this new world. For example, restaurants will likely reopen, but they may have fewer tables to foster social distancing, and face coverings might become common.
The framework is predicated on the ability to do six things: expand testing, appropriately contact trace and isolate those infected or exposed, protect the most vulnerable populations, address ongoing needs of hospital and alternative care systems, continue weekly work with therapeutics, redrawing floor plans to practice physical distancing in businesses and reinstate more vigorous controls.
Reinstating strict social distancing measures after loosening restrictions could be the "most challenging process," according to Newsom.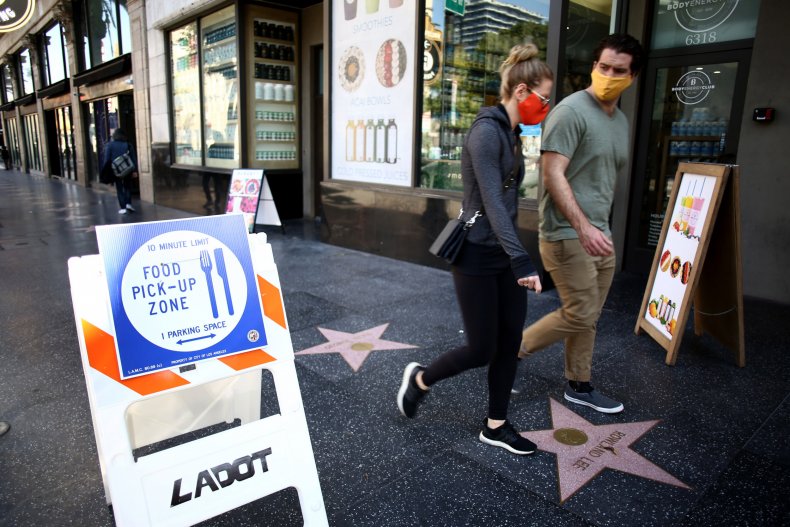 Newsom didn't offer a timeline for when restrictions could be lifted but said being able to answer the six things outlined in the framework will dictate when life starts to change. It's not going to be like a "light switch," though, and the governor related it more closely to a dimmer.
However, the governor acknowledged that people wanted a hard timeline of when changes could be made and advised people to check back with him the first week of May.
Based on current guidelines and expectations, Newsom said the prospect of mass gatherings was "negligible" at best. Large scale events that bring in hundreds, thousands and tens of thousands of strangers are not in the cards even into the summer months of June, July and August.
Newsom declared a state of emergency on March 4 because of the outbreak and Californians have been under a stay-at-home order since March 19. Residents were ordered to work from home unless their jobs were within one of 16 critical infrastructure sectors. Whenever people did leave their homes, they were instructed to practice social distancing.
Schools in California have been closed for weeks and those in the Los Angeles, Fresno, Long Beach, and San Francisco Unified school districts will remain closed for the rest of the school year. The decision to close was in line with the recommendation Tony Thurmond, the state superintendent of public instruction, made back in March.
"This is in no way to suggest that school is over for the year, but rather we should put all efforts into strengthening our delivery of education through distance learning," Thurmond wrote in a March 31 letter to California's superintendents.
On Monday, Newsom praised residents for adhering to the strict measures and said they were responsible for why case counts haven't been higher. He acknowledged people may have a "little cabin fever" at this point, and look forward to returning to a normal life. But, he hammered home that it's vitally important to maintain the work the state has already done with social distancing.
"We've got to continue to practice physical distancing, social distancing and safe practices that have helped us bend this curve and mitigate what some had thought would be a surge that was exponentially worse than so far it has been," Newsom said on Monday.
California joined forces with Oregon and Washington to ensure states have a cohesive plan to reopen the economy based on a shared vision. Plans will be state-specific but guided on the principles that residents' health comes first, health outcomes and science dictate decisions and states need to work with local and community leaders.
Sending people back to work and getting the economy up and running again is a complicated decision, as easing restrictions too soon could cause cases to spike and a resurgence of the outbreak. It's a potential outcome that Newsom has factored into his decision, which is why the state is going to gradually ease restrictions and could bring them back, if necessary.
"Normal is anything but and I'll be honest and sober about that as it relates to that bridge ultimately towards the vaccine," Newsom said. "We are not out of the woods yet."