California Council Votes to Remove Statue of Spanish Priest Canonized by Pope Francis
A California city council voted unanimously to remove a controversial statue of a Spanish priest who Pope Francis had canonized.
The Ventura City Council cast a 6–0 vote during its meeting Wednesday night to remove a statue of Father Junipero Serra from outside its city hall and relocate it to the Mission San Buenaventura.
A wooden statue of Serra located inside City Hall will also be relocated.
Pope Francis declared Serra a saint in 2015—the first canonization on U.S. soil. Serra led the Catholic Church's missionary efforts among Native Americans on the West Coast during the 18th century.
But critics have long held that Serra was part of an imperial conquest that beat and enslaved Native Americans.
Calls to remove statues of Serra around California grew in June amid Black Lives Matter protests following the deaths of several unarmed Black men while in police custody. The protests sparked a national reckoning of sorts over traditions and behavior deemed racist by many, including the preservation of Confederate statues and monuments.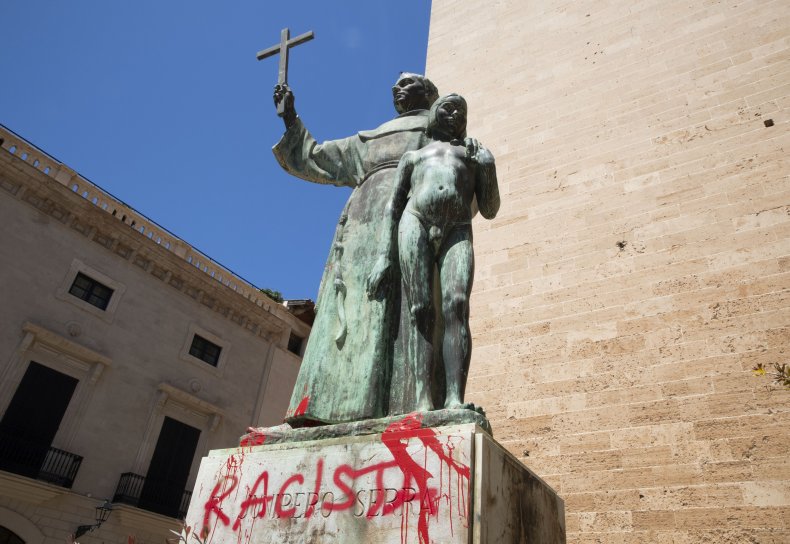 In a petition addressed to Ventura City Council, organizer Christina Diaz wrote that "Black Lives Matter has evolved into a nationwide movement to see justice and equality for all Black and Indigenous people," advocating for the removal of statues of Serra.
"Serra is not the historical hero people thought when this landmark statue to him was erected, one of many throughout California, as a historical emblem, he is toxic and should be removed," according to the petition, which Diaz created one month ago. "As a community we cannot and will not support the dehumanization of the Native American community any longer."
In a joint letter addressed to Ventura residents dated June 18, Mayor Matt LaVere, Father Tom Elewaut and Tribal Chair Julie Tumamait Stenslie agreed that "the time has come for the statue to be taken down and moved to a more appropriate non-public location."
The three leaders expressed their shared desire that a "peaceful resolution" regarding the statue could be reached without "vandalism of a designated landmark."
On June 20, protesters toppled a statue of Serra at a Los Angeles park named after the saint. The California Catholic Conference of Bishops issued a statement concerning the vandalism, arguing that Serra had "made great sacrifices to defend and serve the indigenous population."
The letter from Ventura County leaders stated that the decision of whether to remove its Serra statues would first need approval from its city council.
Council members voted unanimously Wednesday to move the statues to Mission San Buenaventura. LaVere had to recuse himself from the meeting because he had previously announced his support for moving the statues in the letter.
"Making changes through deliberation and collaboration, not vandalism, is the way forward," Ventura City Councilwoman Christy Weir wrote in an email to Newsweek. "Our Mayor, City Council, Mission priest and Chumash tribal leader worked cooperatively on a solution that honors differing points of view, and preserves the statue in an appropriate location."