California County Enters New Reopening Phase Despite Reporting More Than 14,000 New Cases in Last 14 Days
California granted Los Angeles County permission to move into the next phase of reopening amid the COVID-19 pandemic on Friday, despite the county seeing a steady increase of new cases.
Los Angeles County has reported over 14,000 new cases of the virus in the last two weeks, according to data from Johns Hopkins University. The number of new cases is far higher than the state's mandate of no more than 25 per 100,000 residents. However, the county was able join the majority of California in phase two of the state's reopening plan due to meeting other thresholds, including a testing positivity rate of no more than 8 percent.
Los Angeles County has the fourth most confirmed COVID-19 cases of any county in the U.S., after Cook County, Illinois and New York City's Queens and Brooklyn. The county reported 1,824 additional cases on Friday, for a total of 51,562, nearly half of the state total. Over half of the more than 4,000 deaths attributed to the virus in California occurred in the county, with 50 new deaths reported on Friday.
Phase two of the reopening plan permits in-person dining at restaurants and allows businesses like hair salons and barbershops to resume operations. The businesses will be subject to safety protocols and guidelines, including physical distancing and a requirement that restaurant patrons wear face coverings while they are not eating. Restaurant capacity will also be limited to 60 percent.
"Compliance with the protocols is required," said Dr. Barbara Ferrer, director of the Los Angeles County Department of Health, at a Friday news briefing. "Reopening as safely as possible and in ways that protect both employees and customers will require a lot of effort."
The county reopened churches, shopping malls and retail businesses earlier in the week. However, the public's desire to resume shopping was reportedly low and many businesses remained closed despite being allowed to open.
County officials stressed that residents need to maintain social distancing guidelines and continue to wear face coverings in public to avoid businesses being shut down again due to a new spike in cases.
"This is a fine line that we're walking in the County of Los Angeles," Los Angeles County Supervisor Janice Hahn said. "We are threading the needle between keeping the public safe and allowing our economy to reopen."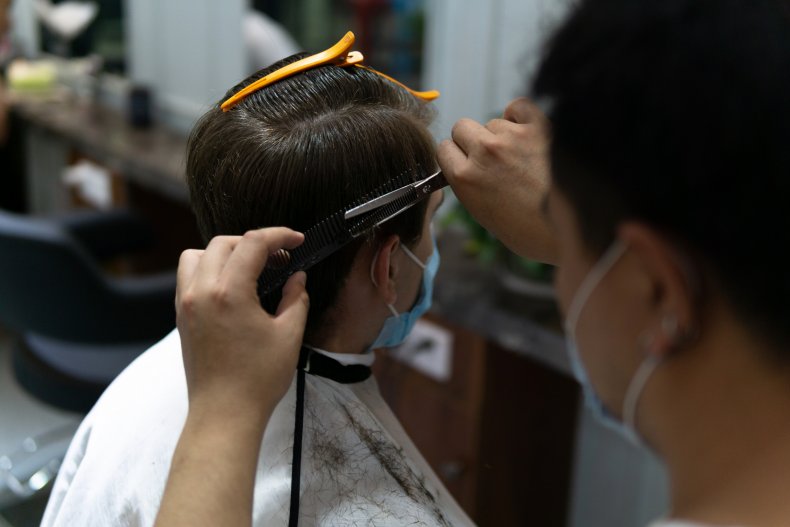 Although the relaxation of restrictions could lead to additional cases of COVID-19, public health officials said a delay in cases being reported meant it was too early to know how much of an impact could be felt.
"It is still too early to see if there has been any increase in the transmission rate as a result of relaxing the safer at home health officer orders," said Los Angeles County Department of Health Services Director Dr. Christina Ghaly. "This is because of the amount of time that it takes for people to develop symptoms and need to seek medical care."
"If we do see an increase in cases in a couple of weeks from now it will likely mean that there's already been two to four weeks of increasing transmission by that time," she added. "We could be in the midst of a new upward curve or transmission may not have increased at all. We just don't know yet."
Barbershops, hair salons and restaurants can resume operations immediately, provided the businesses meet the state's protocols. Several other businesses like nail salons, gyms, spas and entertainment venues remain closed.
Newsweek reached out to Los Angeles County officials for additional comment.