Officials in a Southern California county celebrated on Wednesday after declaring COVID-19 misinformation a "public health crisis."
San Diego County's board of supervisors listened to local residents express support and concern for the new policy during a Tuesday board meeting before approving it in a 3-2 vote. Nathan Fletcher, who chairs the county's board of supervisors, released a statement Wednesday after the vote identifying San Diego as the first county in the U.S. to approve such a declaration.
"Combatting health misinformation needs to start on the ground, in counties and cities across our nation," Fletcher's statement said. "San Diego County took the first step by becoming the first local jurisdiction in the country to align its policies with the U.S. Surgeon General's recommendations to fight health misinformation."
Fletcher's statement went on to identify virus misinformation as a "national crisis" that he said needs "all of us to fight against it together."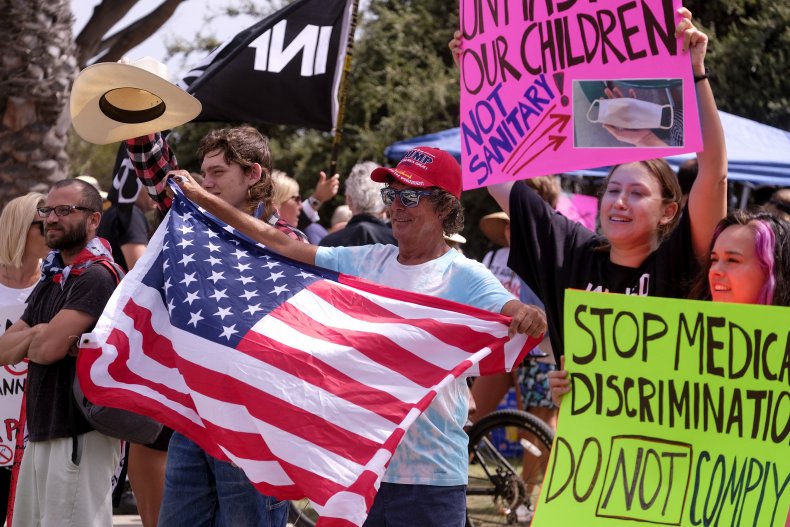 Though the resolution did receive the votes it needed for approval, two of the county's supervisors voted against it. County Supervisor Jim Desmond said during the meeting that while he does "agree" misinformation "is dangerous," he said he would not vote for the resolution because "it is hard for me to believe that we or anyone, now, know everything there is to know about COVID and medicine."
"In the past 18 months, there's been many contradictions made by all the experts. And today's facts may very well become tomorrow's misinformation," Desmond said.
In mid-July, U.S. Surgeon General Vivek Murthy released a 22-page report outlining concerns of health misinformation during the ongoing coronavirus pandemic. In addition to saying health misinformation had the potential to "cause confusion, sow mistrust, and undermine public health efforts," Murthy's report provided recommendations for how communities could "better identify and limit" its spread.
A press release from Murthy's office that accompanied the report said more than half of adults who hadn't gotten a COVID-19 vaccine by the end of May "had heard at least one COVID-19 vaccine myth and either believed it to be true or were not sure of its veracity."
By late August, an estimated 85 percent of San Diego County residents who were eligible for a COVID-19 vaccine had received at least one dose, and nearly 75 percent were fully vaccinated against the virus, according to county health data updated on August 25.
Ahead of the county's scheduled Tuesday board meeting, Fletcher added the proposed public health crisis declaration to the meeting agenda in a letter addressed to the five-member board of county supervisors. In addition to suggesting the approval of the declaration, Fletcher's letter proposed the adoption of strategies Murthy recommended to fight misinformation, including investments in resources and research.
"Health misinformation is killing people & undermining our COVID recovery—our policy will set in motion actions to create a fact-checking website, modernize our health communications, train County staff, & collaborate with federal, state & local partners to combat misinformation," Fletcher said in a Tuesday tweet ahead of the vote.
Newsweek reached out to the U.S. Surgeon General's office for comment but did not receive a response in time for publication.