California Court Reviews Strip Club's Lockdown Exemption As Shuttered Churches Seethe
A California court is scheduled to review an order exempting strip clubs from coronavirus restrictions in San Diego on Wednesday.
San Diego Superior Court Judge Joel R. Wohlfeil granted Pacers Showgirls International and Cheetahs Gentlemen's Club injunction on November 6 after they sued San Diego County in October.
He ruled adult live entertainment was "constitutionally protected speech" under the first amendment and stated the harm to the two businesses would be greater than the harm done to the government.
However, California Attorney General Xavier Becerra reportedly issued a cease and desist letter to the two clubs on December 11 stating the strip clubs violated the state's stay-at-home policy.
The policy, enacted on December 6, bans indoor and outdoor dining and prohibits social gatherings of people outside immediate households in Southern California in an effort to limit the spread of COVID-19 as cases and hospitalizations surged in the area.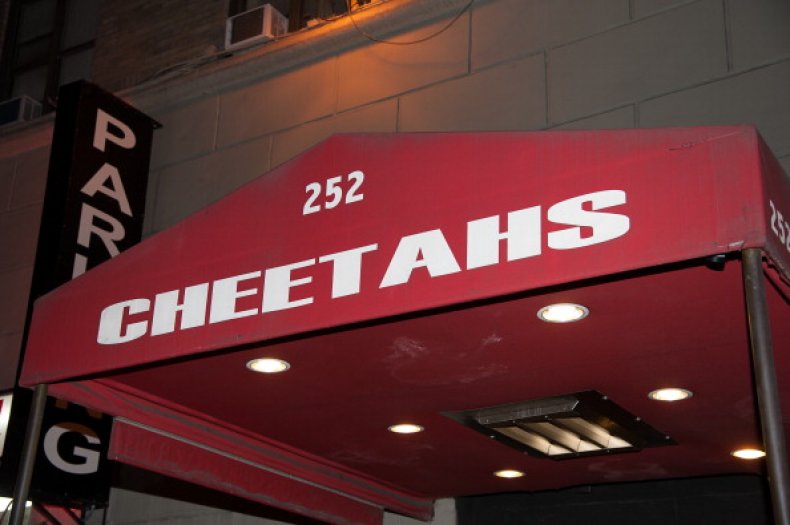 In the letter, Becerra wrote he acted on behalf of Democratic California Governor Gavin Newsom and the state's Department of Public Health, and concluded that he will pursue legal action if the companies don't comply.
Jason Saccuzzo, the lawyer representing Pacers Showgirls International, told the Associated Press on Monday that the court order issued by Wohlfeil made it clear the business was protected from COVID-19 restrictions by county and state officials.
"Our view is the existing order from the court allows us to have live adult entertainment and I don't think the state issuing a cease-and-desist letter trumps the court order," said Saccuzzo. "But we are still considering our options."
In an emailed statement to Newsweek on Wednesday, Saccuzzo said he had no further comments at this time.
Steve Hoffman, the attorney for Cheetahs Gentlemen's Club, told the AP the club was closed December 14 and December 15 following Becerra's cease and desist letter.
He noted, however, the club was closed for unnamed unrelated reasons and was uncertain if the club was open over the weekend.
The injunction expires on December 16, and a second hearing is scheduled to determine whether it should be extended.
In response to the injunction, two California churches rebranded themselves as strip clubs in an effort to curb the state's COVID-19 restrictions last month.
Both The Awaken Church and Godspeak Calvary Chapel in San Diego posed as strip clubs in defiance of the state's ban on indoor worship services, according to news outlet DISRN.
Pastor Jurgen Matthesius from the Awaken Church stated in a video posted to Instagram on November 22 that the church was now named "Family Friendly Strip Club."
"Where we strip the devil of his hold, power and authority over peoples' lives," Matthesius wrote in the video's caption.
The pastor of Godspeak Calvary Chapel, Rob McCoy performed a family-friendly tease of his own during a service on November 22 where he removed his tie while dancing to jazz music. Following his dance, McCoy addressed the government's alleged "tyranny."
"Those that are abused are being quarantined with their abusers. The elderly are lonely and isolated for no reason. No one gets to attend the funerals of their loved ones," said McCoy. "It's our responsibility to support folks."
Newsweek reached out to the Awaken Church, Godspeak Calvary Chapel and Hoffman but didn't hear back in time for publication.