Businesses in Calif. Display 'Do Not Comply' Signs as Residents Say COVID Curfew is 'Against Everything America Stands For'
Some businesses in California have indicated they will flout a month-long coronavirus curfew which police have said they will not enforce and will instead urge people to comply with voluntarily.
Following an order by Governor Gavin Newsom to curb the spread COVID-19, 41 counties will fall under the most-restrictive "purple tier" status affecting over 90 percent of the Golden State's population. It means that from Saturday, all non-essential gatherings between 10 p.m. and 5 a.m. will be prohibited.
However a number of police departments have said they do not plan to arrest people or issue fines to those who do not comply and will rely on asking people to voluntarily follow the order. The Orange County Sheriff's Department, said it would not send deputies to enforce restrictions, the East Bay Times reported.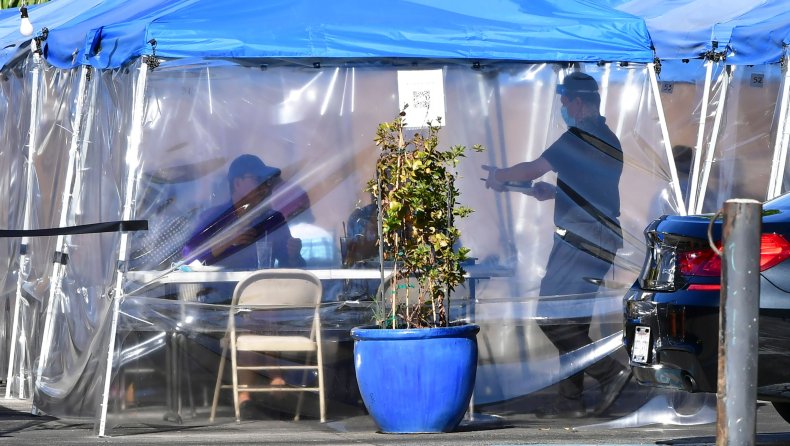 Riverside County sheriff Chad Bianco told the publication it wanted people to follow the guidelines, but would not send in officers to break up gatherings because he wanted to make sure that "constitutional rights are not violated and to limit potential negative interactions and exposure to our deputies."
With no prospect of enforcement, some businesses may simply continue to operate as before. "Do not comply" signs which detail the impact of COVID restrictions on trade have been placed in the windows of some businesses in the city of Placerville, in El Dorado County, CBS 13 reported.
The owner of the Enchanted Forest restaurant, Kaitlyn Keyt, told the affiliate she had invested in COVID safe outdoor eating pods but would suffer under the new restrictions.
"It's not just the restaurant, it's a lot of lives. It's all the employees, it's the families so many people are impacted," she said.
In neighboring Folsom City, in Sacramento County, owner of the business Smart Axe, Jim Corbett told CBS 13: "Everybody that's out wants to be out and they're not going to really worry about a curfew, especially since no one's going to enforce it."
Folsom resident Jesse Flores told CBS 13: "It's against everything America stands for. There's no way anybody is going to tell me I have to stay at my house."
The curfew will be in place until December 21 and restaurants will be allowed to offer takeout and delivery after 10 p.m. Some routine activities such as walking dogs and getting medical care, will also be permitted.
Lee Riley, an infectious disease specialist at UC Berkeley's School of Public Health believes questioned whether the curfew would be effective, because between 10 p.m. and 5 a.m., not many people are out anyway, except maybe in bars.
"My gut feeling is that this is going to maybe have more of a cosmetic effect than a real impact," he told CapRadio, "it's not clear that the bars contribute significantly to the virus transmission that we're seeing."
The graphic below by Statista shows the number of coronavirus cases in the U.S.