California COVID Hospitalizations Reach Record High After Climbing Nearly 90% in Two Weeks
California is reporting a record uptick in patients hospitalized for COVID-19 symptoms, with the state's latest figures denoting an increase approaching 90 percent since mid-November.
As of Sunday, close to 7,800 people were hospitalized across California after testing positive for the disease. The state accounted for roughly 800 additional patients admitted to medical facilities today with suspected cases. Like dozens of other U.S. states where virus cases climbed rapidly in recent weeks, California has also confirmed new infections in record high quantities over the past month.
Addressing the surge at a virtual press conference on Monday, Governor Gavin Newsom discussed the increasing pressure on the state's health-care system and notified residents of potentially stringent new restrictions to come.
In light of the worrying outbreak trajectory, Newsom's office and the California Department of Public Health (CDPH) categorized counties into tiers based on individual COVID-19 statistics. Those that fall within the top tier, labeled "purple," carry the most serious warning signs.
Almost 100 percent of California's population resides in roughly 50 counties with purple designations this week. Newsom said they could return to stay-at-home restrictions resembling those effected at the beginning of the pandemic in March, depending on COVID-19 hospitalization and ICU developments over the next several days.
California residents are already expected to comply with the terms of a limited stay-at-home order that took effect on November 21, which prohibits group gatherings involving individuals from different households, as well as activities outside of personal residences in general, between 10 p.m. and 5 a.m. The order will remain in effect for one month. In Los Angeles County, a range of policies regulating businesses and public spaces took effect on Monday.
Almost two-thirds of California's hospital beds were occupied on Monday, according to Newsom. The bed count includes all hospitalized patients, about 11 percent of whom were admitted for health complications linked to COVID-19. Individuals with confirmed coronavirus infections accounted for 23 percent of occupied intensive care unit (ICU) beds statewide. Three-fourths of California's total ICU beds were filled by Monday.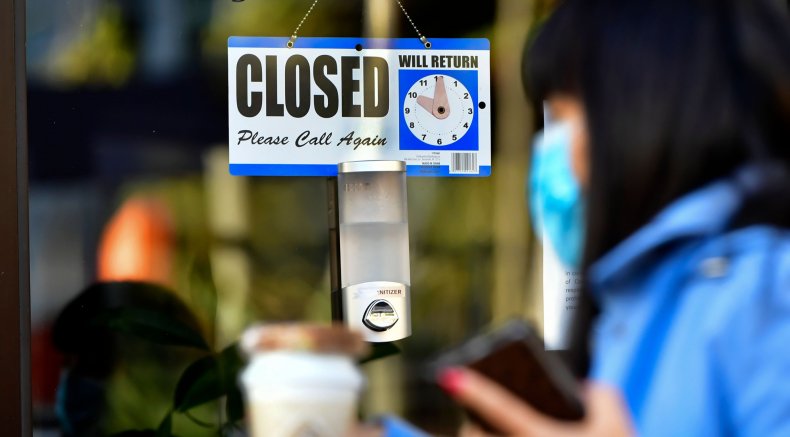 Health officials anticipate hospital systems across the state's most populous regions will be overwhelmed in one month's time if COVID-19 transmission continues to persist at present rates. Projections estimate that California's total ICU capacity will exceed its maximum before December 24, at which point its public health authorities suggest the state will require 112 percent of its current bed total to meet patients' needs.
Newsweek reached out to Newsom's office for further comment but did not receive a reply in time for publication.