California, Despite Strict Mandates, Sees Surge in COVID Infections
In October, California appeared to be reaping the benefits of strict mask and vaccine mandates after reporting the lowest COVID-19 infection rate in the nation.
The nation's most populous state, once the epicenter of the U.S.'s COVID-19 outbreak, was briefly the only one to have a "moderate" rate of transmission in October. But the state's case rate has now climbed back up to the U.S. Centers for Disease Control and Prevention's (CDC) "high" rate of transmission.
As of Sunday, California's seven-day case rate was 113.4 cases per 100,000 people, according to CDC data—much higher than the 72.7 cases per 100,000 people reported in Texas and more than double Florida's rate of 50.1. The Republican governors of both those states signed legislation restricting vaccine mandates.
California's rate is also currently much higher than that of Southern states that shunned mask and vaccine mandates and reported lower vaccination rates despite the highly contagious Delta variant fueling large outbreaks over the summer.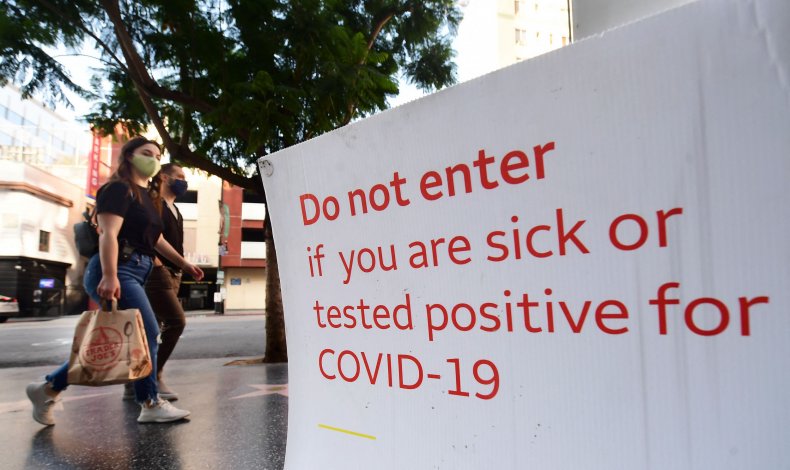 Experts say California is paying for its success at controlling the spread of the virus earlier with higher infection rates now.
California saw fewer coronavirus infections over the summer than states with lower vaccination rates as the Delta variant rapidly spread in unvaccinated communities.
But those who were infected now have immunity, meaning there are fewer people spreading the virus.
"California is experiencing a relatively mild uptick in cases, probably related to relatively low vaccination rates in some part of the state. It could get worse with more indoor activities, we'll have to see," Bob Wachter, chair of the medical department at the University of California-San Francisco, told Newsweek.
"The states in the South are looking pretty good right now, in part because of the absence of very cold weather and the partial protection offered by prior infection."
Ali H. Mokdad, a professor of health metrics at the University of Washington, explained that states that saw large outbreaks over the summer are doing better now because the combination of infections and vaccinations have left fewer people at risk of contracting the virus.
"What's driving this is the percentage of people who are still susceptible to the virus. In order to reduce that number of susceptible percentage in a community, you have to get more people immune, either by vaccination or by infection."
In a tweet, he said 58 percent of people in California are estimated to be immune to the Delta variant compared with an estimated 68 percent in Florida.
California worked to curb coronavirus infections with some of the strictest mandates in the country. It was the first to announce a vaccine requirement for schools and has also mandated vaccines for state employees, healthcare workers and teachers.
But while the state's vaccination rate is higher than many Southern states, it's not high enough to prevent outbreaks as 62 percent of the state's total population is fully vaccinated, compared to 60 percent in Florida and 54 percent in Texas.
Meanwhile, Mississippi, Alabama and Georgia each have less than 50 percent of their populations fully vaccinated against COVID-19, but currently have significantly lower case rates than California.
UPDATE 11/10/21 7:00 a.m. ET: This article was updated with additional comments from Bob Wachter and Ali Mokdad.