Who Qualifies For California Stimulus? How to See if You're Eligible For $600 Checks
California lawmakers have approved a bill that will see 5.7 million residents each receive a $600 stimulus payment. The bill will be signed into law by California Gov. Gavin Newsom on Tuesday.
Those eligible for the stimulus payment include people receiving CalEITC (California Earned Income Tax Credit) this year as well as residents who are currently qualified under several existing federal assistance programs.
Some Californians could receive the $600 checks as soon as about a month after filing their 2020 tax returns.
The $600 payments form part of the state's $7.6 billion COVID-19 relief package, which includes $2.1 billion in grants and fee waivers for small businesses.
An additional $2 billion in tax breaks for businesses is expected be approved by the California Legislature this week, raising the total relief amount to $9.6 billion.
Who qualifies for the $600 stimulus payment?
Those who fall within the following categories are qualified to receive the $600 check:
Residents receiving CalEITC for 2020.
Households with individual tax identification numbers (ITINs) and an income below $75,000.
Households enrolled in the CalWORKs program.
Recipients of Supplemental Security Income/State Supplementary Payment (SSI/SSP)
Recipients of aid through the Cash Assistance Program for Immigrants (CAPI).
Some people who qualify as ITIN taxpayers may also be eligible to receive CalEITC, which would allow them to claim a total of $1,200 in stimulus payments under the state's relief plan, the governor's office noted last week.
How to see if you're eligible for a $600 check
See if you qualify for CalEITC
Residents can check whether they qualify for CalEITC at the California Department of Community Services & Development website.
CalEITC is a "refundable cash back tax credit for qualified low-to-moderate income Californians," the department explains. Those who qualify to receive the credit are usually Californians with an annual income of less than $30,000.
You may qualify for CalEITC if​ "you're at least 18 years old or have a qualifying child, you have earned income within certain limits and the amount of CalEITC you may get depends on your income and family size," the CSD notes. Other requirements apply. See the CSD website for full details.
Every year, over 20 percent of those eligible to receive CalEITC don't claim it, according to California's Legislative Analyst's Office.
Around 3.8 million of California's $600 stimulus checks will go to those who qualify for CalEITC. They can expect to see their stimulus payment around four to five weeks, on average, after they file their 2020 tax returns if they also sign up for direct deposit, a spokesperson for the California Department of Finance, H.D. Palmer, noted.
But the wait time for those who opted to receive the $600 as a check may be as long as seven weeks.
See if you require an ITIN
An ITIN is a tax processing number issued by the Internal Revenue Service (IRS) to "individuals who are required to have a U.S. taxpayer identification number but who do not have, and are not eligible to obtain, a Social Security number (SSN) from the Social Security Administration (SSA)," the Internal Revenue Service (IRS) explains.
Some residents are required to have an ITIN. You can see a list of criteria for those who need to have an ITIN and instructions for how to apply for one at the IRS website.
Some of the people who fall within this category are immigrants who didn't receive the $1,200 federal relief payments sent in 2020, according to ABC News.
Around 565,000 of the $600 stimulus payments will be given to those with ITINs earning less than $75,000.
See if you qualify for CalWORKs
CalWORKs is a public assistance program providing cash aid and services to eligible families with children. Generally, the following qualify for the CalWORKs program, as outlined by the California Department of Social Services (CDSS):
Families with children at home who have been deprived of parental support or care because of the absence, disability or death of either parent.
Families with children where both parents are at home but the principal earner is unemployed.
Needy caretaker relatives of a foster child or foster children.
Around 405,000 of the $600 payments will be issued to those who qualify under CalWORKs. Payments will be made on EBT (electronic benefit transfer) cards and are expected to be issued by mid-April. But the timing may change depending on the ability to automate the process, according to Palmer.
See if you qualify for SSI/SSP
The SSI Program is a federal program providing income support to those eligible who are 65 or older, blind or disabled. "SSI benefits are also available to qualified blind or disabled children. The SSP Program is the state program which augments SSI," CDSS notes.
"Eligibility for both programs is determined by SSA using federal criteria. If an eligible individual qualifies for SSI, they qualify for SSP. The benefits are in the form of cash assistance," the CDSS explains.
See the CDSS website for full details on eligibility requirements for SSI/SSP.
The timing and method of payment for those eligible for the stimulus checks under SSI and SSP are still being mapped out and will depend on discussions with the SSA, according to Palmer.
See if you qualify for CAPI
CAPI is a fully state-funded program providing monthly cash benefits to "aged, blind, and disabled non-citizens who are ineligible for SSI/SSP solely due to their immigration status," the CDSS notes.
See the CDSS website for full details on eligibility requirements for CAPI.
Around 15,000 of the $600 checks are expected to be issued to those eligible under CAPI.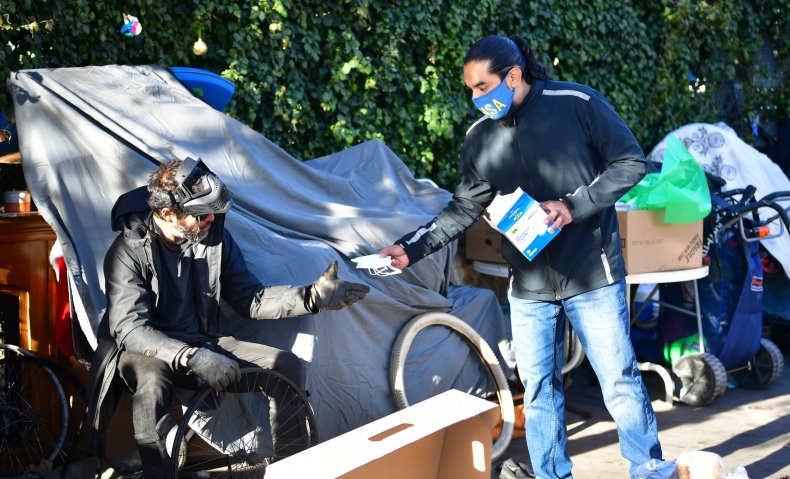 The wider picture
The novel coronavirus has infected more than 111.8 million people, including over 28.1 million in the U.S., since it was first reported in Wuhan, China.
More than 2.4 million people have died worldwide and more than 63 million have recovered as of Tuesday, according to Johns Hopkins University.
The graphic below, produced by Statista, illustrates the spread of COVID-19 deaths across the U.S.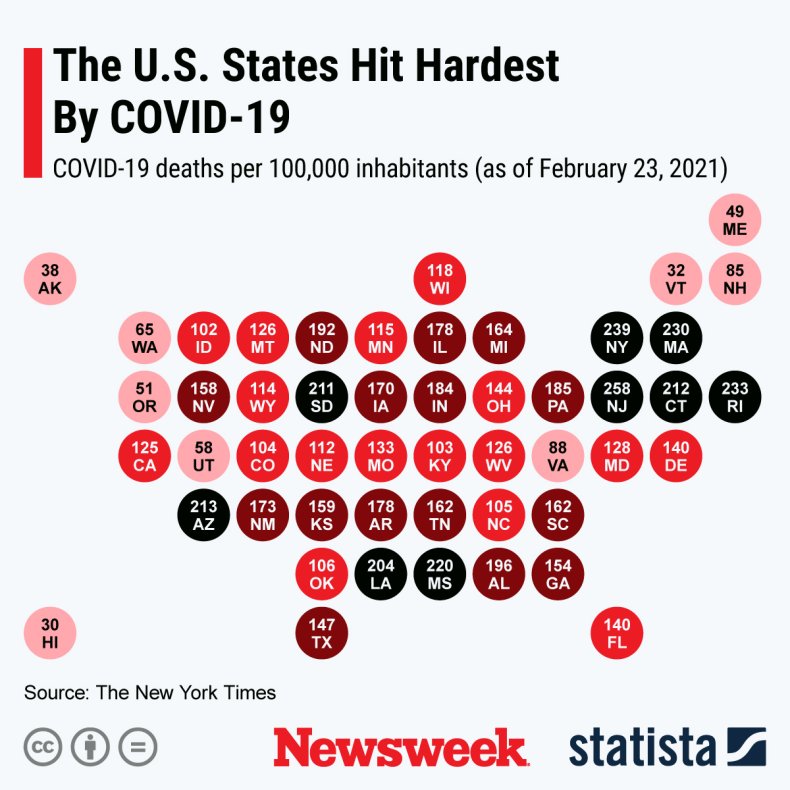 Newsweek, in partnership with NewsGuard, is dedicated to providing accurate and verifiable vaccine and health information. With NewsGuard's HealthGuard browser extension, users can verify if a website is a trustworthy source of health information. Visit the Newsweek VaxFacts website to learn more and to download the HealthGuard browser extension.