California Protester Says She'd Rather 'Put a Bullet in My Head' Than Take COVID Vaccine
Protests against California's latest set of measures aimed at curbing the spread of COVID are being led by "Freedom Angels Foundation" who claim to be acting in defence of the constitution, while the virus continues to kill hundreds of people a week across the state.
A rally outside the Santa Clara County Office building organized by the Freedom Angels Foundation saw a few dozen people gather with placards stating "Stop stealing our civil liberties" and "End the lockdown now."
One demonstrator told CBS 5: "I'm not even going to get the vaccine, you can put a bullet in my head before I'm going to do that."
The Los Angeles-based Freedom Angels Foundation is a religious, conservative group which describes itself as a collection of "patriot mothers." The bio on their website states: "Our arms don't get tired, they carry core family values, they carry the generations of voices to call out when people, nations and beliefs are under oppression."
The group was involved in a major rally against California Governor Gavin Newsom's stay-at-home order in May, when more than 2,000 demonstrators gathered in Sacramento to demand lockdown measures be lifted.
The Freedom Angels Foundation made travel arrangements to get South Californian protesters to the Capitol, with a statement on the group's website reading: "The State of California is tyrannically destroying the California economy, livelihoods, and the Constitutional Rights of HEALTHY free Californians."
Newsweek contacted the Freedom Angel Foundation for comment about the latest rally.
Earlier this week, California brought in strict new rules in an effort to tackle the outbreak. Los Angeles County urged its 10 million residents to stay at home "as much as possible" and banned gatherings with people outside of their households for public or private occasions other than for faith-based services and protests.
In Santa Clara County—where demonstrators gathered Thursday—a quarantine was imposed for people arriving from areas more than 150 miles away, while high school, collegiate and professional sports were also banned.
San Francisco has instructed most indoor activities to close by noon on Sunday. Residents will also be under a curfew from Monday night.
The number of new COVID cases reported in the United States exceeded 200,000 for the first time Friday, according to data from Johns Hopkins University.
As of Wednesday, the virus had killed 19,437 in California with a total of 1,264,539 cases across the state. Nearly 9,000 patients were in hospital with the disease in the state, and more than 2,000 were in ICU.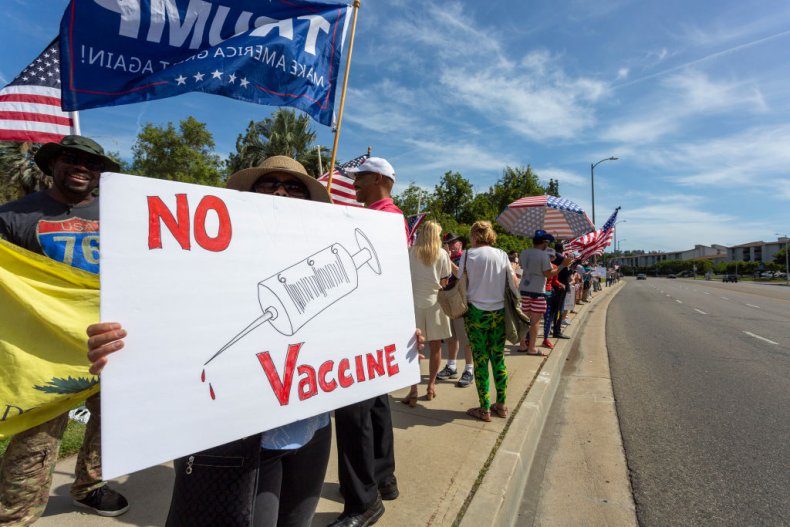 A survey conducted by the Pew Research Center last month found that 60 percent of Americans would definitely or probably get a COVID vaccine, up from 51 percent in September.
However 39 percent said they definitely or probably would not get a vaccine, although about half of this group—18 percent—said they might decide to get vaccinated once more information becomes available.
Around one in five (21 percent) said they did not intend to get vaccinated and were "pretty certain" they would not change their mind.
The survey conducted from November 18 to 29 of 12,648 U.S. adults also found that Black Americans are less inclined to get vaccinated than other racial and ethnic groups: 42 percent would do so, versus 63 percent of Hispanic respondents and 61 percent of white adults. Asian Americans were even more likely to say they would definitely or probably get vaccinated (83 percent).
The graphic below, provided by Statista, illustrates how COVID-19 disproportionately affects the elderly.