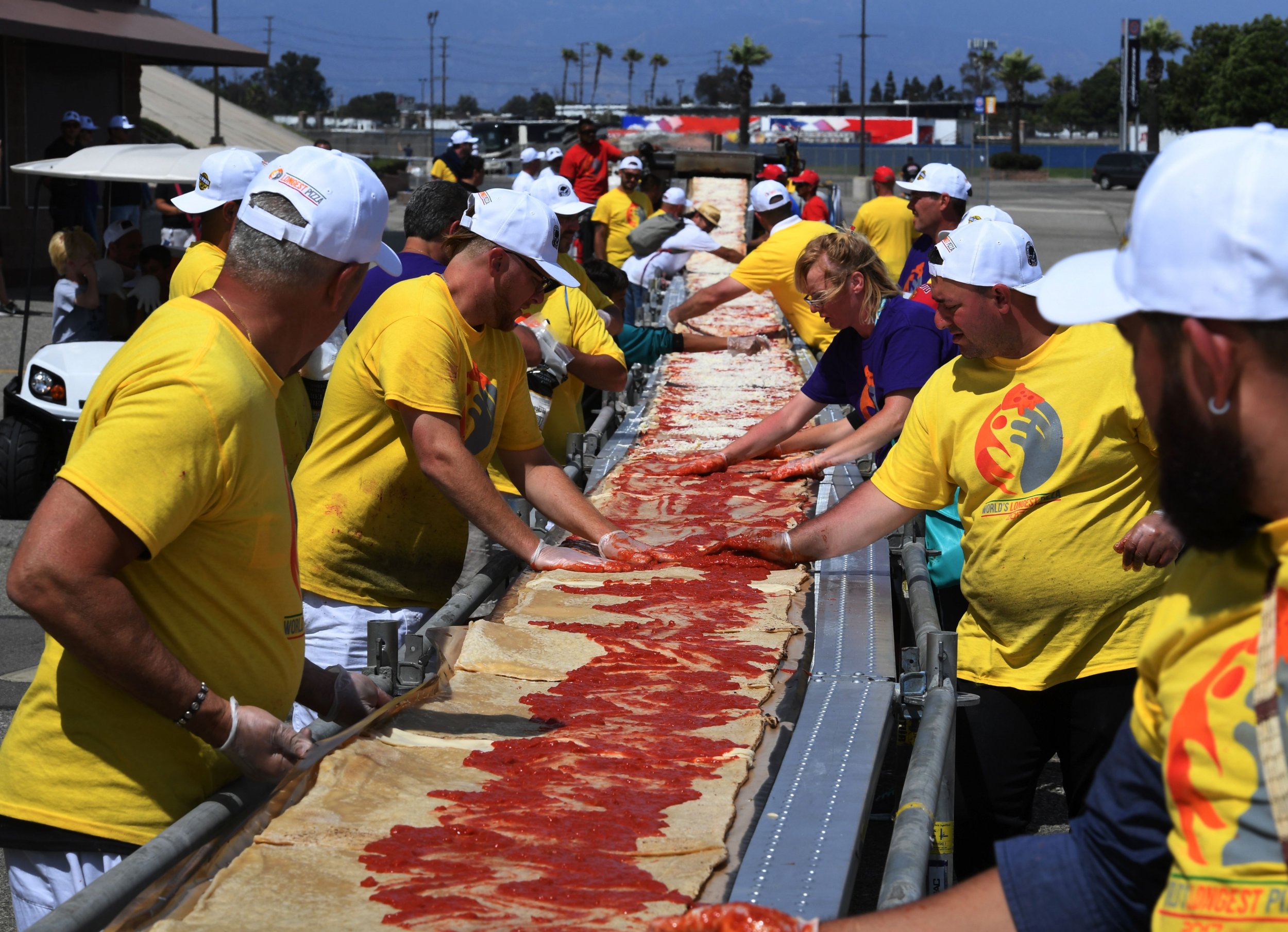 California pizza makers have secured a place in the Guinness World Record books—and beat the Italian city of Naples, the traditional home of the modern pizza—by creating the longest pizza on the planet.
Seven pizza makers gathered at the Auto Club Speedway in Fontana, California, on Saturday to "bring the record home," as event organizer Jason Dees said, enlisting the help of around a hundred volunteers, who assisted with spreading the tomato sauce, the mozzarella cheese and the oregano.
The result: The organizers missed their 7,000ft target, but nonetheless baked a record-breaking pizza stretching to 6,333ft in length and weighing more than seven tons, heavier than an elephant. The mozzarella-covered monster was big enough to feed around 10,000 people.
"Pizza is an Italian food but the U.S. is the home of pizza so it feels fitting to me that the U.S. should get involved into this very competitive category and take the title for the U.S." Guinness World Records adjudicator Christina Conlon said at the event.
The record-breaking challenge was organized by Pizza Ovens, a business providing restaurant equipment, who custom built a mobile oven to successfully complete the cooking process.
A crowdfunding campaign on Kickstarter failed to reach the $30,000 target, but private sponsors supplied the necessary funds. The organizers said they would volunteer all proceeds and product to local homeless shelters and food banks.
The previous record holder was a 6,080ft pizza created by 250 chefs who took on the challenge in Naples in May 2016.
That pizza was made using local ingredients, including 2.2 tonnes flour, 1.76 tonnes of tomatoes, 2.2 tonnes of mozzarella, 845 cups of oil and 66 lbs of basil.
Which pizza won for better taste? A comment on the event's Facebook page hinted that the American pizza, while breaking records with its size, may have failed to impress the tastebuds. Michael Agnew, who was at the Auto Club, wrote: "I'd say 99% of it was donated and a few were able to try it. While definitely not the best pizza, at least we were able to say we got a taste of the world's longest pizza. Great job!!!!"