A Democratic congressional candidate in California sparked backlash after he said he doesn't care who wins the presidential election during an interview last week with a far-right group.
Ammar Campa-Najjar is running for California's 50th congressional district, which is located in parts of San Diego County and Riverside County. He sat down for the interview with the founder of Defend East County to answer questions about his policy stances with less than a month to go until Election Day.
"You know that no matter if it's [Democratic presidential candidate] Joe Biden or [President Donald] Trump who wins—I know you guys want Trump to win—but whoever wins, you know that I on day one can work with both sides," Campa-Najjar said during the interview, which was shared on Defend East County's private Facebook page and later obtained by KPBS. "And that's what we need. Because I need to bring resources to our district. It doesn't matter who is president."
Campa-Najjar said that he voted for Biden during the California primary election but added, "I don't care who wins. I'm going to work with whoever." He continued by saying he considered his vote to be "still open" because he was curious to see how the candidates would perform if additional presidential debates took place.
Campa-Najjar later told Newsweek that he filled out his ballot earlier this week and chose to vote for Biden.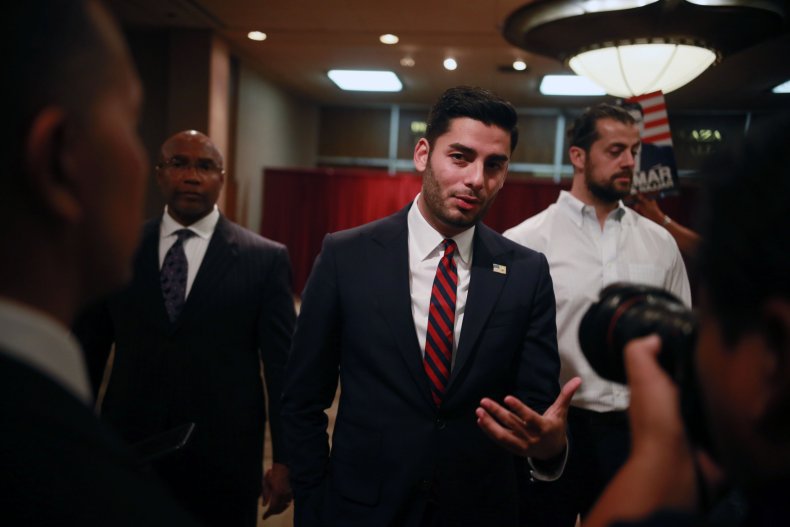 The interview with Defend East County drew criticism from San Diego Democratic Party Chairman Will Rodriguez-Kennedy, who told KPBS that there were positions Campa-Najjar took during the interview that "are definitely not in line with our party." In addition to saying he would support "strong border policy" if elected, Campa-Najjar suggested he would be open to further investigations into former Secretary of State Hillary Clinton and also said he would be open to confirming Supreme Court nominee Amy Coney Barrett, if he were in a political position to do so. Campa-Najjar later softened those comments, according to KPBS.
In addition to the policy standpoints he made during the interview, Campa-Najjar also drew backlash for meeting with Defend East County members. The group began in May in response to a Black Lives Matter protest and has in the months since grown to more than 20,000 members, some of whom have been connected to conspiracy theories and racist sentiments, according to the San Diego Union-Tribune.
Campa-Najjar issued an apology over the weekend in a video message posted on social media. "Despite my best intentions, I messed up. I messed up bad," Campa-Najjar said on Sunday. "I am saying today to you that I do not condone hate or violence or any threats on anybody's life from any group—including members of Defend East County. And I have challenged that group to not do that anymore, to not make threats against people in our community."
Campa-Najjar further clarified his apology during an interview Tuesday with KSWB-TV. "I've been meeting with folks the past four years across the political spectrum on the far left and the far right. It's a Republican district. And even when I don't disagree with people, or I don't agree with them, I still meet with them," Campa-Najjar said.
"The thing I'm apologizing for is not knowing that there were individuals in this group who resort to violence and racism, and I didn't call it out. Had I known that, I probably would not have gone on until their leadership denounced hate, until the whole organization did," he told the station.
Campa-Najjar is running against Republican Darrell Issa, who previously represented California's 49th District. Both candidates are vying for the congressional seat left vacant when former Rep. Duncan Hunter resigned earlier this year after Hunter pleaded guilty to corruption in late 2019.