Former California Sheriff's Deputy Arrested After Death of Car-Theft Suspect
A former Sonoma County sheriff's deputy in California has been arrested over the death of a car-theft suspect after police body-worn footage showed a violent scuffle as officers tried to detain him.
Charles Blount was arrested this week on suspicion of felony manslaughter and assault by a public officer over the death of David Ward in 2019, the Sonoma County Sheriff's Office told Newsweek.
Ward died after a physical confrontation with officers following a high-speed police chase. Blount, 61, turned himself in on Monday after a warrant was issued for his arrest by the Sonoma County Superior Court, sheriff's office spokeswoman Misti Wood said. He was booked into the county jail then released shortly after posting bond on $50,000 bail.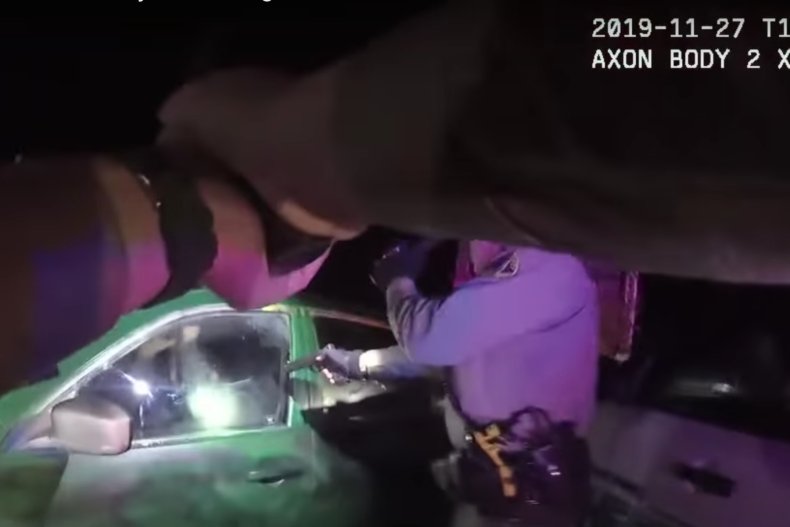 The Sonoma County Sheriff's Office released video from one of the deputies' body-worn cameras capturing the incident.
Officers can be seen pointing guns and shouting at Ward before trying to physically restrain him while he sits in the front seat of his car. One deputy can eventually be seen shooting a stun gun at him.
Earlier this year, the victim's family filed a lawsuit against the former deputy, which alleged that he had a history of violent encounters with the public and he was not properly trained to use a neck hold that apparently led to Ward's death, The Press Democrat reported.
Santa Rosa Police Department conducted the criminal investigation into Blount's actions, according to the publication.
Department spokesman Sgt. Chris Mahurin told the outlet that it completed the investigation in late May and gave its report to the District Attorney's Office. The warrant for Blount's arrest was then issued on Monday.
After he turned himself in he became the first law enforcement officer in Sonoma County known to have been arrested on suspicion of killing a person while trying to detain them.
Newsweek has contacted Santa Rosa Police Department and Harry Stern, Blount's attorney in the civil lawsuit for comment.
What we know about Ward's death
In November last year, Ward, who had significant health and physical problems, was driving a car that had apparently been reported as stolen earlier that week, according to The Press Democrat.
A sheriff's deputy reportedly tried to pull him over, but when he refused to stop a high-speed car chase ensued.
The body-worn footage captured the chase which lasted for around seven minutes and saw the vehicles reaching speeds of at least 70 miles per hour.
Ward can be seen to stop when he meets a dead-end but he does not comply when deputies order him to open his car door.
A deputy then reaches through the open car window and wraps his arm around the drivers' neck before bashing his head against the side of the car in a bid to get him out of the vehicle.
Later, another deputy is seen to shoot Ward with a stun gun as officers continue to try and get him to exit the car.
A Marin County coroner investigation, seen by The Press Democrat, ruled the death as a homicide. It said that Ward died from cardiorespiratory collapse, blunt impact injuries, neck restraint and the use of a stun gun caused by a "physical confrontation with law enforcement."
Sonoma County Sheriff Mark Essick later said in a video statement that he found footage of the deputy's actions "extremely troubling" and announced that Blount would be fired.