California Deputy Shot in the Face in 'Ambush' Outside Police Station, Manhunt Underway
A California sheriff's deputy is in hospital after he was shot in the face when a gunman determined to harm law enforcement opened fire outside a police building, authorities said.
Authorities are looking for Mason James Lira, 26, in connection with the shooting, the San Luis Obispo Sheriff's Office said on Wednesday night.
The sheriff's office has released photos of the suspect in a bid to track him down, but warned the public that he should be considered armed and dangerous.
Lira, a transient from the Monterey area, is accused of opening fire outside the Paso Robles Police Department building in downtown Paso Robles at around 3 a.m. on Wednesday.
Staff inside the police station saw the suspect start shooting at patrol cars as they entered the area and called for help.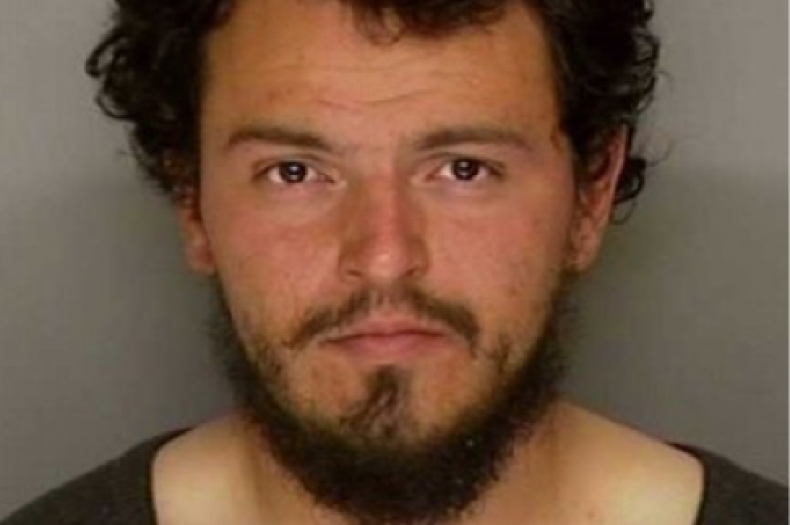 "We feel that this was an ambush, that he planned it, that he intended for officers to come out of the police department and to assault them," Parkinson said. "It was obvious the suspect was intending to harm or kill law enforcement."
A San Luis Obispo County sheriff's deputy who arrived at the scene with his partner at around 4 a.m. was shot in the face by the suspect who was "laying in ambush," Parkinson said. The injured deputy's partner returned fire and dragged him to safety.
The wounded deputy was in a stable, but serious, condition with a bullet lodged in his head, Parkinson said.
"He's not out of woods yet. This is a very serious injury," Parkinson added.
The deputy joined the department two years ago after completing his training, Parkinson said, adding that he was "an absolute hero."
Police believe the shooter also killed a transient, who was later found dead at the Paso Robles train station.
While hunting for the suspect, police found the body of a 58-year-old man, who has not been identified, near railroad tracks. He had been shot once at close range in the back of the head, police said.
Parkinson said investigators don't know if the attack was connected to the nationwide unrest sparked by the killing of George Floyd, a black man, in Minneapolis police custody.
"It's been hard on the police officers," he said, adding that trying to "calm the community has been our goal."
He added: "You see what's happening nationally, you see the riots, you see the looting, you see the acts of violence occurring… and not only to law enforcement, to other people, there's naturally fear as a result of that."
But Parkinson added that there hadn't been a local event or arrest that might have triggered the violence. "This was an unprovoked attack," he said.
But authorities are also investigating whether there was a connection to two other recent deadly attacks on officers in California.
Over the weekend, Ben Lomond in Santa Cruz County was also the scene of an ambush on police officers.
Sgt. Damon Gutzwiller, 38, was killed and another deputy was injured on Saturday.
The attack was allegedly carried out by an Air Force sergeant armed with homemade bombs, an AR-15 rifle and other weapons. Santa Cruz County Sheriff Jim Hart said 32-year-old suspect Steven Carrillo was intent on killing officers.
The Associated Press reported the FBI is investigating whether Carrillo has ties to the killing of a federal security officer who was shot outside the U.S. courthouse in Oakland during a protest on May 29.
Parkinson said investigators are yet to discover any clear links between the three incidents, but added: "Time will tell."
The FBI also is assisting the San Luis Obispo and Paso Robles departments with their investigation of Wednesday's shooting.